Women - News & Results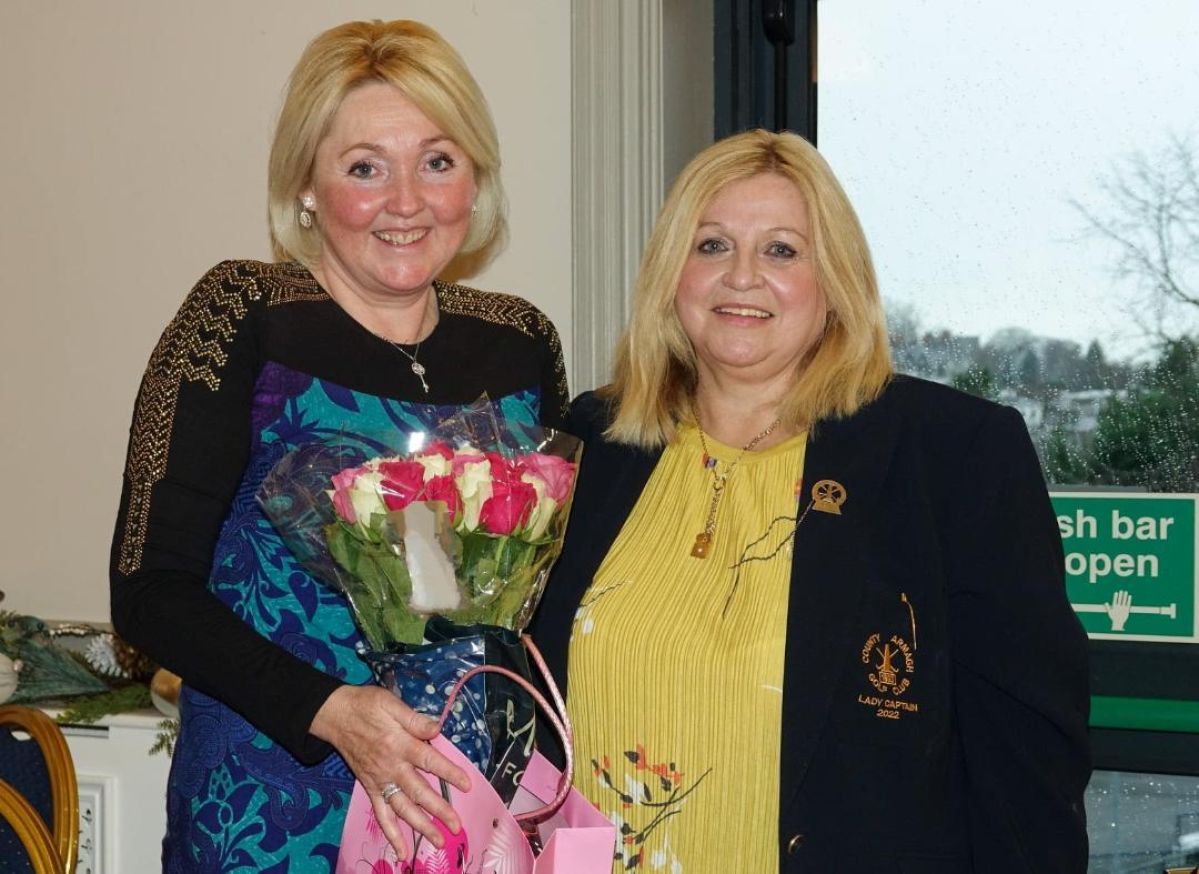 The Lady Captain's Inauguration Ceremony returned to Co Armagh Golf Club on Saturday 1 January. In a break with tradition the outgoing Lady Captain and incoming Lady Captain had both served two terms on account of the pandemic and restrictions which had significantly curtailed normality during 2020. Precision logistical planning for the event and full compliance with the government restrictions ensured the Club House provided a safe environment for the incoming Lady Captain's family, invited guests and fellow golfers to celebrate this prestigious occasion.
The Lady Captain's Inauguration 9-hole competition and delicious breakfast provided by Parklands Restaurant took place before the formal Inauguration Ceremony got under way.
Outgoing Lady Captain Anne McDonald thanked those present for their attendance; Parklands for the breakfast and Damien, Aoife and the bar staff and extended best wishes to incoming Captain Michael Calvert and President Paddy Burns for their 1 and 2 year terms respectively. She said it was her pleasure to be handing over the brooch of office and extended good wishes to incoming Lady Captain Karen Edgar for 2022, presenting her with the brooch of office.
Having been presented with the Vice Captain's brooch, Lady Vice Captain Lily thanked Lady Captain Karen for considering her as her Vice Captain. She said she was delighted to accept and would support her to the best of her ability, adding that it was a great honour to accept the role of Vice Captain and to be wearing the beautiful brooch. She said Lady Captain Karen would make a wonderful Lady Captain and urged her to make 2022 her year, enjoy it, make great memories and shine. She said the Ladies would all support her as their Lady Captain and she offered best wishes to Lady Captain Karen for her year.
Starting off her speech with a toast to a Happy New Year, Lady Captain Karen expressed her delight at the day having finally arrived and thanked all those involved in making it so successful – Cormac Knott for his photography; Brenda and the staff at Parklands for the lovely breakfast; the bar staff for the liquid refreshments; Mary Black, Denise Murphy and Joy Steenson for organising the competition; Hugh McElvanna for his tailoring skills and to those present for sharing in her very special day. She explained that the pride she felt and the honour bestowed on her to be Lady Captain for 2022 was overwhelming and thanked Past Lady Captain Anne for asking her.
Lady Captain Karen referred to the Club's rich history, stretching back to 1893, and the number of Past Captains, Lady Captains and Presidents who names were proudly displayed on the boards and her disbelief that her name would soon be there too. She then recounted with fondness her golfing firsts over the past 40 years – her first time stepping out on the course; her first beginner's prize; her first open competition win and her first Lady Captain's Day win in 1987, before turning to a more recent golfing achievement – her second hole in one in 2021.
Looking forward Lady Captain Karen hoped that 2022 would bring great golf and provide special memories. Whilst New Year brought new beginnings it was also a time to remember past friends no longer with her, but she knew they were with her in spirit. With reference to equality for ladies and the changes to the management structure of the Club ahead she acknowledged that things wouldn't be plain sailing but hoped that the Ladies' Section did not get lost. She said they may need to adapt to changes but their traditions made them, made her, gave her the courage to stand before them and they must hold them dear.
Lady Captain Karen said it was with tremendous pride that she followed in the footsteps of two previous Past Captains of the Edgar family – her husband Bill and brother-in-law Kenny.
Lady Captain Karen thanked all for their good wishes and offers of help, which she treasured. She hoped that as the new golf season was under way they would play well, play brave and share much fun and friendship. She extended thanks to all the teams and thanked the Team Captains and the 2022 Committee, all of whom she looked forward to working with.
In conclusion, Lady Captain Karen proposed a toast to the past, the present and a bright future for County Armagh Golf Club and all of the ladies.
The formal proceedings ended with Lady Captain Karen making a presentation of flowers to Past Lady Captain Anne McDonald and Lady Vice Captain Lily McMullan.
Past Lady Captain Anne McDonald presents Lady Captain Karen Edgar with her brooch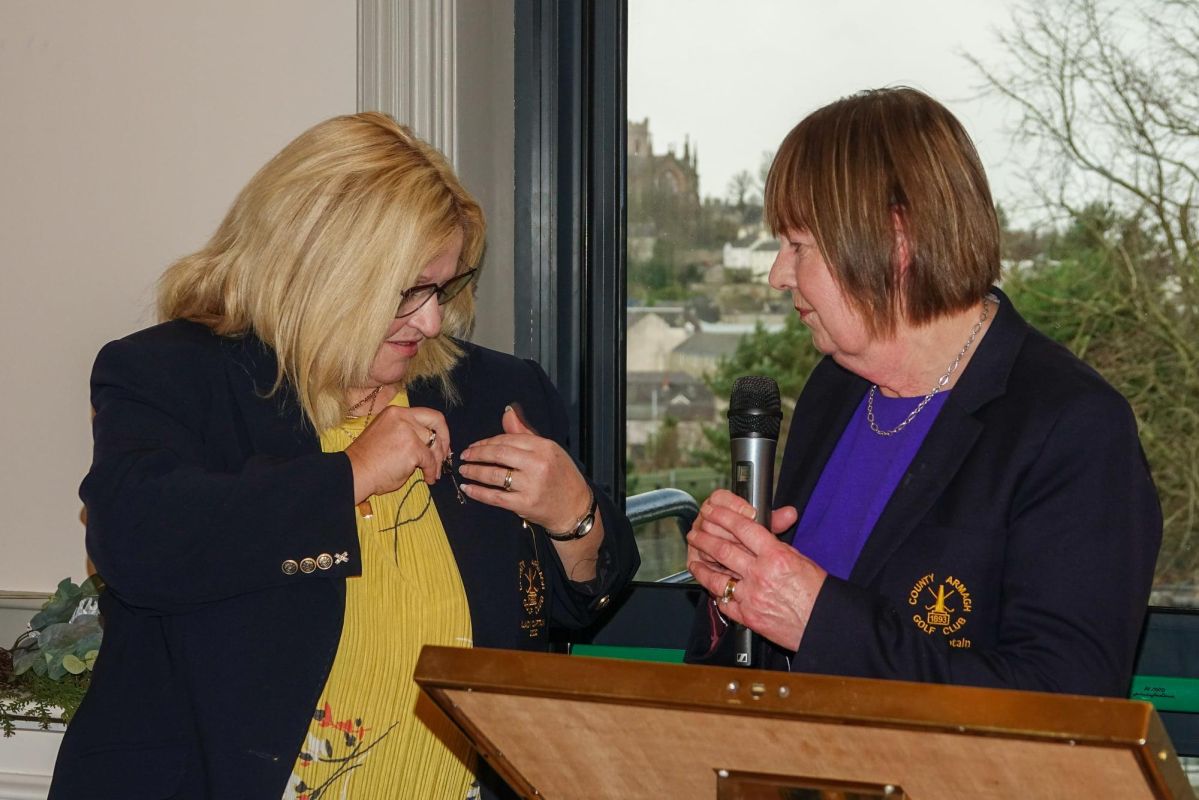 Past Lady Captain Anne McDonald and Lady Captain Karen Edgar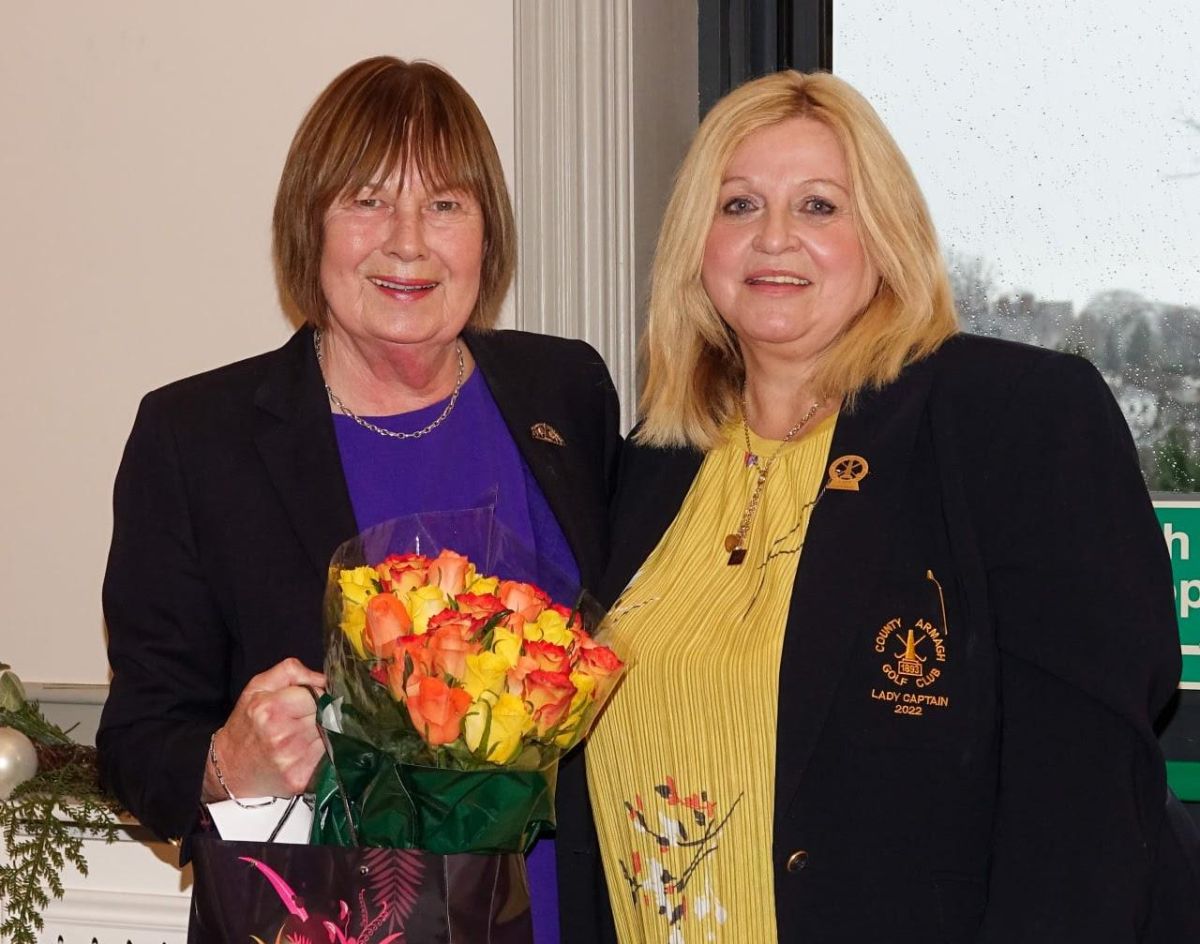 Lady Captain Karen Edgar with Lady Vice Captain Lily McMullan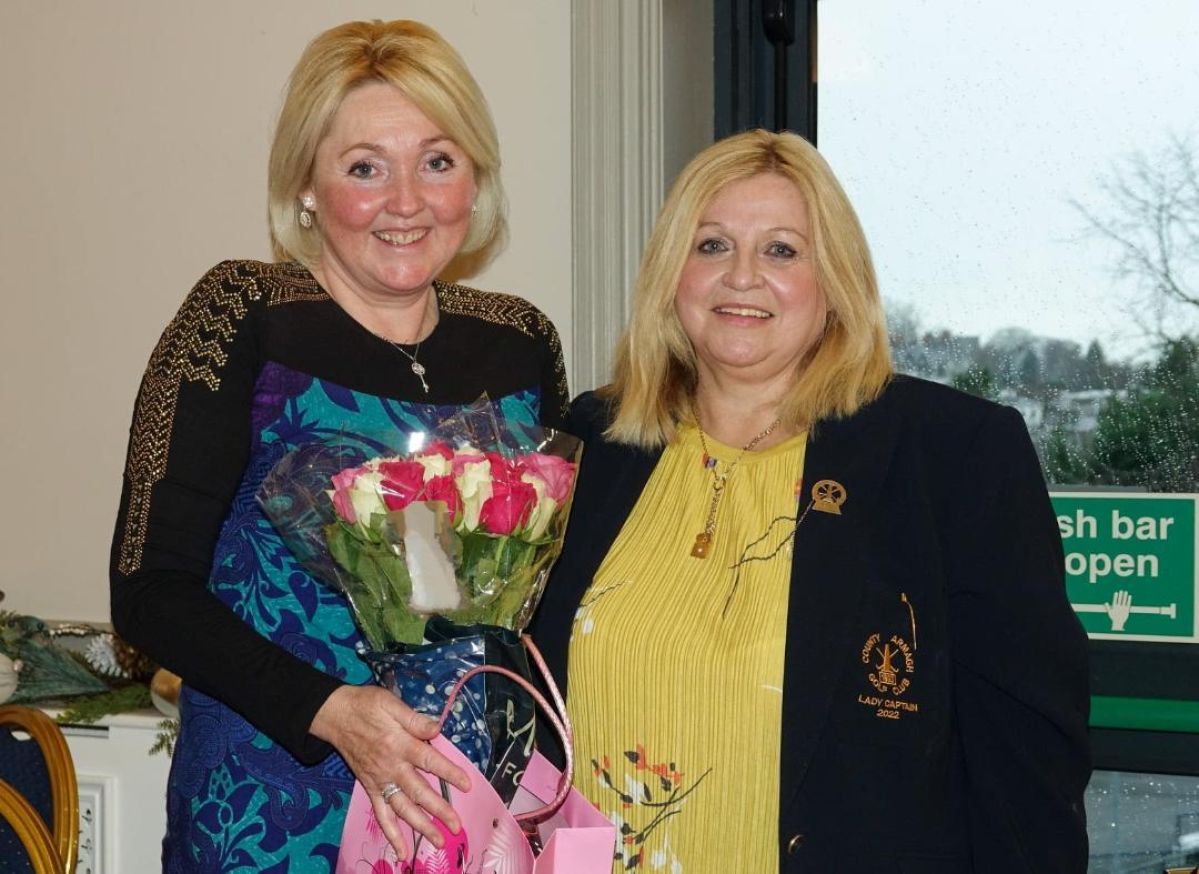 Lady Captain Karen Edgar and husband Bill Edgar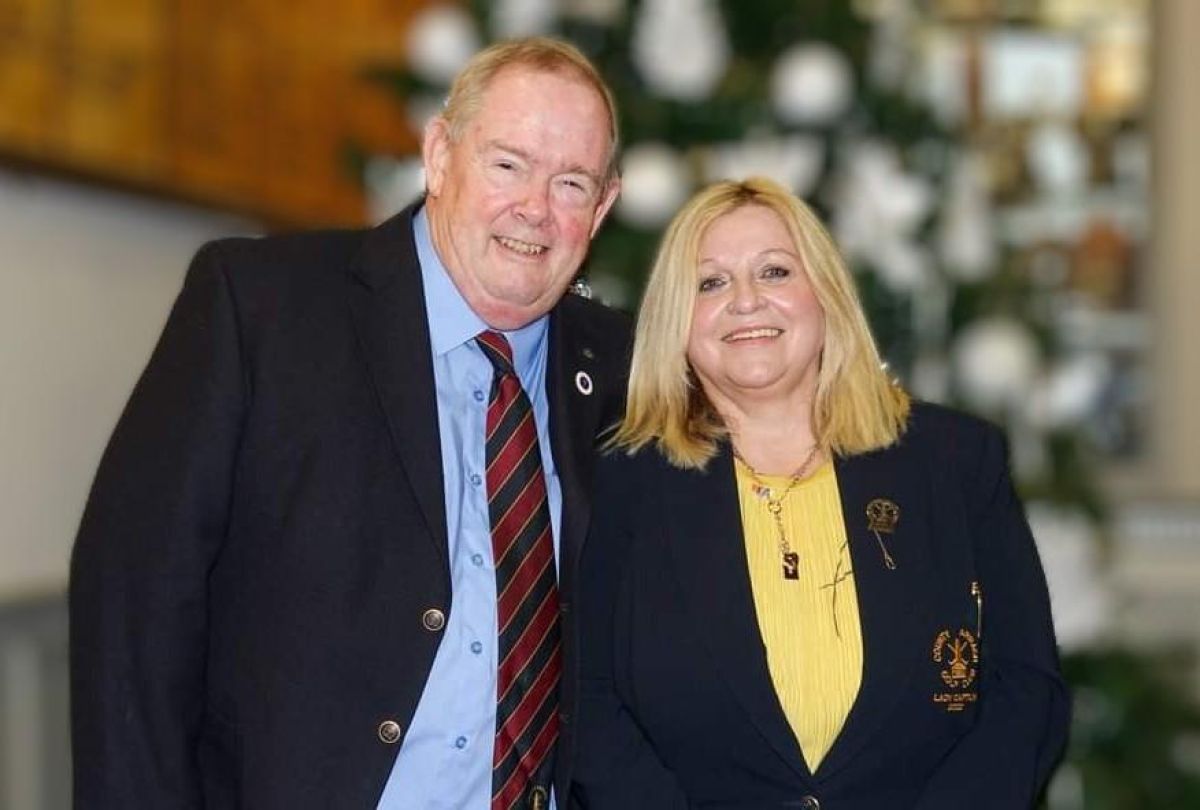 Lady Captain Karen Edgar, Bill Edgar and Kenny Edgar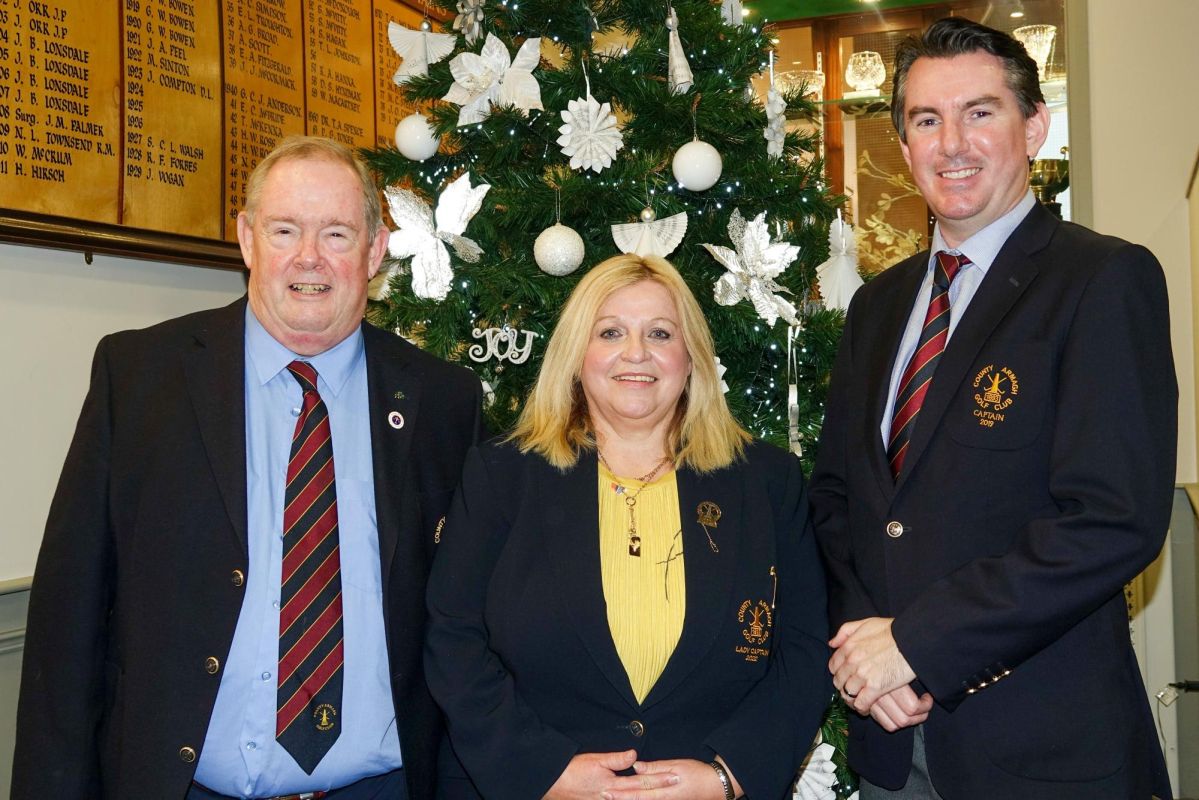 Details

Parent Category: News & Results
Category: Women - News & Results