With previous club professional, Alan Rankin, departing County Armagh Golf Club after a quarter of a century of dedicated service, the early months of 2017 represented a crucial period for the club as it sought a replacement to take on arguably the most important role in the organisation.
An appointment panel headed up by Richard Black, the professional convenor, worked tirelessly to do exactly that and eventually decided that Holywood native Will Carey was just the man for the job.
Having plied his trade at prestigious golf clubs such as Belvoir Park, Citywest and Shandon Park, Carey brings a wealth of valuable experience to County Armagh. No one who has been at the club since he took up post in April could have failed to notice the 'new broom' factor as the energetic new professional strives to stamp his mark on the place.
In this brief interview, we try to get to know Will a little better, discussing his career to date, his hopes for County Armagh Golf Club, his life away from the course and, first, his beginnings in the game of golf.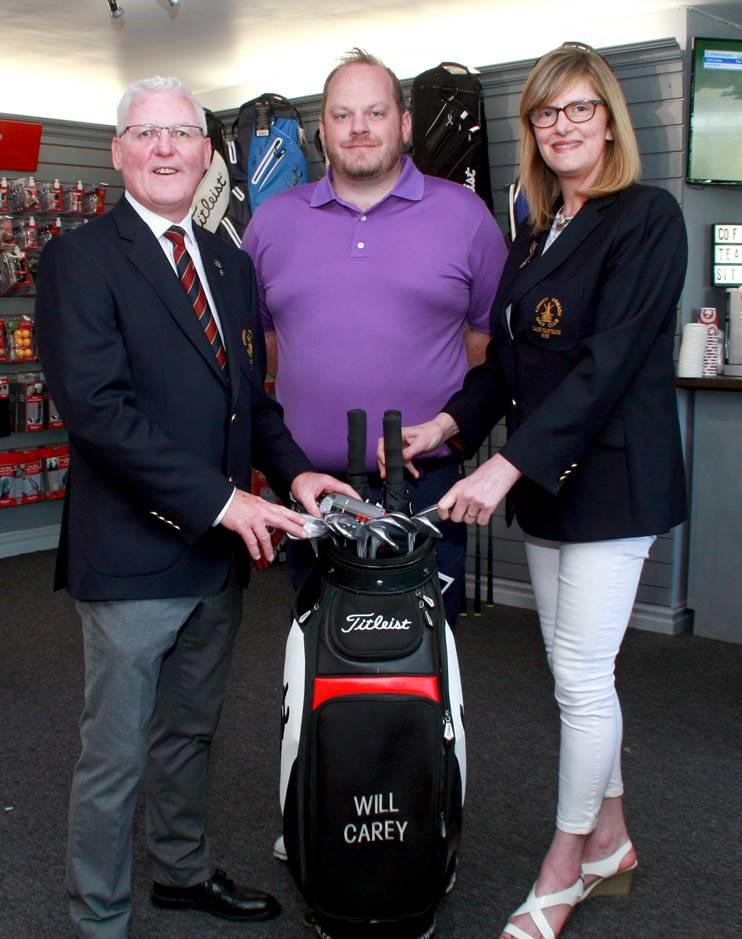 Captain Richard Stewart and Lady Captain Gail Steed welcome our new professional, Will Carey, to County Armagh Golf Club.
"When I was really young, I started playing with an old club that my friend's dad gave me. I just loved golf straightaway" says Will.
"We used to hit balls endlessly around a field near where we lived in Holywood, County Down. We even made a rudimentary course, where the aim was to hit the ball onto a little bridge and avoid the stream.
"My father realised early on that I had a real interest in golf and he would take me to the driving range. I just couldn't get enough. He and Mum got me a membership at Holywood Golf Club and that was me off and running. 
"My parents weren't into golf themselves, but they always supported me and gave me every opportunity to play and improve. I'll forever be grateful to them for that. I still remember Dad taking me to buy my first set of clubs, second-hand, from a newspaper advertisement — there was no Ebay in those days!
"Once I became a member at Holywood, I, along with all the other juniors, was taught by Michael Bannon, Rory McIlroy's lifelong coach. As I progressed, I had a few different coaches, all of whom helped me greatly.
"When I was a little older, I became a member at Knock Golf Club simply because I had a lot of friends there. Between Holywood and Knock, I played in all the junior teams and most of the adult teams. I absolutely loved playing in those club teams. I really enjoyed the camaraderie."
With such obvious passion and talent for golf, it seemed only natural for Carey to explore trying to make a living from the sport.
"My very first handicap was 38, but I got that down to six by the age of 16. I continued to plug away and was playing off two by the time I was 18. I knew by then that I wanted to do my PGA training. I worked really hard over the next year or so to get my handicap as low as I could, and I hovered between scratch and one until I started the PGA training.
"I trained under Ricky Whitford at both Kirkistown Castle and Knock before leaving to work for the Mansfield Group at Citywest in Dublin and Palmerstown in Kildare. But, in 2008, the fortunes of such resort courses nosedived in the economic crash.
"I then got an opportunity to join Belvoir Park under the guidance of Michael McGivern. I learned an awful lot from Mike, who's an excellent teacher. I spent five years at Belvoir before moving to Shandon Park, where I used all this experience to develop various coaching programmes."
As well as a hard-working golf professional, Carey is a busy family man. "Most of my time outside work is taken up by my better half, Loretta, and our three children, Malachi, Anna Rose and Louis. It's a hectic house, but I cherish the time spent with them.
"We live in Newcastle, where we've been for about five years now. We love the lifestyle there. We're close to beaches, forests and mountains, so we think it's a nice place for the children to grow up. When I get a chance to do anything beyond golf and family life, I enjoy watching pretty much any sport but particularly football and Liverpool FC.
Turning to the job in hand at County Armagh Golf Club, Will outlines what attracted him to the role and what he hopes to achieve.
"I've always wanted to be a head professional at a members' club. For me, County Armagh is a sleeping giant. There is so much potential and so many untapped opportunities for the club to develop. I want to help it to do that. I hope that I can bring motivation and a fresh approach to everything.
"I love teaching kids. They enjoy it and I get real satisfaction from seeing their games improve. Growing the game is an important part of the job of any modern professional. And, given that I came from a non-golfing family and relied heavily on professionals to teach and encourage me, I feel that it's my duty to pass the baton on to another generation.
"I'd encourage anyone who is considering booking a lesson to help their golf game to do so without delay. Coaching is for all — not just kids or, at the other end of the scale, elite golfers. Everyone can benefit. In fact, it's often mid-to-high handicap golfers who see the biggest positive changes from lessons. I'm hoping to give a more long-term structure to the coaching through the winter months so that everyone, including the club's teams, can hit the ground running next year."
Of his main ambitions for his time at County Armagh, the 35-year-old was characteristically enthusiastic, "I want to grow the club and the membership. I want people to know that this golf club is on the up and that the new professional is playing a big role in that.
"In the short term, I need to get the pro shop functioning properly. Longer term, I want to build really successful relationships with all the members. County Armagh is a very friendly club and loads of members have already called in to wish me luck, which I've really appreciated. I'm looking forward to playing a bit more golf with them once I have the shop settled into a proper routine.
"This is a busy club, but we could be attracting more visitors. Getting the word out is key to that. The course has a fantastic layout. Its condition has come on a great deal even in the short time that I've been here. Davy Baird and his green-keeping team have got the place looking great. The greens are fantastic and have been much faster recently. I want to see this golf club really kicking on."
You can contact Will by phoning the Professional Shop on  (028) 3752 5864 , emailing This email address is being protected from spambots. You need JavaScript enabled to view it.  or, better still, by simply popping in to say hello. Everyone at County Armagh wishes Will every success in his new position. We look forward to many happy years with him as the club's PGA professional.