Juveniles - News & Results
There has been a welcome influx of junior boys and girls to County Armagh Golf Club since the arrival of Will Carey as our professional last year, and the Club received more good news recently with the announcement of a Junior Golf Bursary.
This initiative is being supported by the family of the late Pat Toner, who was Club Captain in 1961 and President in 1974-75, and his late wife, Colette, the 1992 Lady Captain.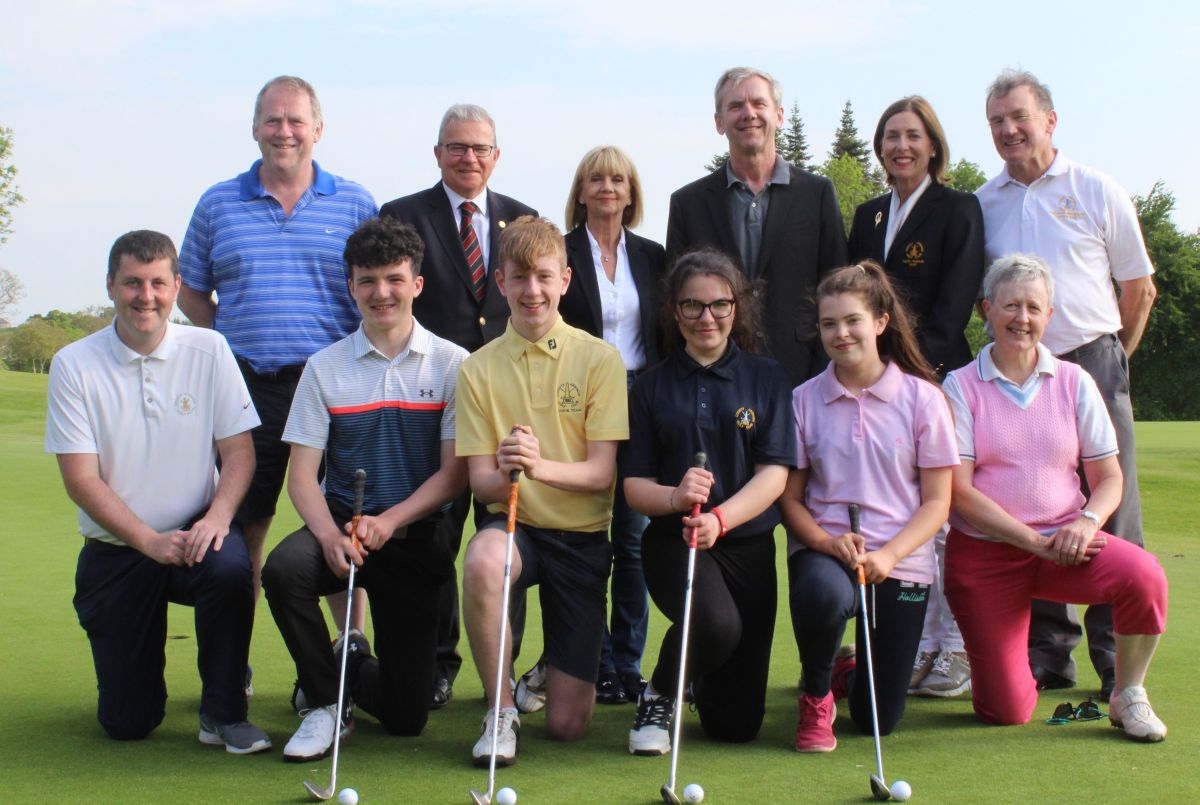 Pictured at the Junior Golf Bursary presentation ceremony are (Front, L-R) Jarlath McReynolds (Joint Junior Boys Convenor), Joe Rooney, Caolan McReynolds (Junior Boys), Lauryn McKeown, Yasmin Monaghan (Junior Girls), Sylvia Ashe (Junior Girls Convenor) and (Back, L-R) Paddy Toner, Colm Shannon (Captain), Petrina O'Hare (née Toner), Barry Toner, Elizabeth Mawhinney (Lady Captain) and Paddy Burns (Honorary Secretary).
The Toner family met club officials to officially launch the bursary last week when Barry Toner, on behalf of the Toner family, presented a sizeable cheque to the current Captain and Lady Captain.
The Toner family hope to continue to support this programme in the coming years. Everyone at County Armagh Golf Club is sincerely grateful for their fantastic generosity and will endeavour to put it to good use.
Details

Parent Category: News & Results
Category: Juveniles - News & Results
Following the recent Fred Daly Trophy first round success, County Armagh's Ronan Rafferty Cup lads further boosted the feel-good factor surrounding the club's junior set-up by booking a place in the second round of their competition.
Skipper Michael Calvert's youthful line-up, which consisted of Calum Connell, Mark Hagan, Simon McGurk, Jamie McKenna, Caolan McReynolds and Shea Williamson, secured a comfortable two-legged victory over Silverwood on Fridays 18 and 25 May, the reward for which is a second round meeting with another near neighbour in the form of Banbridge.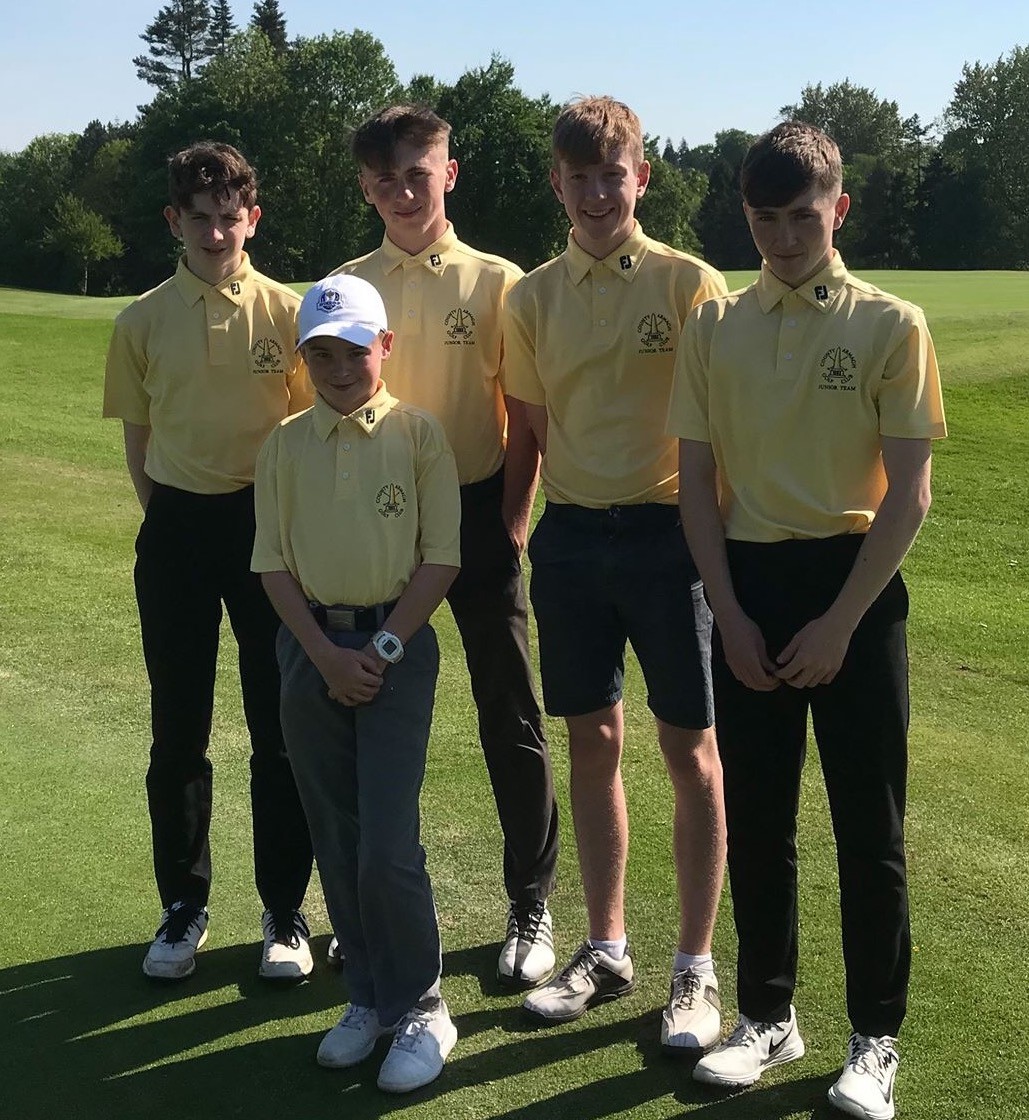 County Armagh Golf Club's Ronan Rafferty Cup team defeated Silverwood and will now take on Banbridge in the second round.
Elsewhere during another busy period on the inter-club matchplay scene, there was disappointment on Sunday 27 May for our Senior Cup group, who were eliminated in a fierce qualifying session at Warrenpoint, and the Rossmore Cup men, who staged a spirited second leg comeback to level their tie with Kilkeel at 4-4 but were ultimately ushered through the first-round exit door on account of a two-hole deficit.
Details

Parent Category: News & Results
Category: Juveniles - News & Results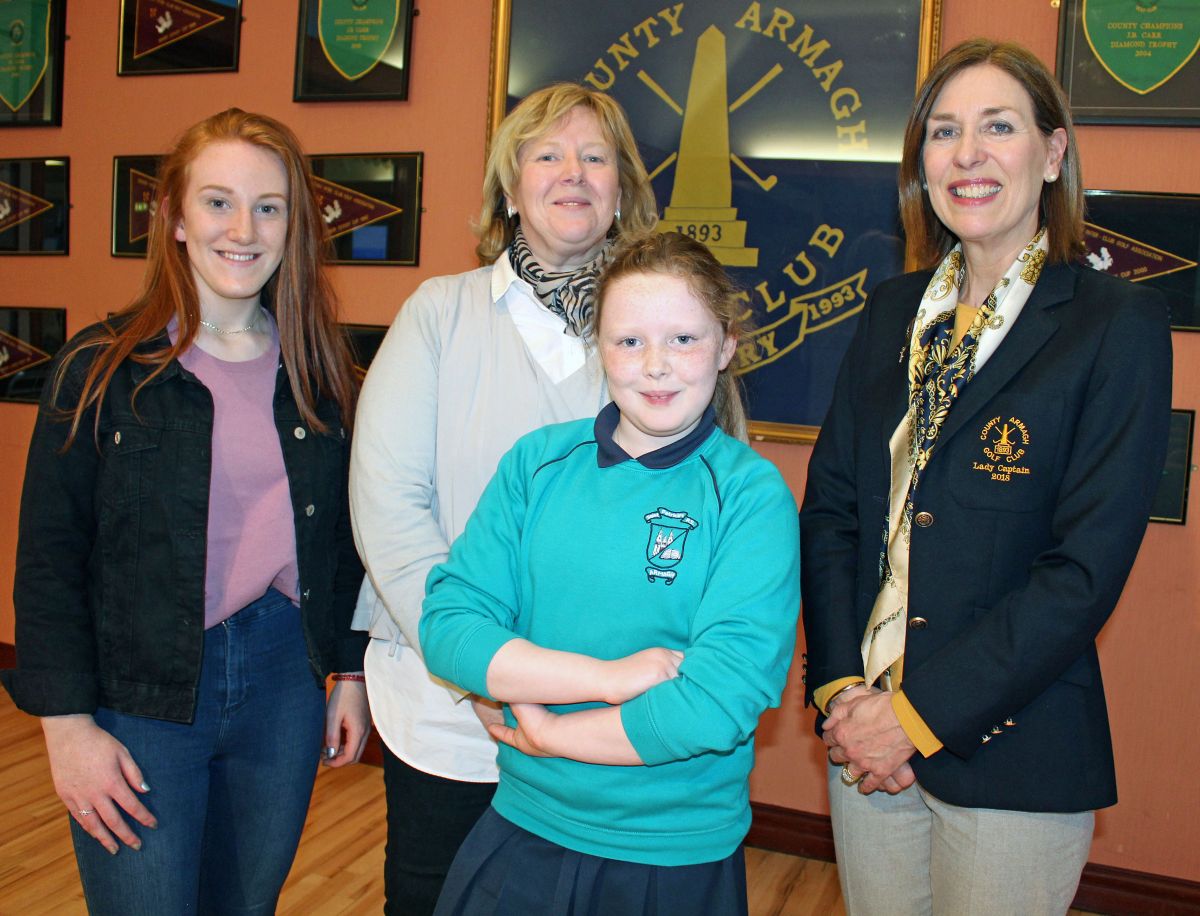 County Armagh Lady Captain Elizabeth Mawhinney (right) and Juvenile Girls Captain Anna Jennings (left) are pictured with mother and daughter Katrina and Rebecca Rafferty at the Juvenile 'Future Stars' Programme evening.
Details

Parent Category: News & Results
Category: Juveniles - News & Results