General News
Captain's Prize Winner - Gerry Kelly 44pts
Runner-up - Ian Ritchie 43pts
Category 1 - Nigel McMahon  43pts
Category 2 - Mark Gillen 42pts
Category 3 - Michael Smyth 43pts
Gross Prize - Stuart Lee 35 gross pts
Past Captain's & President - GV O'Rielly 39pts
Council & Committee - Colm Shannon 39pts
Country, Student, Overseas - Ricky Dobbs 40 pts
Visitors - Des Mooney 36 pts
1st Ladies - Gina Morris 45 pts
2nd Ladies - Anne Murphy 40 pts
Ladies Putting - Silvia Ashe 33
1st Juvenile Boys (senior) - Levi Woods 63
1st Juvenile Boys (junior) - Nial Mc Cormack 68
1st Juvenile Girls- 18 hole - Ciarrai Devlin 35pts
1st Juvenile Girls - 9 hole - Caoimhe Hellen 12 pts
Details

Parent Category: News & Results
Category: General News
Please click here to view or download.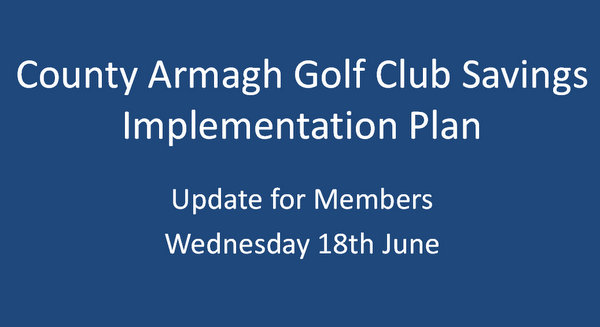 Details

Parent Category: News & Results
Category: General News
1st J McReynolds & A Canavan nett 58
2nd J Palmer & U Cullinane nett 62.5
3rd R Turner & A Attwell nett 64
Gross J Johnson & H Johnson gross 80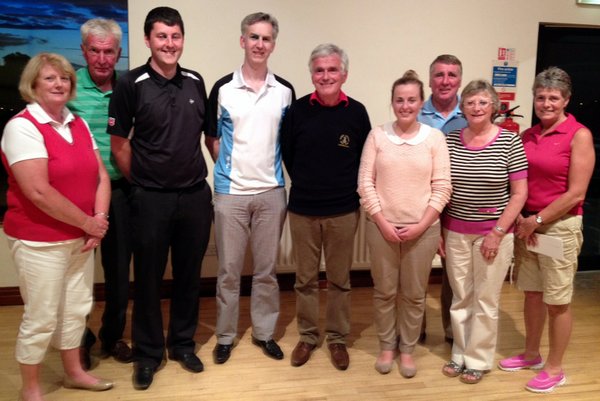 County Armagh Golf Club Captain Pat McAleavey and Clifford Ewart, from Ewart Jewellers, Armagh, sponsors of the recent Mixed Greensomes competition, congratulate winners Jarlath McReynolds and Aideen Canavan (nett 58), runners up Johnny Palmer and Una Cullinane (62.5) and Roy Turner and Ann Attwell. Mother and son Hilary and James Johnston won the Gross Prize with 80.5.

Details

Parent Category: News & Results
Category: General News