Men - News & Results
1st A Millar 63nett
2nd A McCrory 64nett
Category 1
1st J McReynolds 64nett
2nd T Fox 66nett
Category 2
1st K wilson 67nett
2nd D Grimley 68nett
Category 3
1st C Johnston 67nett
2nd N Mallon 69nett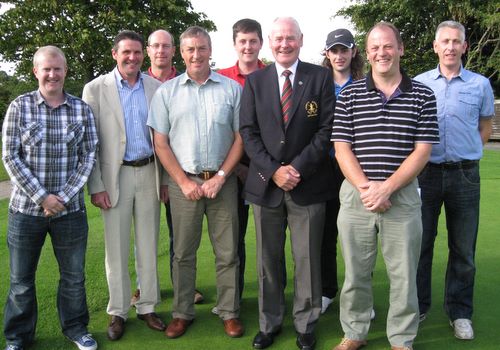 July Medal & Stroke Competition winners County Armagh Golf Club Captain Tom Calvert is pictured with winners of the July Medal and Club Stroke competitions played on the weekend July 9th and 10th. From left to right: Niall McGurgan, Charlie Johnston, Neill Monaghan, Norman Mallon, Jarlath McReynolds, Andy Millar, Ian Millar and John Toner.
Andrew waves off opposition
Andrew Millar's distinctive long locks of hair didn't in anyway impede the young man on his way to victory in the Club Stroke competition last week-end.
The Killylea lad, playing off a handicap of eight, shot a superb nett 63 to claim the prize. He opened his round with a bridie no less, and the first shot he dropped was on the ninth. A string of pars followed and but for one further dropped shot at the 16th hole it would have been a perfect round.
Art McCrory shot one of his best rounds of the season, a nett 64 to claim the runners up prize. But the handicap cut was to cost him dearly in his next Gray Cup match klater in teh week where he made his exit.
Jarlath McReynolds led the low handicappers home in Category 1 with a nett 64. Three under par after nine holes he slipped up on 12, 16 and 18 where he had a double bogey six. Tom Fox was runner up in the category with a nett 66, and collected some Two's money on the way with a bridie at the seventh hole.
Kyle Wilson's nett 67 won him Category 2 with D (David or Damien!) Grimley runner up with a nett 68.
Charlie Johnston claimed first prize in Category 3 with a nett 67 and shared the winners enclosure with brother-in-law Norman Mallon on nett 69.
Details

Parent Category: News & Results
Category: Men - News & Results