Men - News & Results
1st Brian Loney nett 64
2nd Mark Robinson nett 66 (back nine)
3rd Pat Brannigan nett 66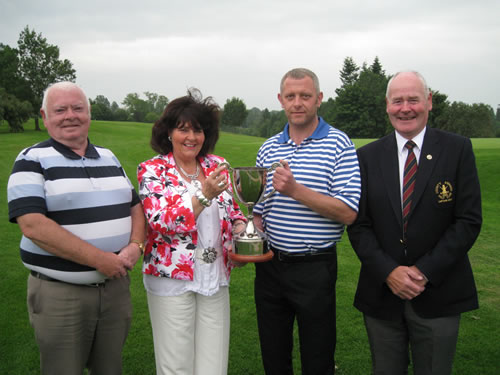 Brian Loney is presented with the Connolly Cup by Mrs Patricia Connolly after winning the annual scratch competition at County Armagh Golf Club. Included also are Club Captain Tom Calvert (right) and Pat Brannigan, competition runner up.
Big Cup for Big Brian
BIG Brian Loney had the big Connolly Cup to collect after winning the annual competition for 16 and above handicappers.
Mrs Patricia Connolly presented the trophy at the County Armagh Clubhouse after congratulating Brian on his winning round.
His nett 64 was two shots better than his nearest rival Mark Robinson and Pat Brannigan (snr) who had to be separated on countback each with scores of nett 66.
Killylea man Brian enjoyed a steady front nine with just two bogeys on his card at the third and fifth holes. And that steady round continued through ten and eleven before he bogeyed the 12th, the 14th and proceeded to double bogey 15 and 16. Fortunately he gathered himself and although dropped a further two shots at the 17th and 18th holes, returned a winning score nett 64.
Mark Robinson followed up his Tuesday Cup blitz earlier in the week with an excellent nett 66 score to claim second prize. A triple bogey seven at the 18th undoubtedly his downfall in an otherwise steady round.
And Pat Brannigan likewise will be kicking himself for a triple bogey seven at the last. His nett 66 however, earned him third prize on countback.
Details

Parent Category: News & Results
Category: Men - News & Results