Ninety-five ladies, including visitors from Banbridge, Carnalea, City of Derry, Dungannon, Edenmore, Portadown, Rossmore and Tandragee, competed in the Armaghdale Cup Ladies Open Stroke at Co Armagh Golf Club on Saturday 2 September 2023.
The prestigious competition was once again very generously sponsored by Gerard Davidson, T/A Business Account Services.
In her address at the prize-giving, Lady Captain Lily McMullan, welcomed Frances Davidson and expressed sincere thanks to her for the continued sponsorship of the competition. Frances presented the prizes.
Geraldine Rafferty was the winner of the competition and the Cup, with nett 68 and Flo McCall was second with nett 70.

Dungannon visitor, Sarah Rafferty won the gross prize with gross 80.

Julie McCarten was third with nett 70, Sr Barbara Gartland fourth with nett 71 and Paula McCrory fifth with nett 71.
The visitor's prize was won by Rachel Hall (Tandragee) with a nett 73.
Cat A Fionnuala Crossey (Banbridge) nett 75
Cat B Maire McReynolds nett 71
Cat C Gillian Poole nett 72 (beating Tara Grimley and Barbara Hamilton on the better back 9)
Cat D Gladys Villiers nett 75
The front 9 was won by Lynne Brown with nett 32 and Breda Nugent (Rossmore) won the back 9 with nett 33.
9 hole competition
A further 14 ladies entered the 9-hole competition which was won by Anne Cairns with 21 pts.
Sarah Henry (Dungannon) won nearest the pin (18th) and Jayne Henry (Dungannon) won the longest drive (17th).
There were birdies at the 6th for Fionnuala Crossey, 8th for Paula McCrory, 16th for Julie McCartan and 17th for Sarah Rafferty.
Twos were recorded at the 3rd by Anne Kinsella and Geraldine Rafferty, 9th by Aimee Brennan, 11th by Michelle Holland and 18th by Sarah Rafferty.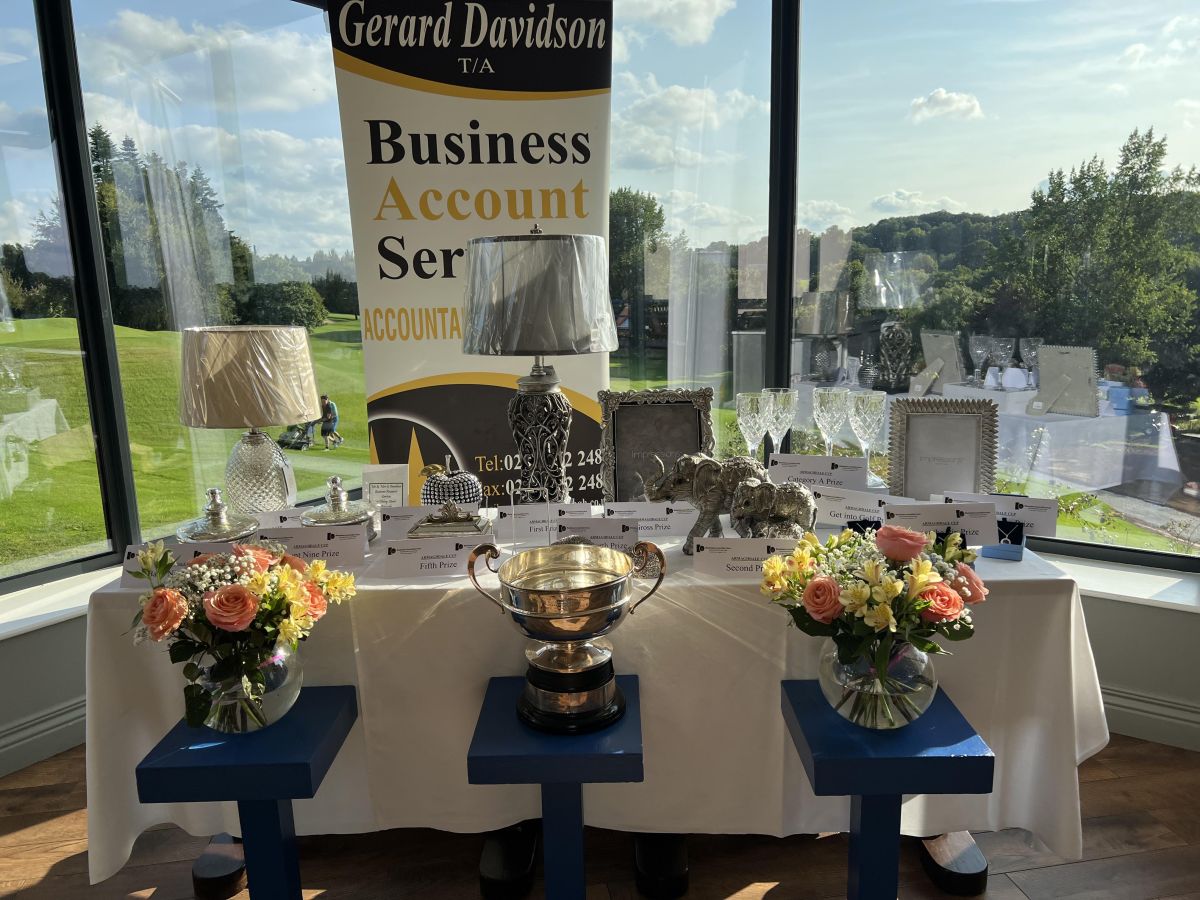 The array of beautiful prizes sponsored by Gerard Davidson T/A Business Account Services for the Armaghdale Open Stroke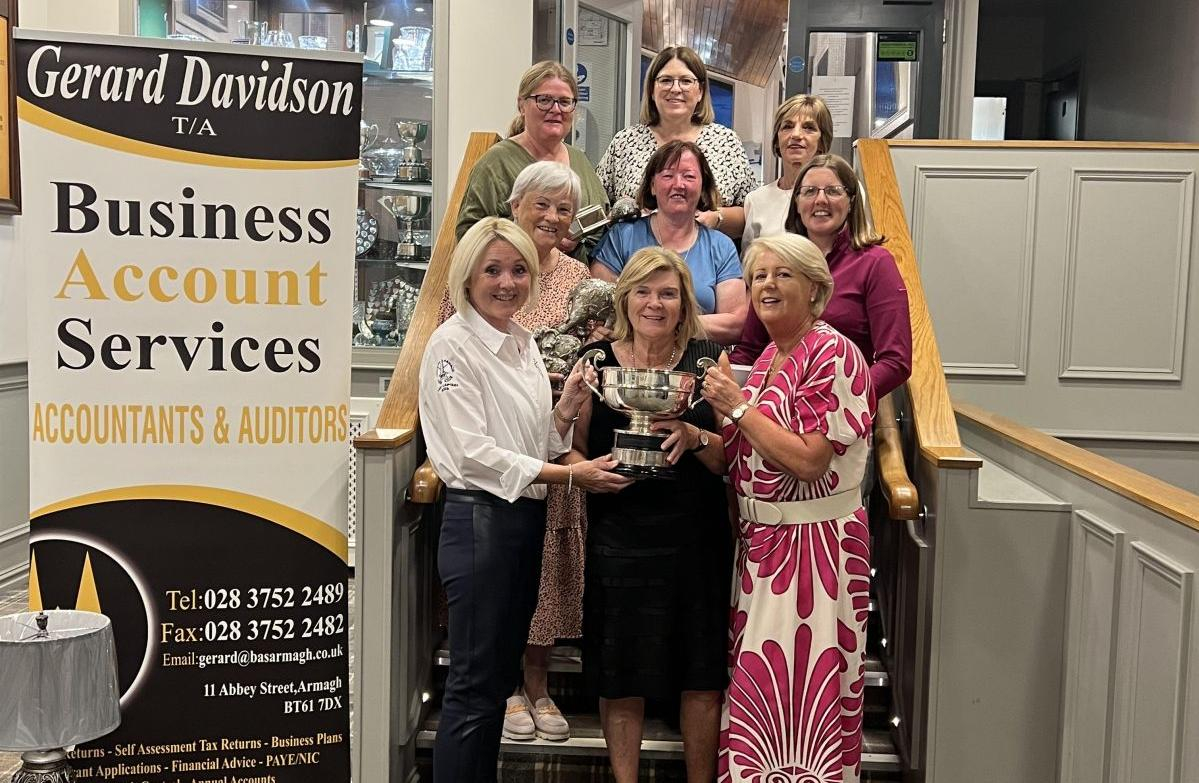 Prize-winners in the Armaghdale Open Stroke sponsored by Gerard Davidson T/A Business Account Services
Back L-R: Paula McCrory, Lynne Brown and Gladys Villiers
Middle row L-R: Flo McCall, Sr Barbara Gartland and Gillian Poole
Front row L-R: Lady Captain Lily McMullan, Geraldine Rafferty and Frances Davidson, representing sponsor Gerard Davidson T/A Business Account Services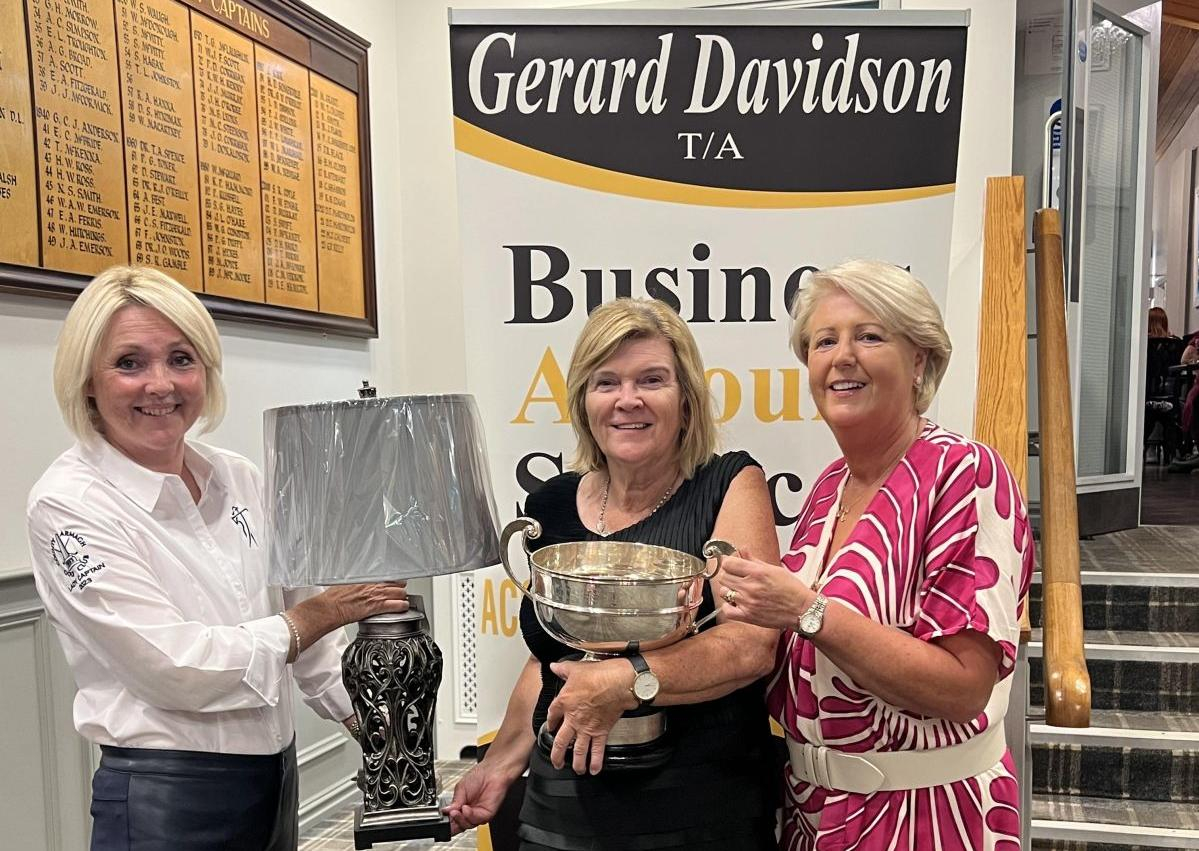 Geraldine Rafferty, winner of the Armaghdale Open Stroke, with Frances Davidson, representing Gerard Davidson T/A Business Account Services and Lady Captain Lily McMullan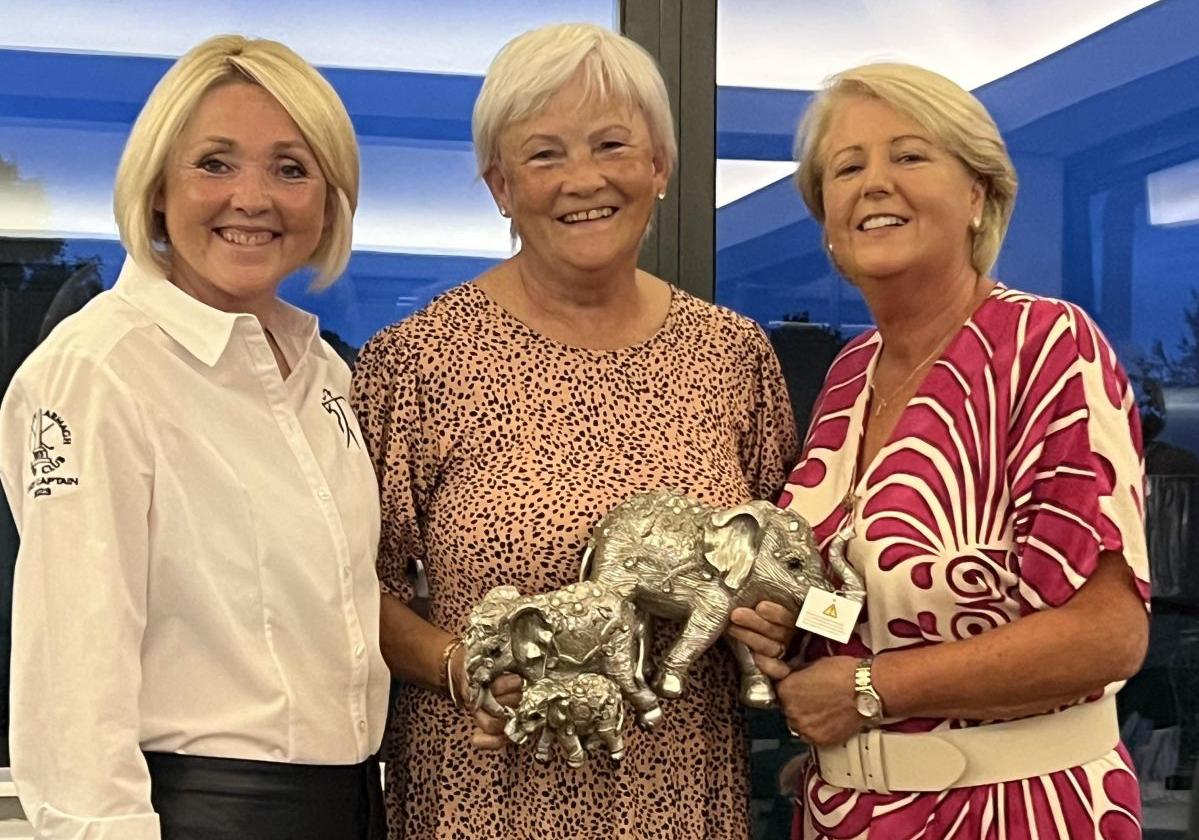 Runner-up Flo McCall collecting her prize from Frances Davidson watched on by Lady Captain Lily McMullan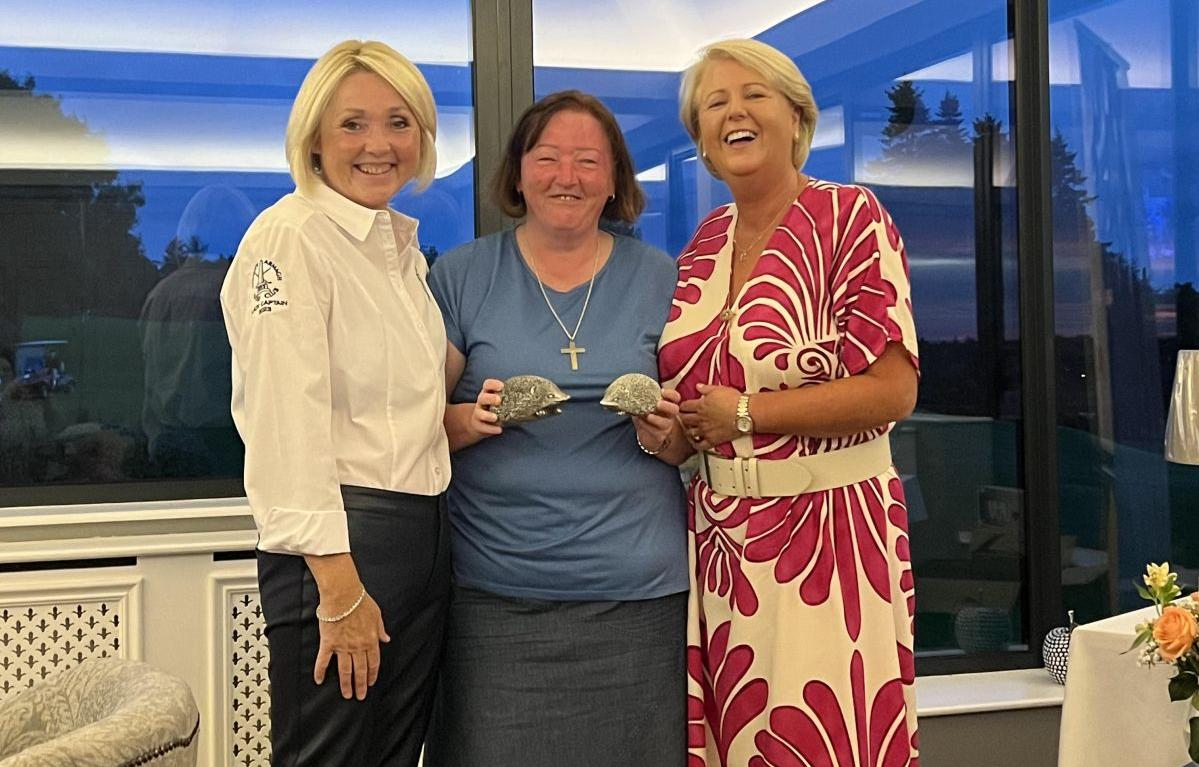 Sr Barbara Gartland collects her 4th place prize from Frances Davidson watched on by Lady Captain Lily McMullan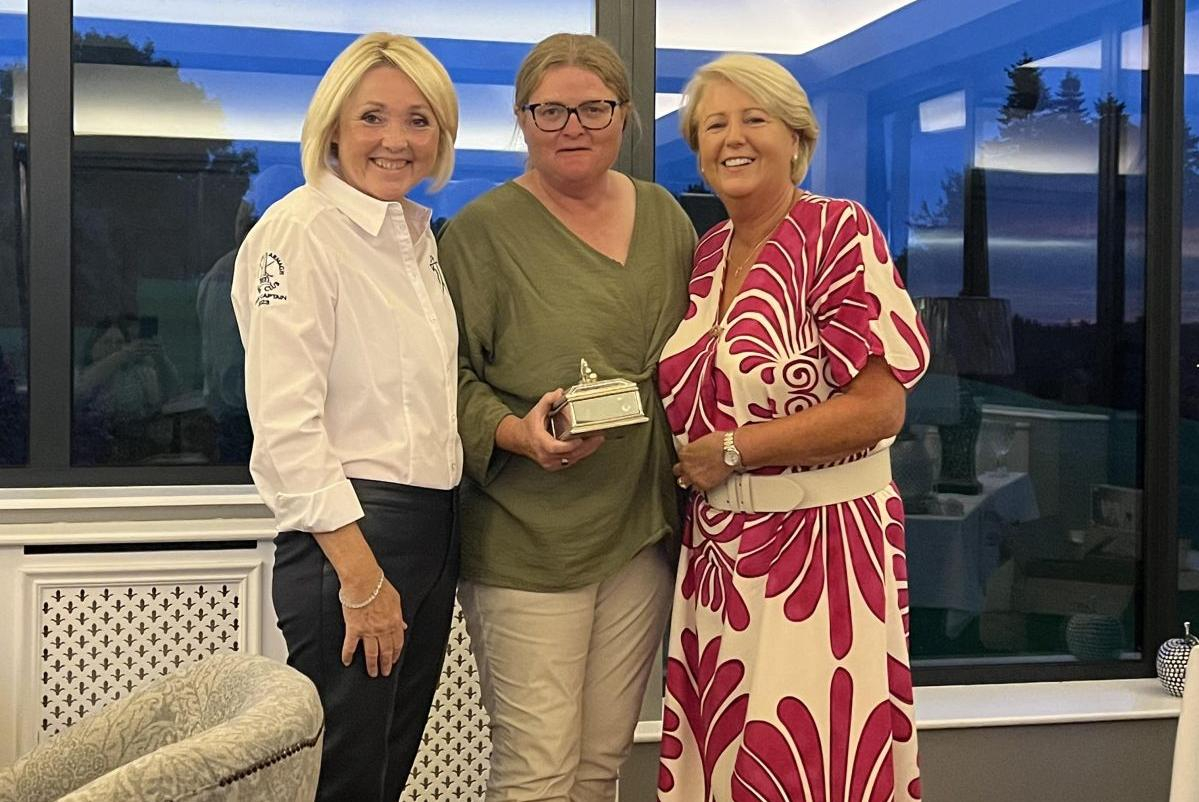 Fifth place prize winner Paula McCrory with Frances Davidson and Lady Captain Lily McMullan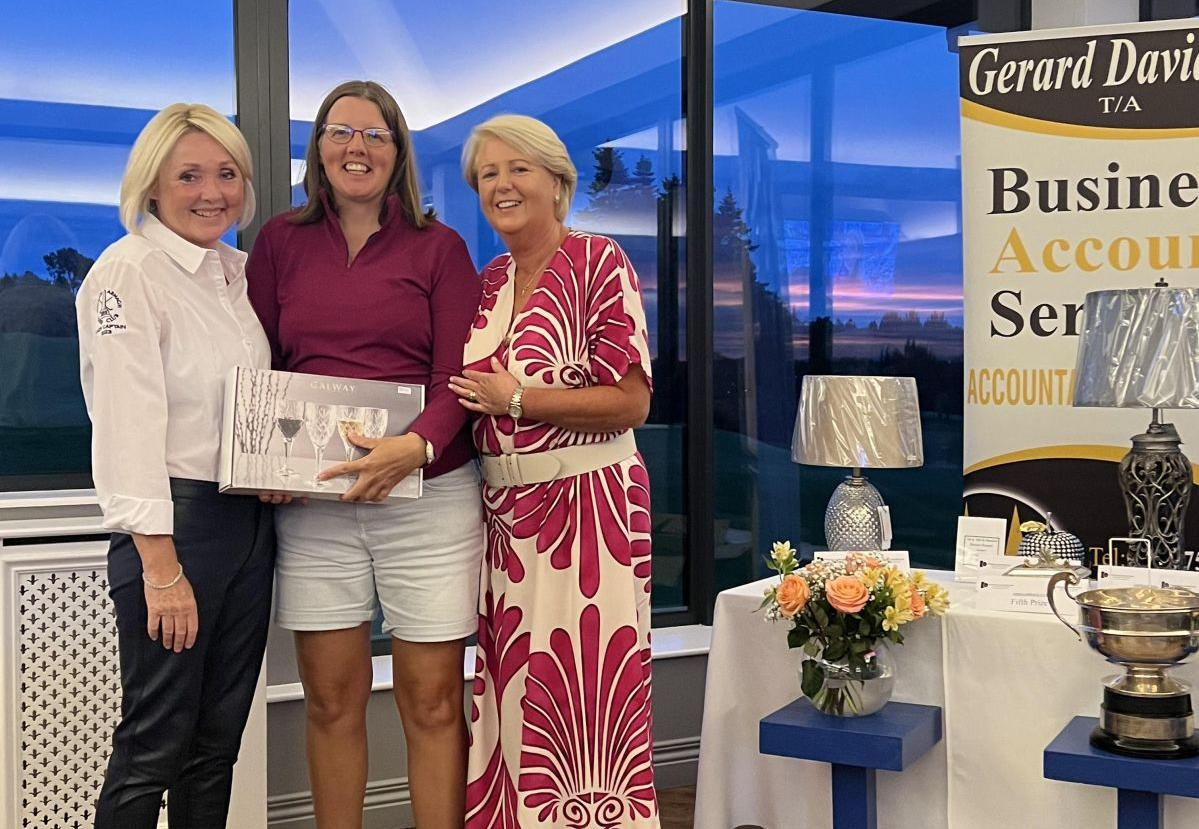 Category C winner Gillian Poole with Frances Davidson and Lady Captain Lily McMullan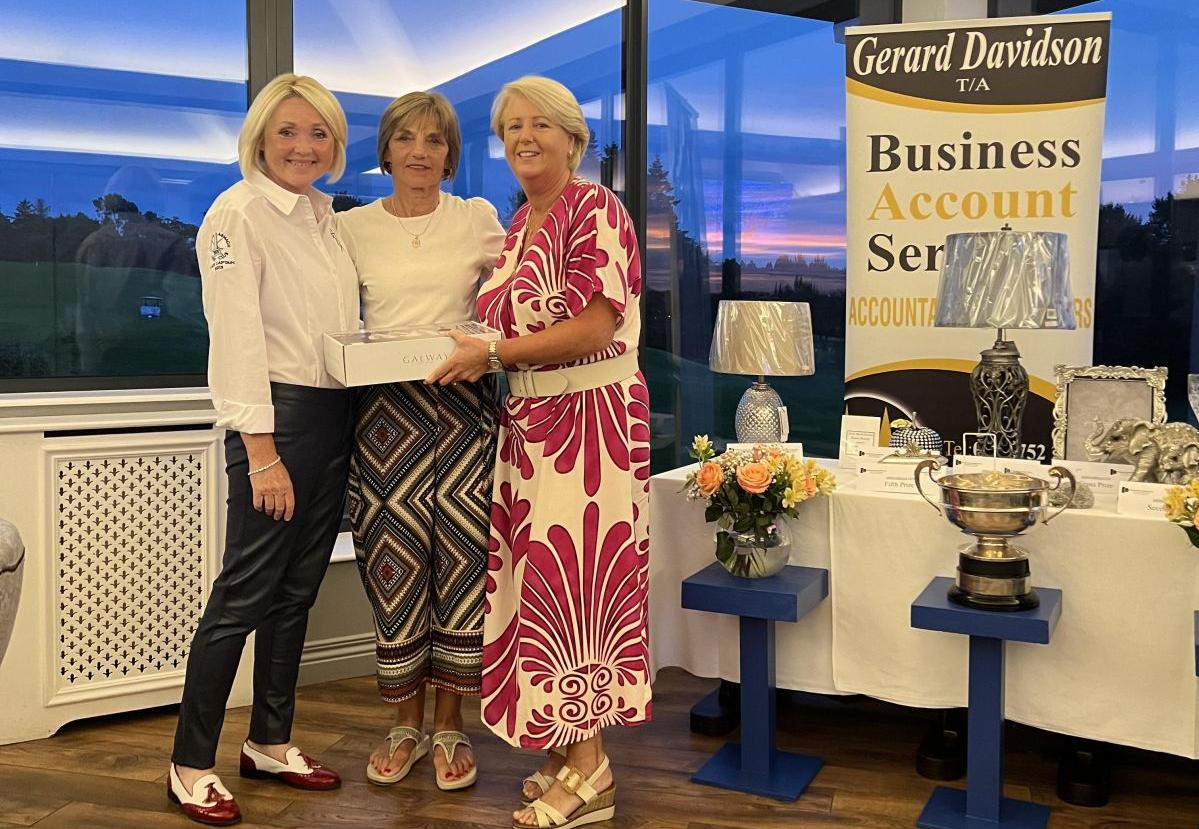 Category D winner Gladys Villiers with Frances Davidson and Lady Captain Lily McMullan