3-Club Fun Competition
There was a fun competition at Co Armagh Golf Club on Thursday 14 July with ladies permitted to use only 3 clubs and as the results clearly testify there are some ladies for which this is all they really need!
Lady Captain Karen Edgar welcomed everyone to prize giving and presented the prizes.
Coming out on top was Sylvia Ashe who amassed 41 pts with her 5 wood, 7 iron and putter. Anne Kinsella was second with 40 pts, Valerie Gordon third with 38 pts, Caitlin McKinney fourth with 37 pts and fifth was Geraldine Rafferty with 35 pts.
A further 11 ladies played the same format over 9 holes with Anne O'Hea winning with 18 pts.
There were birdies for Sylvia Ashe at the 2nd and for Lady Captain Karen at the 16th and twos were recorded by Alexandra Mawhinney at the 7th and by Sylvia Ashe and Mary Black at the 9th.
Putts on the Green Competition
Alongside the fun competition, ladies were asked to record their putts on the green. This competition was sponsored by Lady Captain Karen Edgar.
The 9 hole competition was won by Ria Haughey with 15 putts.
The 18 hole competition was won by Lady Captain Karen, with 29 putts, beating Ellen Brady and Alexandra Mawhinney on the countback. As sponsor of the competition, Lady Captain Karen chose not to accept the prize, which was split between Ellen and Alexandra.
Best Wishes to Captain Michael
On behalf of the Ladies' Branch, Lady Captain Karen extended Captain Michael best wishes for his forthcoming Captain's Day on Saturday 23 July.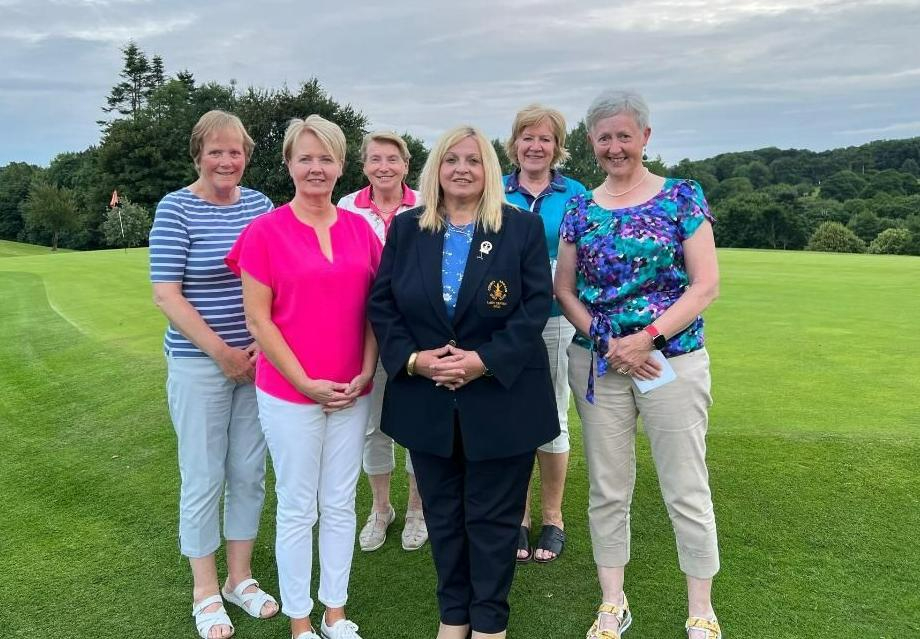 L-R: Valerie Gordon, Anne Kinsella, Caitlin McKinney, Lady Captain Karen Edgar, Anne O'Hea and Sylvia Ashe