The annual Marie Curie Classic took place on Thursday 23 June and the competition was once again very generously sponsored by Rice's Supermarket, Keady.
Lady Captain, Karen welcomed a large number of ladies to prize giving, extending a special welcome to fellow golfer, Phil Rice from Rice's Supermarket, Keady. She thanked her and Conlon for their long and loyal sponsorship and the beautiful display of hampers.
Phil made the presentation to the prize-winners who were all delighted with their hampers which had been so thoughtfully filled and beautifully created:
1st – Aoife Lennon and Hilary Johnston 48 pts
2nd – Paula McCrory and Moya Brady 47 pts
3rd – Frances Davidson and Lena Duffy 46 pts
4th – Maggie Donnelly and Sylvia Ashe 44 pts
A delighted Doreen Lappin won the 9 hole competition with 22 pts and Marie Corrigan was second with 20 pts.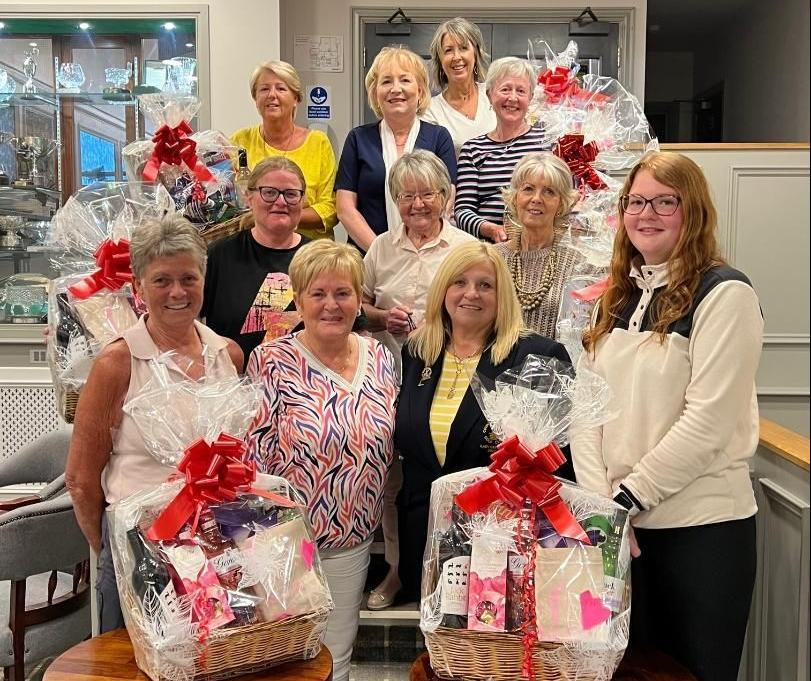 Back L-R: Frances Davidson, Doreen Lappin, Lena Duffy and Sylvia Ashe
Middle L-R: Paula McCrory, Marie Corrigan and Moya Brady
Front L-R: Hilary Johnston, Phil Rice, Rice's Supermarket, Lady Captain Karen Edgar and Aoife Lennon