It was a lovely spring day and the course was in great condition for the first competition of the 2022 season played in acceptable scoring conditions at Co Armagh Golf Club on Thursday 21 April, when ladies competed in the Peggy Nelson Qualifying Stableford.
The categories for this competition, as per Golf Ireland's regulations, were:
Cat A Handicap Index 15.9 and lower
Cat B Handicap Index 16.0 to 23.9
Cat C Handicap Index 24.0 to 36.0
The winner from each of these categories qualify for the regional final.
Welcoming everyone to prize giving Lady Captain Karen reminded ladies of the forthcoming May Spring Open on Monday 9 May, which was once again being very generously sponsored by Mark Hawthorne, Lila's Fashions. The timesheet, which opened for bookings on Monday 25 April, would be available for members from the evening of 21 April.
Category A 1st Maggie McKee 41 pts 2nd Alexandra Mawhinney 36 pts
Category B 1st Alanna O'Donnell 40 pts 2nd Natasha McShane 39 pts
Category C 1st Bernie McBride 36 pts 2nd Moya Brady 35 pts
We wish Maggie, Alanna and Bernie well as they represent Co Armagh Golf Club at the regional final on Monday 4 July in Dunmurry.
Lena Duffy won the competition for those with a handicap index >36.
Fifteen ladies played in the 9 hole competition which was won by Gladys Villiers with 14 points, beating Teresa Corrigan on the countback.
There were birdies at the 4rd for Siobhan Donnelly and the 6th for Emma Garrigan and twos were recorded by Teresa Corrigan at the 7th and Fionnuala Quinn at the 13th.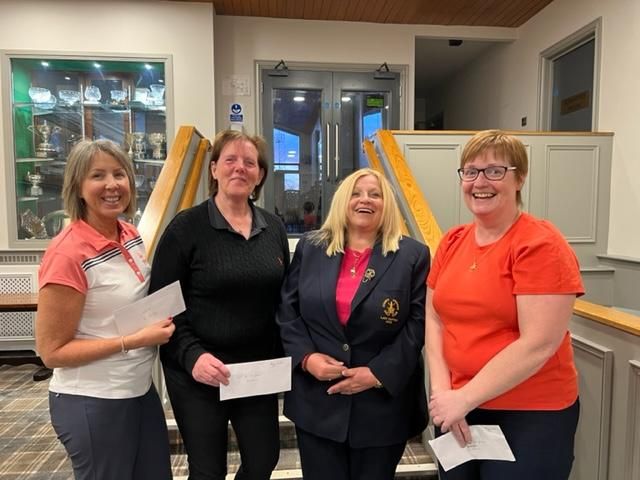 l-r: Lena Duffy, Maggie McKee, Lady Captain Karen Edgar and Bernie McBride