On a dry but bitter cold day ladies competed in the Millennium Bowl and McCall Shield Stroke Competitions at Co Armagh Golf Club on Thursday 14 April 2022. The Millennium Bowl had been donated by Mrs Cecelia Woods, Lady Captain in 2000 and was competed for by golfers with a playing handicap between 0 and 24. The McCall Shield, for those with a playing handicap between 25 and 54, had been presented by Mrs Flo McCall when she was Lady Captain in 2009.
For prize-giving Lady Captain Karen had created a beautiful Easter-themed display showcasing both the Millennium Bowl and the McCall Shield amid daffodils and chocolate treats.
Forty-seven ladies played in the 18 hole competition.
The Millennium Bowl was won by Emma Garrigan with nett 69. Second, with nett 70, was Alexandra Mawhinney, beating Gail Steed on countback into third place.
The McCall Shield was won by Shernette Mullan with a fantastic nett 59. Sylvia Ashe was second with nett 73 and Joy Steenson third with nett 74.
Mrs Flo McCall presented the shield to a delighted Shernette.
Birdies were recorded by Alexandra Mawhinney at the 1st, Emma Garrigan at the 6th and Colette McSorley at the 5th and 14th.
There were twos for June Humphries at the 3rd and 11th, Emma Garrigan at the 3rd, Elizabeth Mawhinney at the 7th and Colette McSorley at the 9th.
Seventeen ladies played in the 9 hole competition which was won by Theresa Campbell with 18 pts. Maura McCoy was second with 17 pts.
All of the ladies present at prize-giving received a 'bubbly bunny' courtesy of Lady Captain Karen.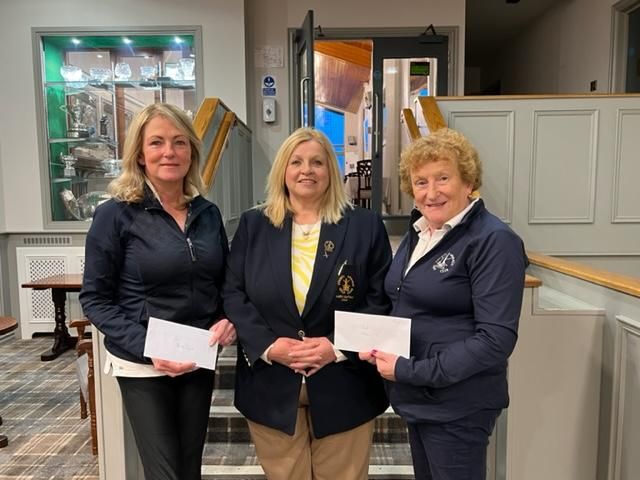 9 hole competition prize-winners
Theresa Campbell, Lady Captain Karen Edgar and Maura McCoy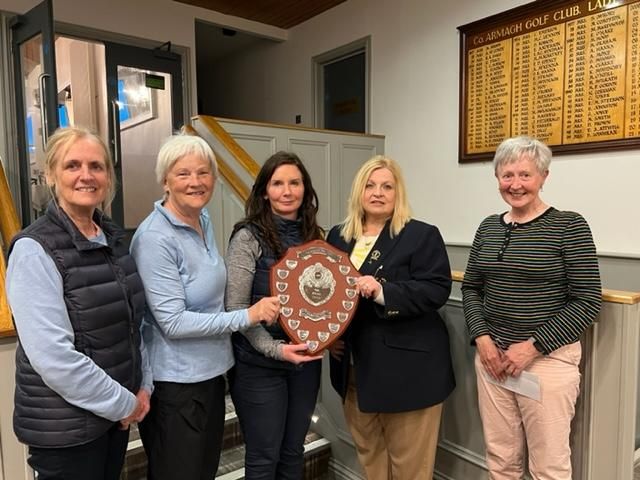 Prize-winners in the McCall Shield
Joy Steenson, Mrs Flo McCall, Shernette Mullan, Lady Captain Karen Edgar and Sylvia Ashe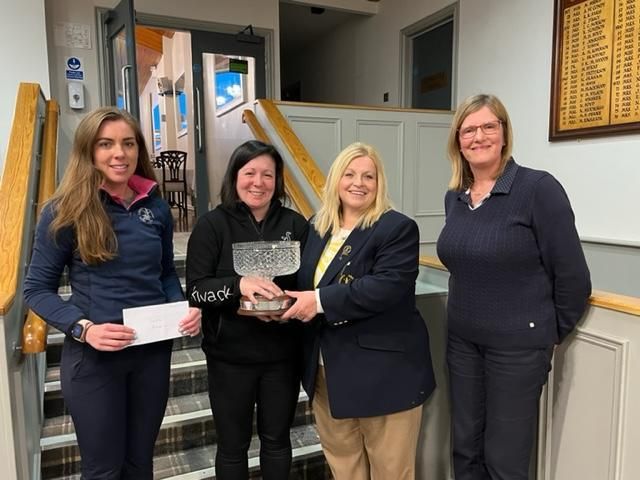 Prize-winners in the Millennium Bowl
Alexandra Mawhinney, Lady Captain Karen Edgar and Gail Steed