Lady Captain Karen Edgar welcomed everyone to the prize-giving for the annual Daisy Ferguson Greensomes on Thursday 7 April 2022.
Hon Competitions' Secretary Mary reminded ladies about the new Friendship Cup and advised that it had been decided to remove the handicap restrictions for pairings entering this matchplay competition.
The results were:
1st – Hilary Johnston and Sylvia Ashe 42 pts
2nd – Maggie McKee and Bernie McBride 39 pts
3rd – Siobhan Donnelly and Lynne Brown 37 pts (beating Moya Brady and Paula McCrory on countback)
As winners of the competition, the pairing of Hilary Johnston and Sylvia Ashe have qualified to represent Co Armagh Golf Club in Royal County Down on 1 August.
Molly Conway won the 9 hole competition with 18 pts, beating Tish Burke on the countback.
The draw for the Link Cup also took place, resulting in the following matches:
Paula McCrory v Fionnuala Quinn
Denise Murphy v Siobhan Donnelly
Colette McSorley v Maggie McKee
Lynne Brown v Alexandra Mawhinney
Eilish Grimes v Michelle Kinane
Aoife Lennon v Ellen Brady
Mary Black v Eileen Fitzsimons
Helen McLaughlin v Vera Ellingham
Elizabeth Mawhinney v Anne Kinsella
June Humphries v Anne O'Reilly
Bernie McBride v Lily McMullan
Katherine Steenson v Anne McDonald
Julie McCarten v Flo McCall
Sylvia Ashe v Emma Garrigan
Gail Steed v Karen Edgar
Geraldine Rafferty v Patricia Hughes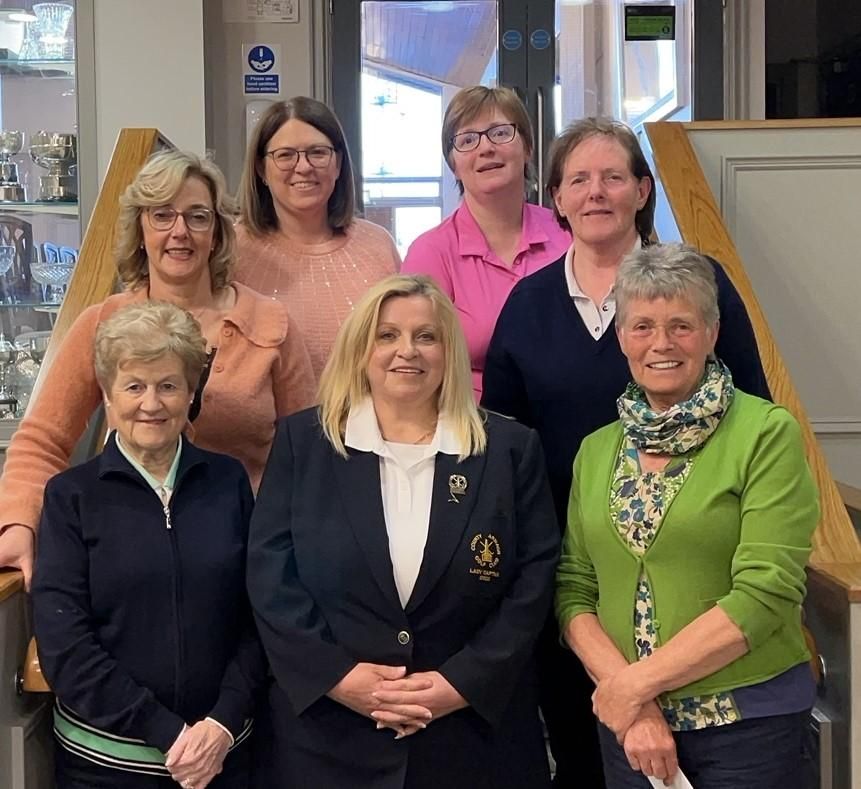 Back L-R: Lynne Brown and Bernie McBride
Middle L-R: Siobhan Donnelly and Maggie McKee
Frong L-R: Molly Conway, Lady Captain Karen Edgar and Hilary Johnston