94 ladies, including twenty-eight visitors, competed for the prestigious Armaghdale Cup on Saturday 4th September. The ladies challenge cup was originally presented to the club in 1926 by Lady Armaghadale. The competition was once again generously sponsored by Gerard Davidson Business Account Services, represented on the night by Mrs Frances Davidson.
Lady Captain Anne welcomed Frances and thanked her most sincerely for her long-standing support and her generous prizes. Frances thanked Anne for inviting her to present her prizes and commented on how nice it was to have lovely weather this year for the competition. Frances also confirmed that Gerard Business Account Services would continue to be a sponsor.
The winner of the prestigious Armaghdale Cup was very tightly contested with the winner being decided on count back. Elizabeth Mawhinney emerged as the winner with a fantastic nett 64. Elizabeth was absolutely delighted to receive her prize and to lift the glittering trophy, and thanked Frances for her continued sponsorship. Barbara Hamilton took second place, also on nett 64. Dungannon visitor Lorna Stewart secured third place with nett 67. The gross prize went to Karen Shaw from Portadown with a nett 74.
Fourth place went to Geraldine Rafferty with a nett 69 beating Mary Black on countback into fifth place. Visitor Jennifer Wilson won sixth place on countback with a nett 70.
BELOW: Armaghdale Cup winner Elizabeth Mawhinney pictured with Frances Davidson, representing sponsor Gerard Davidson Business Accounts Services. Also in picture Lady Captain Anne and prizewinners Barbara Hamilton, Mary Black, Lorna Stewart, Geraldine Rafferty, Gladys Villiers, Hilary Johnston, Anne Mone, Teresa Campbell, Lena Duffy and Maggie McKee.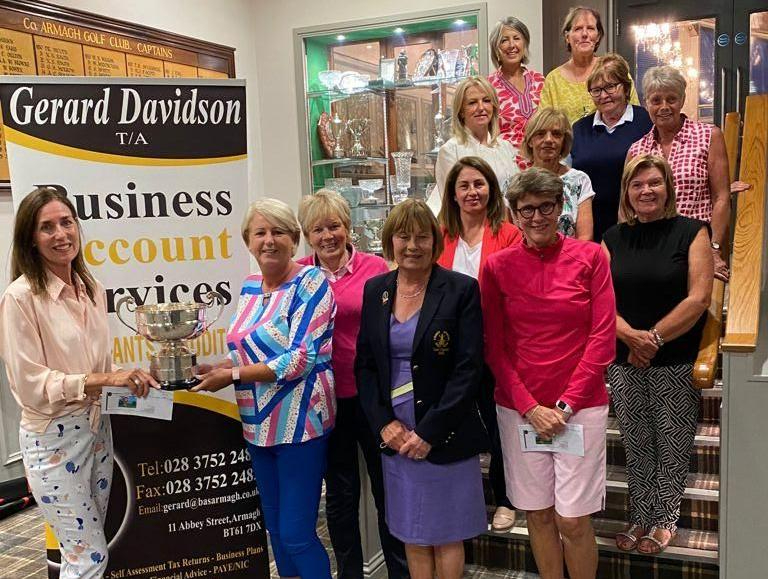 A full list of the remaining prizes is as follows: -
Category A winner with nett 70 – Hilary Johnston
Category B winner with nett 70 – Anne Mone
Category C winner with nett 70 – Anne Black
Category D winner with nett 71 – Lena Duffy
Front Nine winner with nett 30 – Gladys Villiers
Back Nine winner with nett 34 – Carmel Cassidy
9-Hole Competition winner with 22 points – Theresa Campbell
Nearest the Pin at 7th Hole – Lily McMullan
Longest Drive at 17th Hole – Maggie McKee