Fifty-five ladies played the September Medal competition at Co Armagh Golf Club on Thursday 5 September 2019, which was generously sponsored by Annette Foster, Ol Flowers.
Welcoming Annette to prize-giving Lady Captain, Mrs Moya Brady thanked her for her generous and continued support of the Ladies' Branch and the beautiful floral display prizes.
Reflective of the difficulty of the course on the day, the Competition Scratch Score for the day was 72.
The results were:
1st – Siobhan Donnelly nett 70
2nd – Paula McCrory nett 71
3rd – Michelle Kinane nett 72
Gross – Lily McMullan 81
The category winners were:
Cat A – Colette McSorley nett 76
Cat B – Gillian Poole nett 74
Cat C – Maggie McKee nett 75
Cat D – Donna Carolan nett 76 btg Grace Hart, Molly Conway and Marie McGreevy on the c/b
Having missed out on her category prize Marie McGreevy secured the front 9 with nett 29 meanwhile Lorraine Megaw won the back 9 with nett 39.
Bernie Harvey won the 9 hole competition with 17 pts and the weekly Time for Nine competition was won by Mary Knott with 16 pts.
The only birdies recorded were 2s for Ellen Brady and Vera Ellingham at the 3rd and Paula McCrory at the 7th.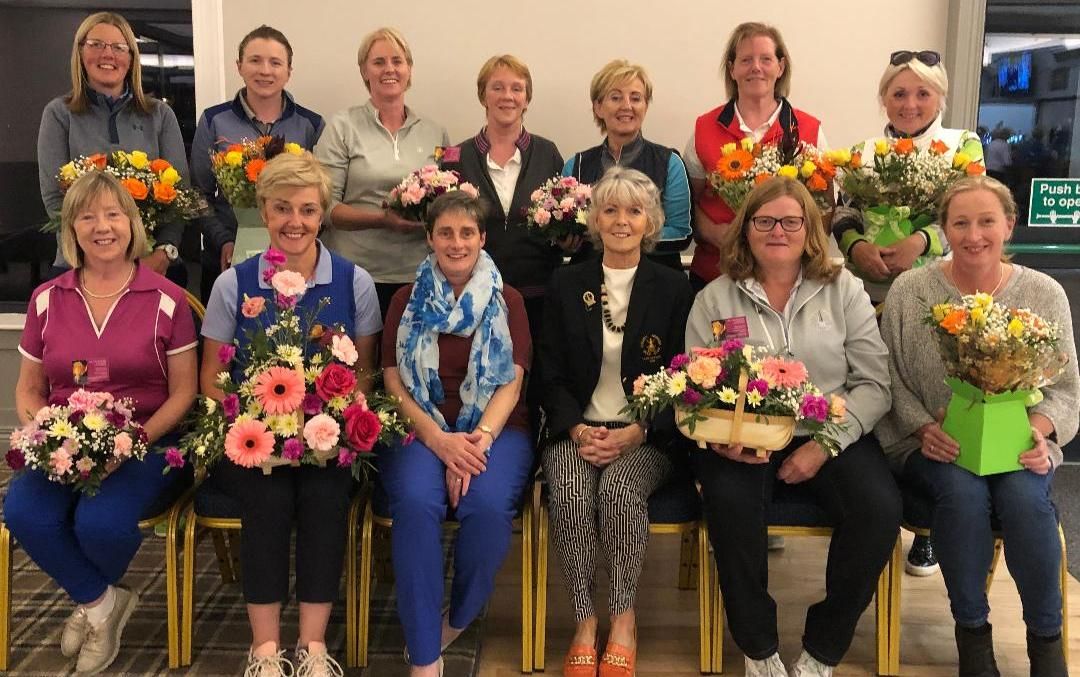 Back L-R: Gillian Poole, Colette McSorley, Marie McGreevy, Mary Knott, Lorraine Megaw, Maggie McKee and Lily McMullan
Front L-R: Bernie Harvey, Siobhan Donnelly, Annette Foster, Ol Flowers, Lady Captain Moya Brady, Paula McCrory and Michelle Kinane