A fantastic 117 ladies, including visitors from Dungannon, City of Derry, Banbridge, Cookstown, Fintona, Donaghadee, Aughnacloy and Tandragee competed in the prestigious Armaghdale Open Stroke competition held at Co Armagh Golf Club on Saturday 7 September 2019.
Regarded as one of the 'majors' the Armaghdale competition was once again sponsored by Gerard Davidson T/A Business Account Services Accountants and Auditors who were represented by fellow golfer, Frances Davidson.
The annual competition has been very generously sponsored by G Davidson Business Account Services for a number of years and this year was no exception, with the most beautiful array of glass prizes on display.
Competition Standard Scratch for Members was 69 and for Visitors 71.
Lady Captain, Mrs Moya Brady warmly welcomed Francis Davidson, representing Gerard Davidson Business Account Services and thanked her sincerely for the long and valued sponsorship of the competition.
1st Maggie McKee nett 66
2nd Colette McSorley nett 66
3rd Ellen Brady nett 67
Gross Alexandra Mawhinney 78
4th Jill McKenna nett 67
5th Lynne Brown nett 68
(btg Anne Kinsella on c/b)
Visitor Prize – Michele Coulter nett 71
Cat A Mary Black nett 70
(btg Paula McCrory on c/b)
Cat B Anne Kinsella nett 68
Cat C Jacqueline Kelly nett 70
(btg Michelle Kinane on c/b)
Cat D Grace Hart nett 70
Back 9 Theresa McVeigh nett 35
Front 9 Pauline Vallely nett 32
(btg Emma Garrigan, Elizabeth Mawhinney, Carmel Cassidy and Kathryn Sawyers on c/b)
Rea Haughey won the 9 hole competition with 17 pts, beating Theresa Campbell, also with 17 pts, into second place.
Longest drive (5th) Alexandra Mawhinney
Nearest the pin (3rd) – 2ft 8" Donna Carolan
The runner up, Colette McSorley, spoke on behalf of the winner Maggie McKee, who having played her golf had travelled to Dublin, and offered her apologies for having missed prize-giving. On Maggie's behalf, and indeed on behalf of all prize-winners, Colette thanked Frances Davidson, Gerard Davidson Business Account Services for their continued support and the beautiful and generous prizes.
There were birdies at the 2nd, 8th and 14th for Alexandra Mawhinney; at the 1st for Gillian Poole; 2nd for Geraldine Rafferty; 5th for Carina Oliver and Siobhan Donnelly; 6th for Michele Coulter; 8th for Valerie Gordon; 12th for Rita Mone, Hilary Johnston and Colette McSorley and 17th for Ellen Brady.
Twos were recorded at the 3rd by Karen Heatherington and Donna Carolan; at the 7th by Kathleen Oliver and Colette McAleavey; at the 11th by Ellen Brady, Moya Brady and Theresa McVeigh; at the 13th by Lorna Stewart and at the 7th and 11th by Pauline Vallely.
The handicap cuts were Maggie McKee 23-21, Colette McSorley 14-13, Ellen Brady 8.5-7.9, Jill McKenna 35-33 and Anne Kinsella 20-19.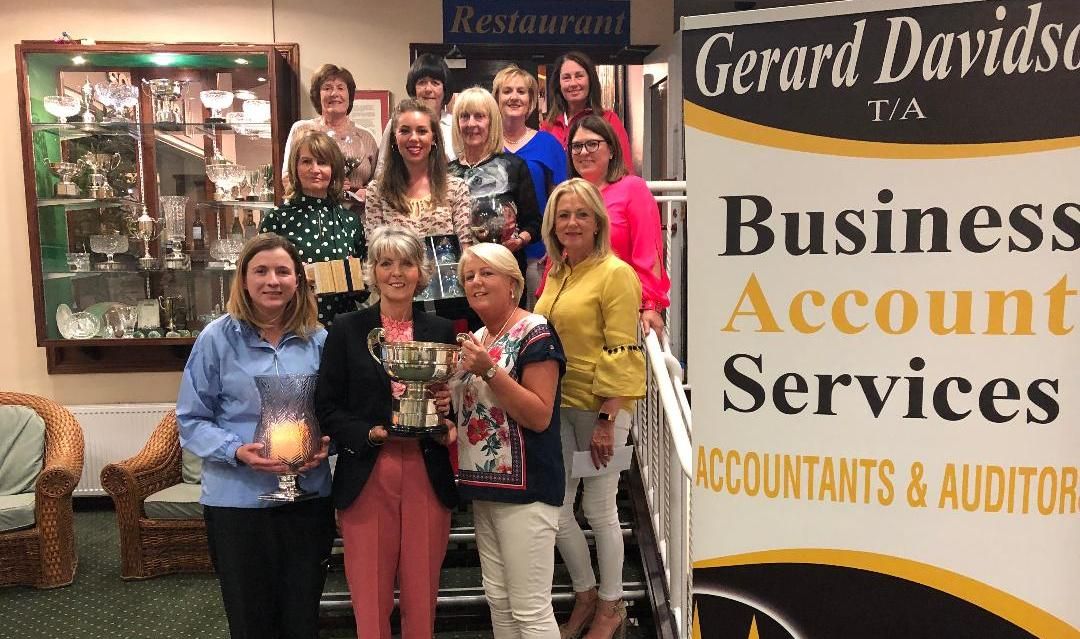 Back L-R: Pauline Vallely, Donna Carolan, Jacqueline Kelly and Mary Black
3rd row L-R: Rea Haughey, Alexandra Mawhinney, Theresa McVeigh and Lynne Brown
2nd row L-R: Theresa Campbell
Front L-R: Colette McSorley, Lady Captain Moya Brady and Frances Davidson, Gerard Davidson Business Account Services