One hundred and thirty ladies played in the first Ladies Open Competition of the year at County Armagh Golf Club on Bank Holiday Monday 6 May, the 10 th year the competition had been generously sponsored by Lila's Fashions. Co Armagh ladies competed alongside ladies from Aughnacloy; Banbridge; City of Derry; Kilcock; Loughgall; Rossmore; Tandragee and 29 ladies from Dungannon for the much coveted cup and voucher prizes.
Lady Captain, Mrs Moya Brady welcomed Mark Hawthorne, Lila's Fashions and thanked him for the long and valued sponsorship.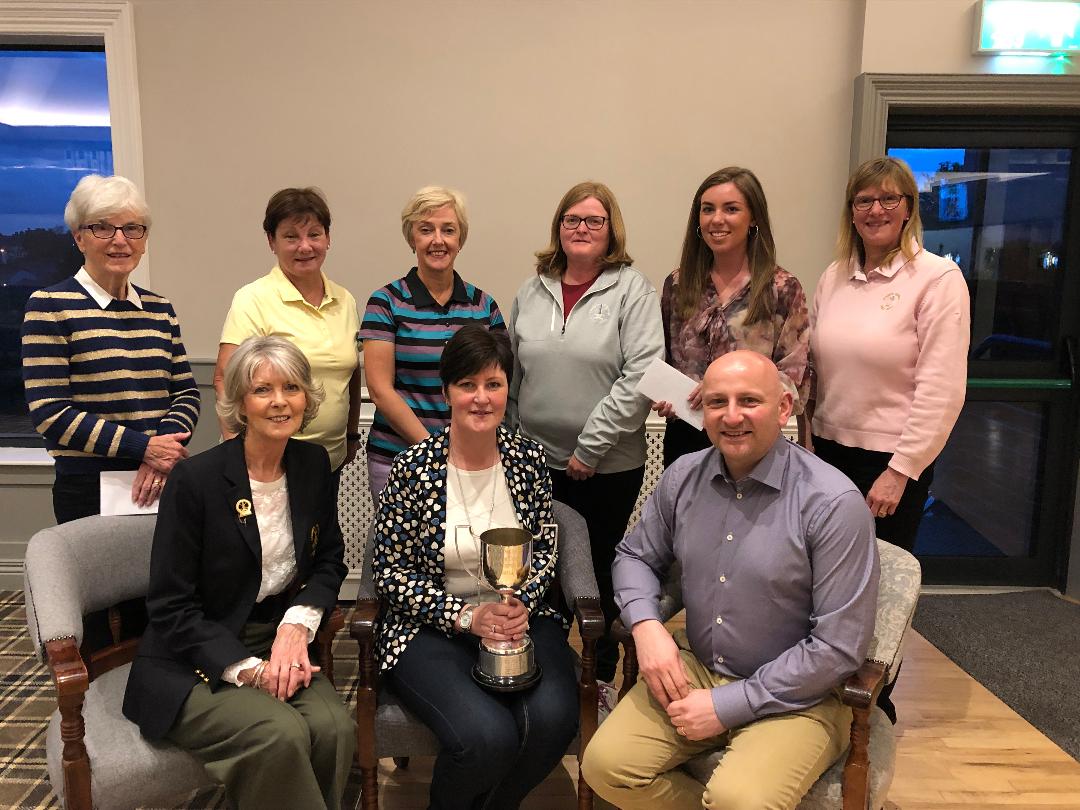 Back L-R: Angela O'Reilly, Fionnuala Quinn, Siobhan Donnelly, Paula McCrory, Alexandra Mawhinney and Gail Steed
Front L-R: Lady Captain Moya Brady, Rita Mone and Mark Hawthorne, Lila's Fashions
In 5 th place, with 36 pts, was Alexandra Mawhinney; 4th was Dympna Fitzpatrick (Dungannon) with 38 pts; the gross prize was won by Sarah Rafferty (Dungannon); 3rd was Fionnuala Quinn with 39 pts and 2 nd with 40 pts was Michelle Kinane. The winner of the Spring Open, also with 40 pts, was the 2018 runner-up, Rita Mone.
Mark Hawthorne, Lila's Fashions, presented the cup and first place prize to a delighted Rita who made an emotional acceptance speech, which was met with rapturous applause.
The remaining prize winners were:
Cat A – Paula McCrory 36 pts
Cat B – Ann McKenna 32 pts
Cat C – Brigid McEneaney 35 pts
Cat D – Ann Murphy 35 pts
Visitor Prize – Kathleen McKenna (Kilcock) 36 pts
Back 9 – Siobhan Donnelly 18 pts
Front 9 – Mary Black 21 pts
Longest Drive – Gail Steed
Nearest the Pin – Mary Black
Angela O'Reilly won the 9 hole competition with 17 pts.
There were birdies at the 1 st for Teresa McVeigh, 4 th for Sarah Rafferty, 5 th for Paula McCrory and 6 th for Rita Mone and twos at the 3 rd for Gemma Rice; at the 7 th for Mary Black, Siobhan Donnelly and Paula McCrory; at the 11 th for Ann Currie and at the 13 th for Mary McCourt.
The handicap cuts were Fionnuala Quinn 26-25; Rita Mone 18-16, Alexandra Mawhinney 13-12 and Michelle Kinane 30-27.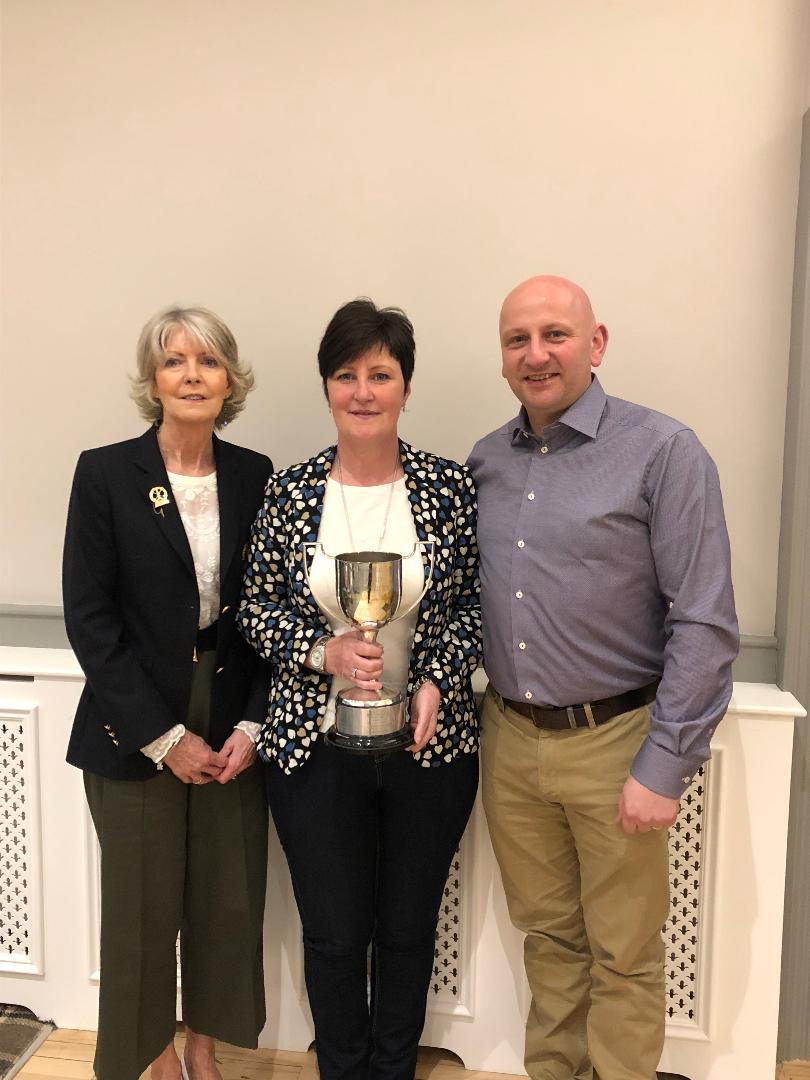 Lady Captain Moya Brady, Rita Mone and Mark Hawthorne, Lila's Fashions