Welcoming everyone to prize giving, Lady Captain, Mrs Moya Brady conveyed apologies on behalf of Mr Arnold Courtney, the sponsor of the competition, who had presented the Parker Bowl to the Club in memory of his late Aunt and Uncle.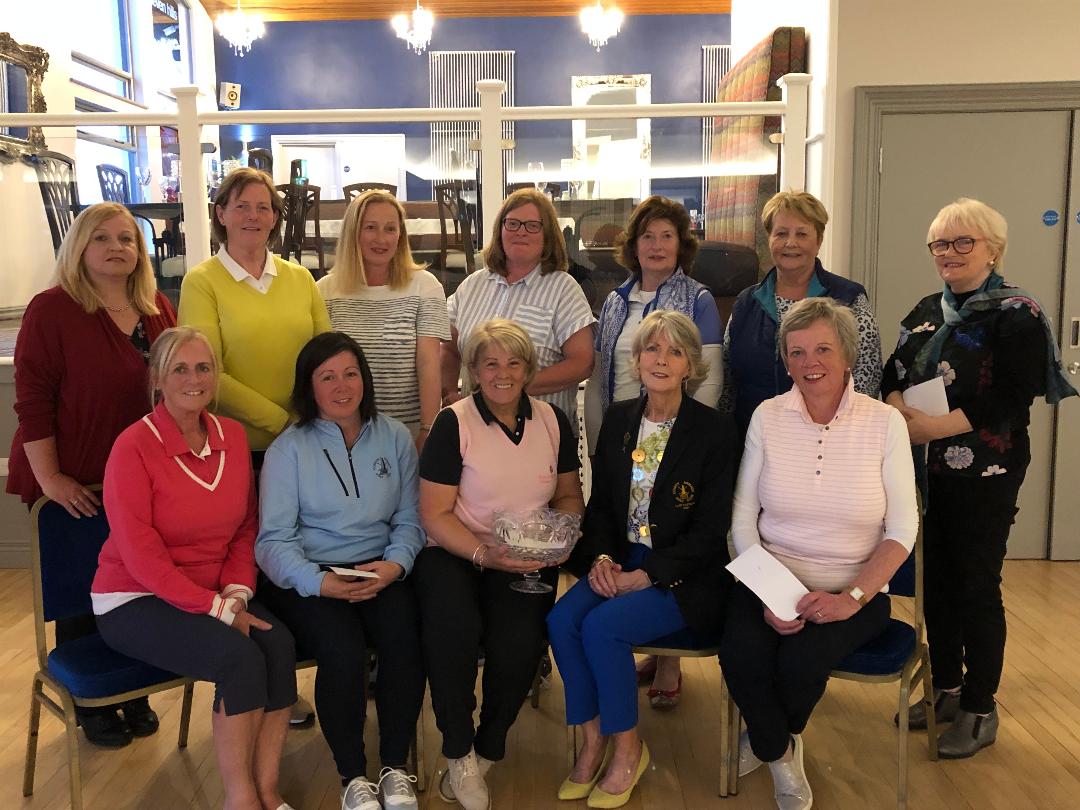 Back L-R: Karen Edgar, Maggie McKee, Michelle Kinane, Paula McCrory, Eilish Grimes, Maggie Clarke and Tish Burke
Front L-R: Joy Steenson, Emma Garrigan, Ellen Brady, Lady Captain Moya Brady and Sheila Stinson
In third place with 37 pts was Sheila Stinson. The 2018 winner, Emma Garrigan, put up a great fight to retain the trophy, coming second with 37 pts, however, the 2018 runner up, Ellen Brady, pipped her to the post with 38 pts.
The category winners were:
Cat A – Paula McCrory 34 pts
Cat B – Maggie McKee 36 pts
Cat C – Eilish Grimes 31 pts
Cat D – Joy Steenson 32 pts
Karen Edgar won the front 9 with 19 pts and Rita Mone won the back 9 with 19 pts.
17 ladies played in the 9 hole competition with Maggie Clarke coming out on top with 19 pts. Tish Burke was second with 16 pts.
Emma Garrigan won the weekly Time for Nine competition with 18 pts and Michelle Kinane was second, also with 18 pts.
There were birdies at the 1 st for Geraldine Rafferty and at the 4 th for Ellen Brady and twos at the 7 th for Colette McSorley, Colette McAleavey and Pauline Gingles and at the 9 th for Paula McCrory.
There was only one handicap cut – Sheila Stinson from 29 – 28.