Co Armagh Ladies competed in the Sinton Cup qualifier stroke competition on 9 May, which was once again very generously sponsored by McKinney Timber, represented by fellow lady golfer, Mrs Cait McKinney.
Mrs Moya Brady, Lady Captain, welcomed Cait McKinney and thanked her and her family at McKinney's Timber for their support and the array of prizes.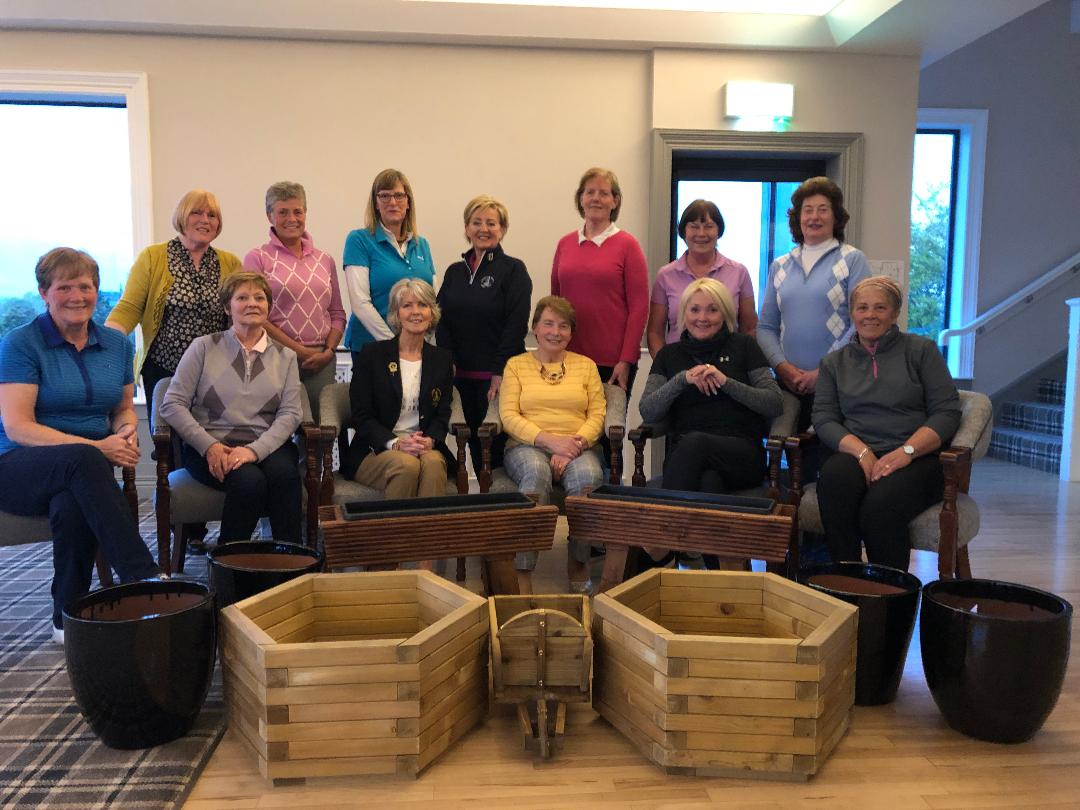 Back L-R: Mary McElvanna, Hilary Johnston, Gail Steed, Lorraine Megaw, Maggie McKee, Anne McDonald and Eilish Grimes
Front L-R: Valerie Gordon, Vera Ellingham, Lady Captain Moya Brady, Cait McKinney, McKinney's Timber, Lily McMullan and Ellen Brady
Whilst most ladies found the conditions difficult, reflected in the Standard Scratch of 73, as ever the winners were not phased by these.
The Sinton Cup is a match-play competition competed for by the two best gross and net score golfers in the qualifying competition and these were:
1 st Gross Ellen Brady 81
2 nd Gross Valerie Gordon 88
1 st Nett Lilly McMullan 69
2 nd Nett Vera Ellingham 71
The remaining prize winners were:
Cat A – Hilary Johnston nett 76
Cat B – Gail Steed nett 76
Cat C – Maggie McKee nett 75
Cat D – Eilish Grimes nett 77
Back 9 – Lorraine Megaw nett 38
Front 9 – Anne McDonald nett 32
Margaret McNamee won the 9 hole competition with 19 pts and Mary McElvanna won the weekly Time For Nine competition with 17 pts.
Francis Davidson carded the only two of the day at the 3 rd .
There were handicap cuts for Vera Ellingham 23-21.9 and Lily McMullan 10-9.3.
A draw for the Sinton Cup matchplay was conducted at the end of prizegiving which resulted in Ellen Brady being drawn against Vera Ellingham and Valerie Gordon against Lily McMullan.