Men - News & Results
1st Miceal McParland nett 66
2nd Kieran Campbell nett 69
Category 1
1st Phil Russell nett 69
2nd Jim Wilson nett 69
Category 2
1st Osisin Gill nett 69
2nd Dessie Cassidy nett 70
Category 3
1st Declan McKee nett 70
2nd F Smyth nett 74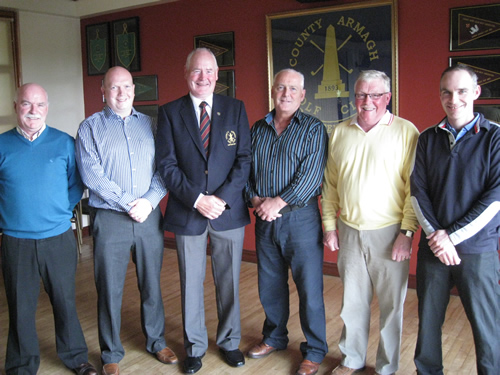 County Armagh Golf Club Captain Tom Calvert is pictured with PGA Competition winners (from left), Declan McKee, Kieran Campbell, Micael McParland, Dessie Cassidy and Philip Russell
PGA Tankard prize for Micael
Playing partners Miceal McParland and Kieran Campbell shared the top prizes in the PGA Tankard competition at County Armagh sponsored by Armagh Oil Company Ltd.
Three shots separated the two 13-handicappers with Micael's 66 nett winning the day. Kieran will however, not be disappointed in picking up the runners up prize with his nett 69.
Birdies at the third and 12th holes were among the highlights of Micael's very consistent round in which he was just two over par at the turn. In contrast Kieran's two triple bogey sevens at the fifth and eighth holes proved his undoing.
Jimmy Wilson's double bogey at the last hole for a nett 69 finish, did him out of the top prize in Category One where Philip Russell's nett 69 (gross 72) won the day.
Osisin Gill won the Category 2 first prize with a nett 69 and Dessie Cassidy who picked up his Hirsh Cup prize just the previous day, obviously enjoyed the experience and with a nett 70 can look forward to collecting the Category 2 runner's up prize this week-end.
In Category 3 Declan McKee's nett 70 was enough to win and F Smyth will be delighted to take the runner's up prize with a nett 74.
Details

Parent Category: News & Results
Category: Men - News & Results