Captain's praise for matchplay cup winners
Silverware and congratulations were in abundance at County Armagh Golf Club when Captain Tom Calvert presented the club's matchplay trophies at the week-end.
He was joined at the special presentation by Mrs Greta Foster from the Charlemont Arms Hotel, Armagh, which annually sponors the Charlemont Cup, and Philip Russell from Pro Golf, Newry, who sponsored the Mixed Greensomes Matchplay.
In all five trophies were presented on Saturday evening, the Smith, Gray and Neville Cups for respective handicap matchplay competitions among them.
The Charlemont Cup was once again hotly contested but it was Nat McGeown and Declan Lenagh who emerged the top two-ball, defeating Adam Ashforth and Paudie Haughey in a thrilling final. Beaten semi-finalists were R McVeigh and C McGleenan, John Jackson and Joe Rhodie.
The Smith Cup for low individual handicappers was won by Darren Hughes who deafeated Kenny Edgar in the final. Adam Ashforth and Nat McGeown were the beaten sem-finalists.
And Paul Corvan picked up the Gray Cup after an exciting final against John Lowe. Ronan O'Reilly and Paul Kelly were the beaten semi-finalists.
The Neville Cup was won by Richard Stewart after a very convincing final victory over Gerry Doyle. And the beaten semi-finalists were Alan Johnston and last year's winner Philip Richards.
Gary Lappin emerged as the Tuesday Cup champion after the summer-long competition.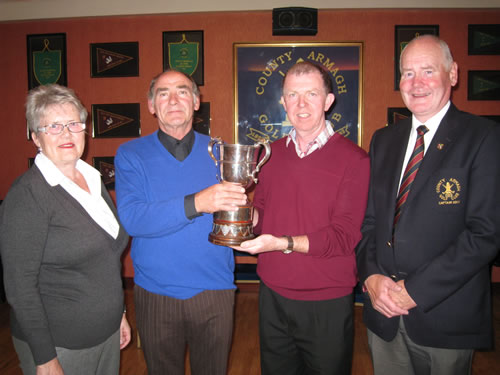 Winners of the Charlemont Cup Nat McGeown and Declan Lenagh are pictured with Mrs Greta Foster from the Charlemont Arms Hotel who sponsored the competition, and County Armagh Golf Club Captain Tom Calvert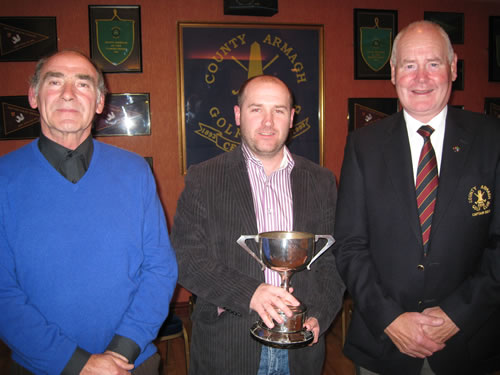 Smith Cup winner Darren Hughes is pictured with County Armagh Golf Club Captain Tom Calvert and Nat McGeown, beaten semi-finalist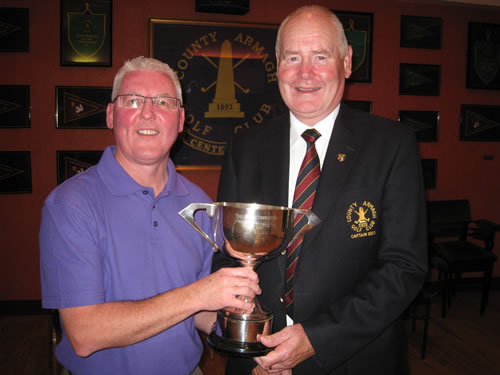 Richard Stewart is presented with the Neville Cup by County Armagh Golf Club Captain Tom Calvert