Fifty-three ladies played in the 18 hole and a further 16 ladies entered the 9 hole competitions at Co Armagh Golf Club on Thursday 9 June 2022. The annual Macmillan Charity Stableford was once again well supported and very generously sponsored by V Mone and Son, Keady
Rain during the early part of the day cleared and the sun shone for those playing in the afternoon, perhaps a factor in the results as many of the prize-winners emerged from that end of the field.
The clubhouse was packed and welcoming ladies to prize-giving, Mrs Karen Edgar, Lady Captain, extended a special welcome to Mrs Anne Mone and her husband Kevin, V Mone and Son, Keady. She thanked them for their long-standing support of the competition which raised money for the very worthy Macmillan charity and for the beautiful prizes.
Hot off the heels from her strong win for the Minor Cup Team the previous day, the in form Bernie McBride took first place with 40 points, winning a beautiful handbag. Many of the remaining prizes were items from the Tipperary Crystal collection. All the prizes were from the vast selection available from V Mone and Son, Keady. Bernie was closely followed by Anne O'Hea with 39 pts. Denise Murphy was third with 37 pts and Hilary Johnston fourth with 36 pts.
June Humphries won Category A with 35 pts, beating Emma Garrigan on the countback. Also with 35 pts Geraldine Rafferty won Category B. Category C was won by Donna Carolan with 34 pts and Joy Steenson came out on top in Category D with 34 pts, beating Mary McElvanna and Eilish Grimes on the countback.
Lynne Brown won the Front 9 with 21 pts and Anne O'Reilly the Back 9 with 20 pts.
The 9 hole competition was won by Teresa Corrigan with 18 pts and Theresa Campbell was second with 17 pts.
There were birdies for Paula McCrory at the 7th and for Maggie McKee and Maggie Donnelly at the 13th.
Thanking everyone for participating in the competition and raising funds for Macmillan. Anne expressed her delight at the number of fellow Keady ladies who had featured in the prizes.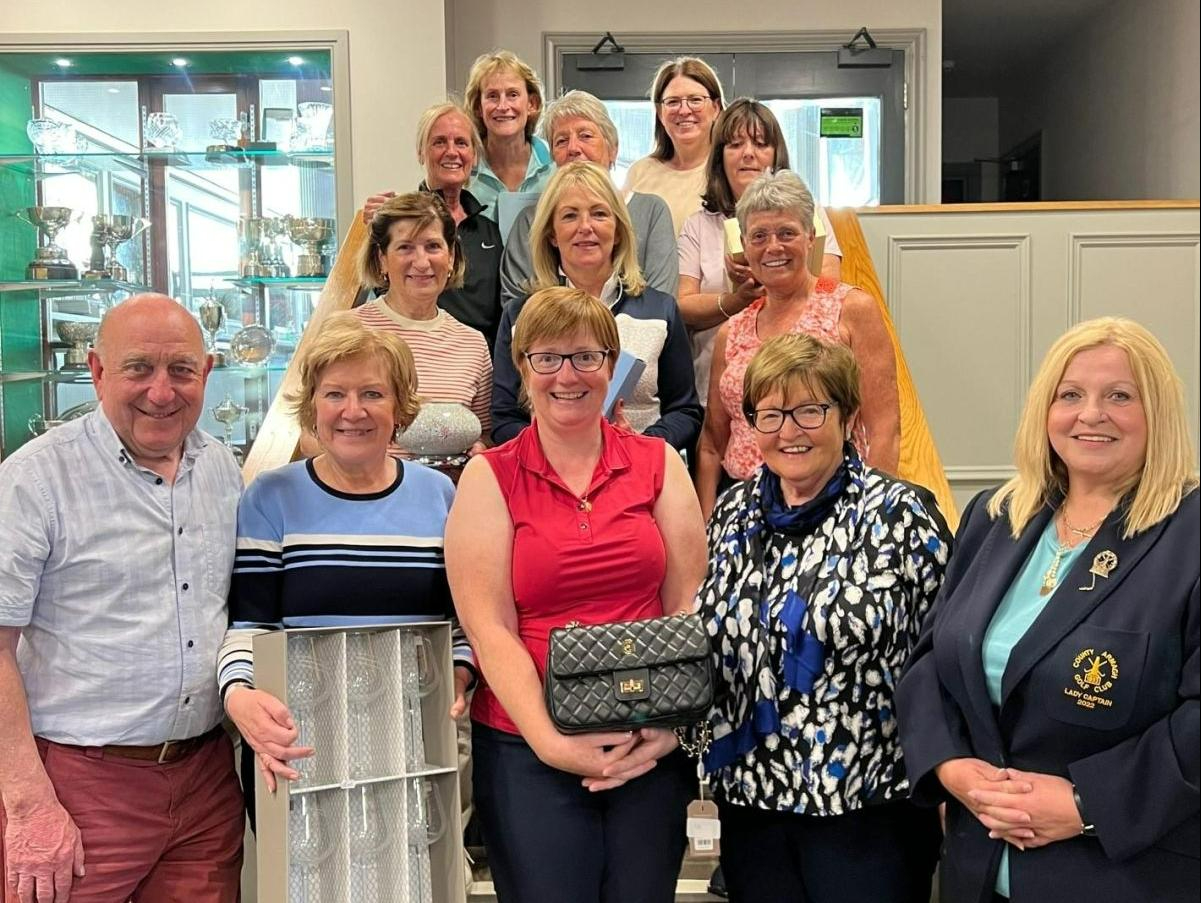 Back L-R: Joy Steenson, Anne O'Reilly, June Humphries, Lynne Brown and Donna Carolan
Middle L-R: Denise Murphy, Theresa Campbell and Hilary Johnston
Front L-R: Kevin Mone, Anne O'Hea, Bernie McBride, Anne Mone and Lady Captain Karen Edgar