The first weekly prize-giving of the 2022 golfing season for ladies took place at Co Armagh Golf Club on Thursday 24 March with a great turnout in the clubhouse.
Welcoming everyone, Lady Captain Karen Edgar, said it was great to see so many ladies back out playing as the inter-club team draws had been released and team captains would be looking for players. She updated ladies on the format for the Cowdy Cup with 3 matches being played at home and away at the same date and time and thanked Barbara Hamilton on agreeing to be joint captain with Julie McCarten. She advised that Co Armagh had been drawn against Dungannon in the first round, to be played by the end of June.
A ladies get into golf programme was scheduled to commence on Tuesday 31 May with 6 weeks coaching by Co Armagh's PGA Professional Will Carey. The cost for the programme, which provided an opportunity to give golf a go and to learn in a relaxed fun environment was £100. To register or for more information email This email address is being protected from spambots. You need JavaScript enabled to view it..
St Patrick's Day Stableford
The results of the St Patrick's Day Stableford were reported:
1st Gail Steed 34 pts
2nd Siobhan Donnelly 33 pts
3rd Ellen Brady 31 pts
Tuesday 15 March – 9 hole Stableford
The results of the 9 hole Stableford held on Tuesday 15 March were reported:
1st Maggie McKee 16 pts
2nd Lady Captain Karen Edgar 16 pts
Spring League
The prizes for Spring League were presented. The competition had been played over 6 weeks from Thursday 27 January until Wednesday 9 March with the best 5 out of 6 cards counting.
1st Lady Vice Captain Lily McMullan 70 pts
2nd Anne Attwell 67 pts (better 5th card)
3rd Denise Murphy 67 pts
Thursday 24 March 9 and 15 hole Stableford
It was a beautifully sunny spring day for the twenty-six ladies who played in the 9 hole and thirty-three ladies who entered the 18 hole Stableford competitions on Thursday 24 March.
Vera Ellingham won the 9 hole competition with a fabulous 22 pts, just one point ahead of Gina Morris who took second place.
In the 18 hole competition, Gail Steed was the winner with a super 40 pts, Teresa McVeigh and Jacqueline Kelly were second and third respectively each with 36 pts and Ellen Brady was fourth with 35 pts, beating Denise Murphy on the countback.
There were twos for Barbara Hamilton and Brigid McEneaney at the 3rd, Gail Steed at the 7th and Teresa McVeigh at the 11th and birdies for Paula McCrory at the 1st and Flo McCall at the 8th and the 17th.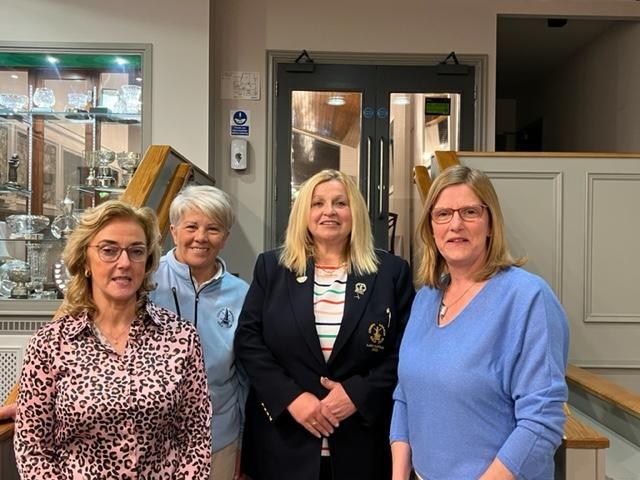 L-R Siobhan Donnelly, Ellen Brady, Lady Captain Karen Edgar, Gail Steed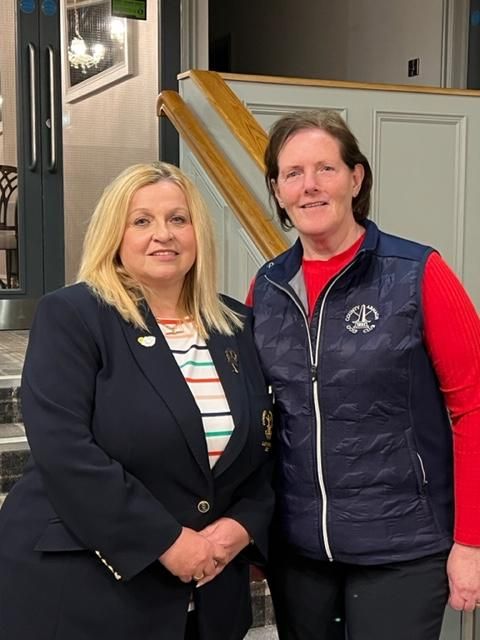 L-R Lady Captain Karen Edgar and Maggie McKee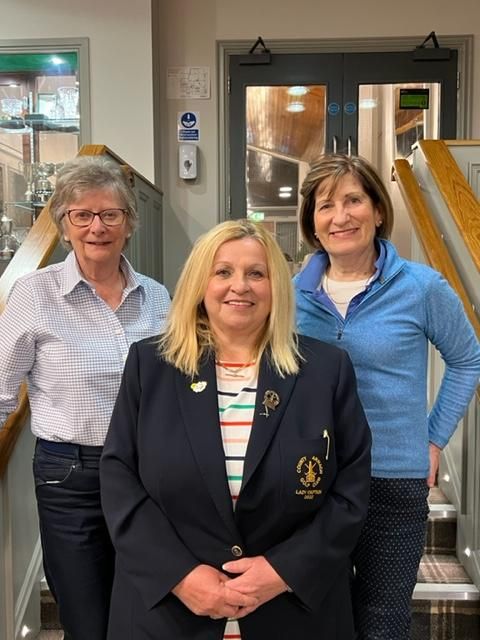 L-R Anne Attwell, Lady Captain Karen Edgar and Denise Murphy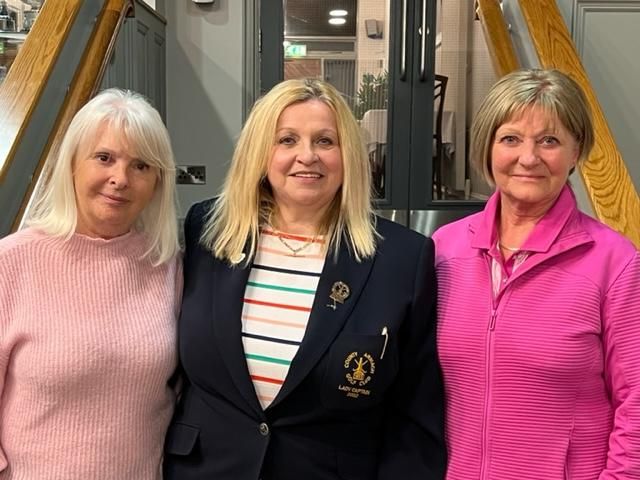 L-R Gina Morris, Lady Captain Karen Edgar and Vera Ellingham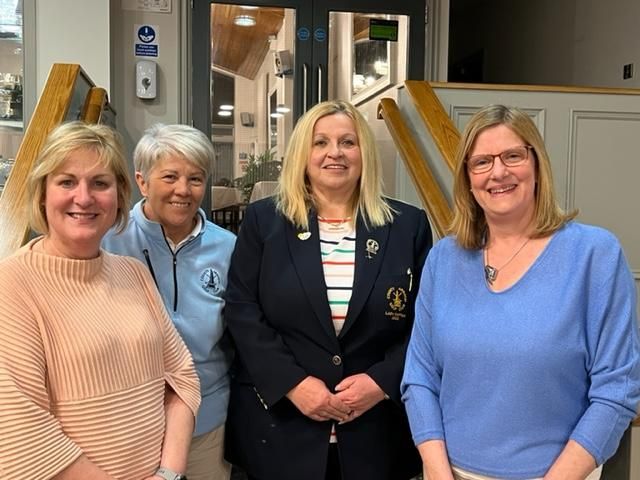 L-R Jacqueline Kelly, Ellen Brady, Lady Captain Karen Edgar and Gail Steed