Thursday 7th October 2021.
The last Ladies' 18 hole competition of the year took place on a day of overcast skies and frequent showers. 44 ladies ventured out in the frequently dismal conditions with a further 12 ladies making do with a 9 hole round.
1st place in the 18 hole competition went to Lily McMullen with 39 points edging Anne O'Reilly's 38 points into second place. 3rd place honours went to Teresa McVeigh whose 37 points beat S Mullen and V Gordon on countback.
Although edged out from 3rd spot Valerie Gordon took the Category A prize with 37 points while Denise Murphy's and Anne Attwell's 36 points tallies were enough to secure them the Category B and C prizes respectively. Although a comparative newcomer to the Club Shernette Mullen is becoming a regular in the prizes, securing another Category D prize with 37 points.
Sylvia Ashe and Aoife Lennon's 21 points were enough to secure them the front and back 9 prizes respectively.
In the 9 Hole competition 1st prize went to Carmel Cassidy with 18 points. In 2nd place Theresa Campbell's 16 points beat Vera Ellingham on countback.
Birdies were recorded by Colette McAleavey with a 3 at the 6th and by Anne O'Reilly and June Humphries with 3s at the 17th. Paula McCrory recorded a birdie 4 at the 12th while Denise Murphy recorded a 3 at the 16th which has been temporarily shortened to a par 4. Teresa McVeigh hit a purple patch with back to back birdie 3s at the 16th and 17th
Twos were recorded by Pauline Vallely and Barbara Hamilton at the Quarry while Colette McAleavey recorded the first of her 2 birdies with a 2 at Lonsdale.
Lady Captain Anne gave an update on the fundraising proceeds from the previous week's McAnerney's Open and handed the floor to Catherine McAnerney who, after a short speech of thanks to all those who had contributed to the fundraising, presented Flo McCall, who is a volunteer with the Hospice movement, with a cheque for £1,106. LilyMcMullan then presented Flo with a further cheque for £1,000, representing the proceeds of her knitting initiative during lockdown.
The Lady Captain asked Ladies to take note of the dates of the AGM on Monday 22nd November and the Ladies' dinner on Friday 3rd December.
Lady Captain Anne McDonald presents winner Lily McMullan and runner up Anne O'Reilly with their prizes.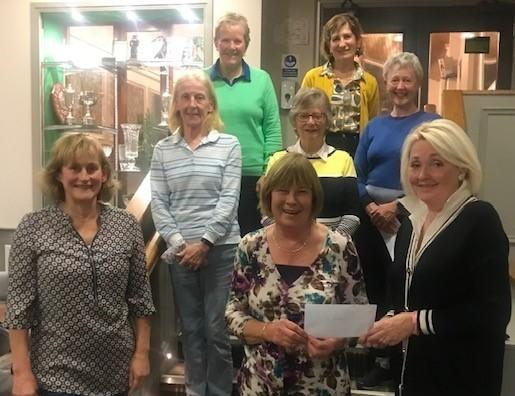 Mrs Flo McCall on behalf of the Southern Area Hospice accepts a cheque for £1,106 from Mrs Catherine McAnerney -proceeds from McAnerney's Open. Also pictured is Lady Captain Mrs Anne McDonald.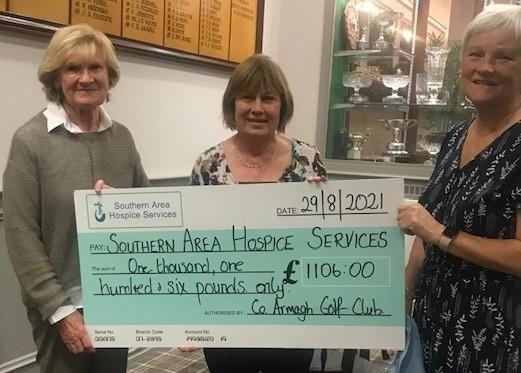 Mrs Flo McCall on behalf of the Southern Area Hospice accepts a cheque for £1,000 from Ms Lily McMullan - proceeds of her lockdown knitting initiative. Also pictured Mrs Gail Steed tutor for the Nit n Natter ladies initiative