Maggie wins with magnificent score.
On a day when the threatening rain failed to appear over 40 ladies turned out to compete for the September Medal on a course which was in magnificent condition. Lady Captain Elizabeth Mawhinney sincerely thanked the sponsor Annette of OL Flowers for attending the prizegiving and bringing with her a beautiful array of floral arrangements which brightened up the clubhouse.
The winner of the September medal was Maggie McKee with an exceptional score of nett 61 . Maggie took up golf last year via the Get into Golf initiative and has really embraced the game which she has mastered with great skill. Accepting her prize a delighted Maggie thanked Annette for her loyal support for the Ladies Branch and her playing partner Bernie who kept her focussed throughout an exemplary round of golf. Teresa McVeigh took second place with a nett 66 ahead of Alexandra Mawhinney who secured 3 rd place with a 70. Meanwhile Ellen Brady took yet another Gross prize.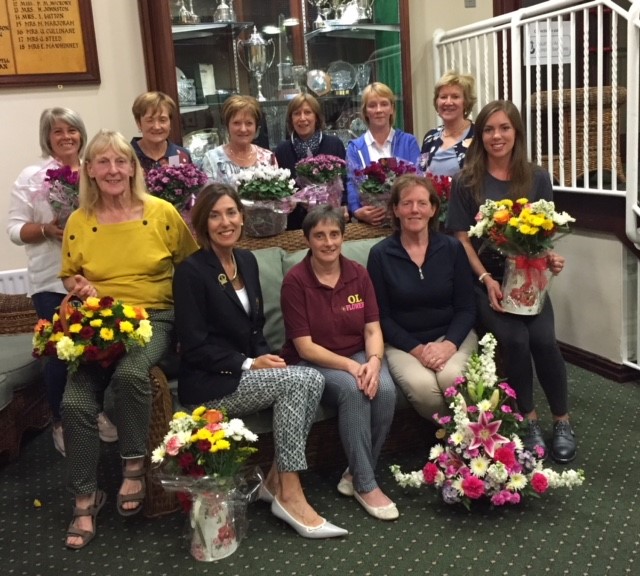 Annette of OL Flowers sponsor of September Medal Competition with winner Maggie McKee and Lady Captain Elizabeth Mawhinney.
A full list of prize winners is set out below
Category A winner with nett 74= Lily McMullan.
Category B winner with nett 71 = Vera Ellingham.
Category C winner with nett 74 = Cath Murray.
Category D winner with nett 73 =Anne O'Hea.
Front nine winner with nett 34 = June Humphries.
Back nine winner with nett 38 = Brigid McEneaney.
9-hole competition winner =Gina Morris 19 points ahead of Helen McLoughlin in second with 18 points.
Birdies were recorded by Geraldine Rafferty 3 @ 15 th , Ellen Brady 4 @ 12 th , Teresa McVeigh 3 @ 1 st , and Gail Steed 3 @ 2 nd .
Twos were returned by Lily McMullan, Emma Garrigan & Bernie McBride @ 9 th , Eileen Fitzsimons @ 7 th , Maggie McKee @ 3 rd and Cath Murray @ 11 th .
Time for Nine winner = Ronnie Toal 19 points.
Elizabeth urged as many ladies as possible to participate in the Past Lady Captains Team Classic which is to be held on Monday 17 th September.
The Lady Captain also announced that Jive classes will resume on Wednesday 12 th September 7. 30 -8 30 pm.