The incoming Club Captain Gerry & incoming Lady Captain Lily would like to take this opportunity to wish everyone a Happy New Year and look forward to you joining us on Sunday 1st of January.
The order of the day is as follows:
Captains Inauguration 9 Hole Competition for members from 8.44am to 3.08pm (some tee times are still available in the Men's Competition)
The 9 Hole Competition will be played over holes 1-9 as per your CAGC scorecard - PLEASE NOTE: the temporary 2nd hole is not in play for this competition.
Lady Captain Lily's Inauguration Ceremony at approximately 2pm
Gerry & Lily have their Captains Drive Off at 3pm
Club Captain Gerry's Inauguration Ceremony at 6pm
Music & Dancing from 7-9pm (Music provided by Gerry Cunningham & Pat Casey)
Irish Happy Hour 7-9pm with reduced priced drinks (members only - with your Golf Ireland club card)
We would also like to take this opportunity to make you aware of our January appeal for donations to The Armagh Foodbank.
Wishing all our members a Happy New Year and look forward to seeing you on Sunday 1st January 2023.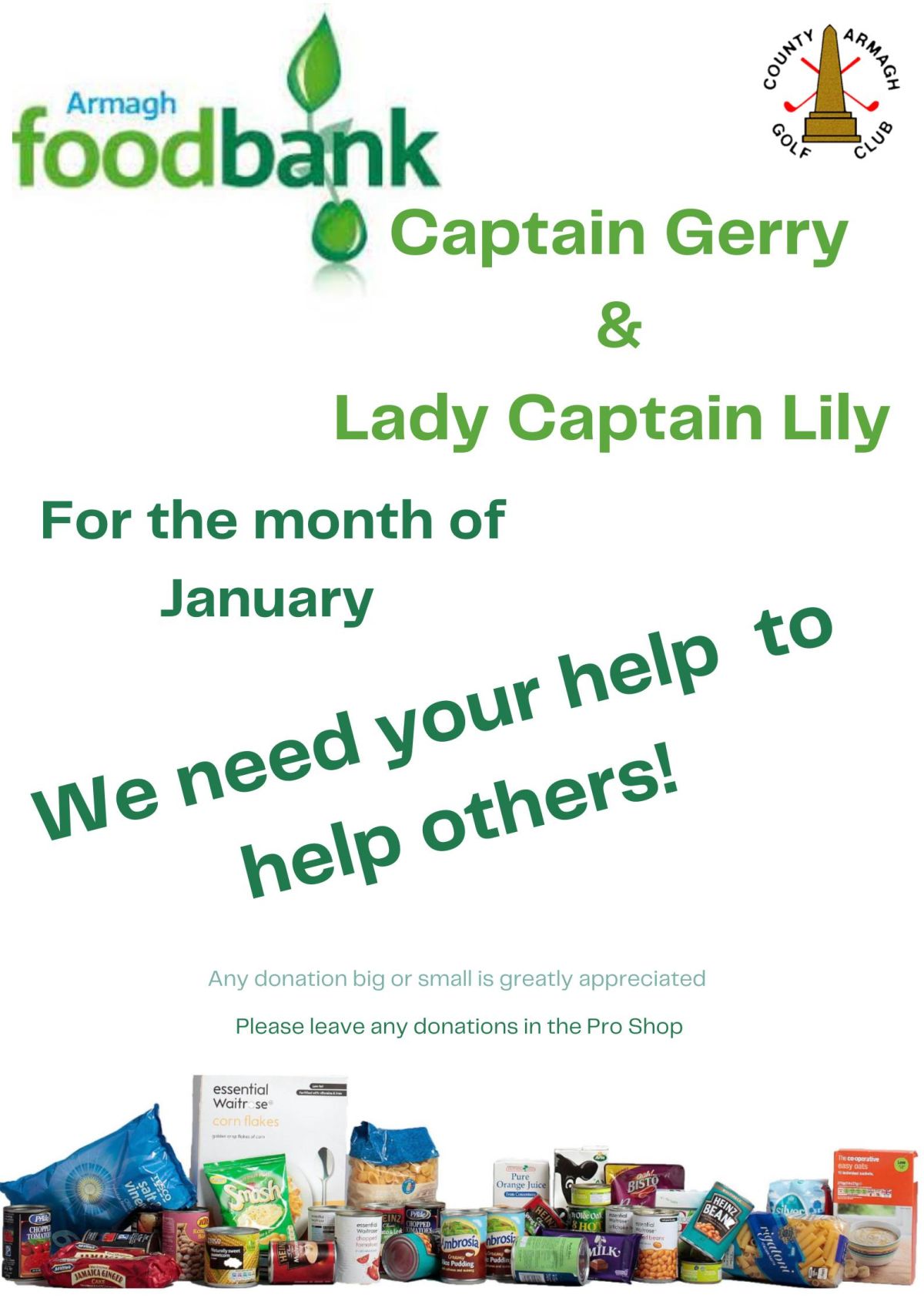 Please help local people in crisis by buying items from the list below and giving them to the Armagh foodbank's collection point
Milk (UHT or powdered)
Tin Meat/pies
Tin Fish
Fruit juice (long life carton)
Instant Mash Potato
Pasta sauces
Tinned sponge pudding
Tinned tomatoes
Tinned rice pudding
Boiled Rice
Tinned fruit
Jam
Toiletries