1st D Smyth, B Smyth, M Daly, P Brannigan 95 pts
2nd I O'Hea, M Grimley, J Leer, M McParland 92 pts (best back nine)
3rd C Shannon, K Grimley, D Grimley, E Creelman 92pts
It's a team game - ask Brendan!
County Armagh Golf Club Vice Captain Brendan Smith will readily admit his was a minor role in his team's big-scoring 4-Ball Classic win on Saturday.
His worldly (and local) knowledge he will claim however, guided colleagues Martin Daly, Pat Brannigan and Damien Smith to their win. They scored 95 stableford points to take the top prize in the competition where players handicaps were reduced to three-quarters, three player scores counted at holes 3, 5, 10 and 18 and two at all others. With 50 points amassed over teh front ninethey were well on their way and by 18 they had added a further 45 for that winning score.
Ian O'Hea, a winner with wife Ann in the Mixed Greensomes the evening before, Martin Grimley, Jerome Leer and Michael McParland claimed second prize with 92 points on countback. 46points on the front nine holes and 46 on the back nine secured the runners up spot for these earlybirds.
Equally early on the course, Colm Shannon, Kieran and David Grimley and Eugene Creelman returned the same 92 points score but had to settle for third prize.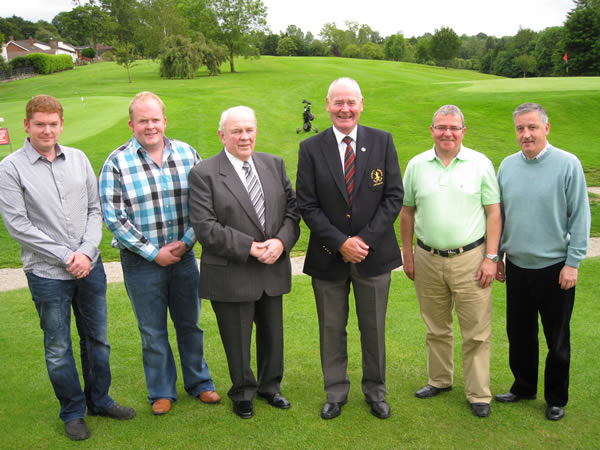 County Armagh Golf Club Captain Tom Calvert is pictured with members of the winning teams in the Four Ball Team Classic, from left, Martin Daly, Damien Smith, Brendan Smith, Colm Shannon and Kieran Grimley.