On a Saturday of solid if unspectacular scoring at County Armagh Golf Club on 29 August, many may have regarded club professional Will Carey's provision of hotdogs, burgers and beers on the 11th tee as the day's very best result.
This was Will's fourth Professional's Competition since taking up post in April 2017 and, as ever, that hearty sustenance certainly went down well with the stableford event's 196-strong field.

Seemingly finding the barbecue particularly to his liking though was Keith Hamilton, who turned in a tremendous display to take the top honours with 38 points.
Keen athlete Hamilton came out of the blocks impressively, negotiating the front nine in a neat-and-tidy 40 strokes for 18 points.

And as the bell sounded to signal the start of the final lap, Keith turned on the after-burners with five rapid pars from the 10th to 15th; a fruitful six-hole spell that yielded 14 points. The 12-handicapper's 6, 5, 5 run on the home straight thereafter was a slight stumble over the finish line but, ultimately, Keith had kept his 'Kool' sufficiently to seal the victory.

Hamilton made a welcome return to CAGC in 2019 after a number of years away and, having finished in second place in last term's Lonsdale Cup, he has gone one better now by grabbing glory in Will's Professional's Prize.

Meanwhile, in-form Caolan Doyle was Keith's nearest rival on the overall leaderboard and, indeed, was pushed into the silver-medal berth only a break of tie. Doyle followed up his Allen Cup triumph of six days previously with a polished five-over-par offering this time out. The 38-point scorecard boasted a birdie on the Old Third and continues Caolan's impressive momentum towards a new handicap of five.

In the upper echelons of category 1, a pristine first half of eight consecutive bogeys and then a birdie at the 9th meant that Paul McCurry had banked a massive 23 points by the turn. The nine-handicapper's homeward trek was understandably less bountiful but his 38-poiint return proved unbeatable in the 0-12 bracket nonetheless.
Runner-up here was another Ulster Cup talisman, Paul Corvan, who declared one back on 37 points. Corvan followed up a birdie at the 10th with a double bogey at Shambles and two more on the 16th and 18th but, magnaminously, has refused to accuse Will of serving him a dodgy burger on the 11th tee!

In categories 2 and 3, all four accolades were claimed by players who equalled heir handicaps with 36-point returns. Best among the 13-18 group was Pascal Toner, whose round was a model of consistency comprising 15 bogeys, two pars and just the solitary blip at the Quarry. Niall McCormack filled second spot behind Pascal having racked up half a dozen pars on a pleasing Saturday's work.

Finally, chief among the 19+ coterie was Malachy McSorley, whose steady 36-point effort contained pars at the 3rd and 13th. Malachy defeated on a countback category 3 runner-up, Kevin Boyd, who was most on-song during a productive sequence of three pars in five holes in the middle of his outward nine.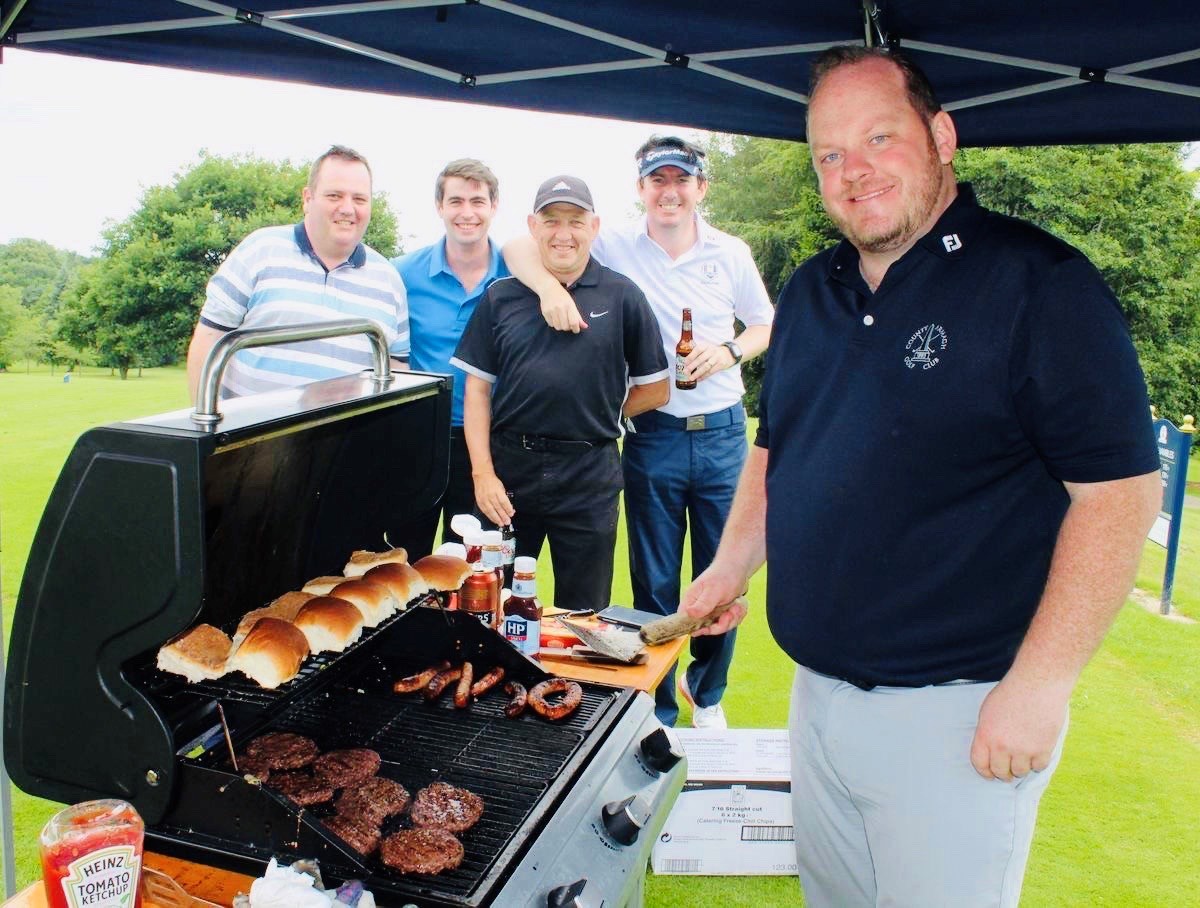 This photo is from the Professional's Prize barbecue in 2017 … nobody above is guilty of breaching social-distancing guidelines!