Generously backed once again in 2019 by F&K Smyth Restoration and Decoration, County Armagh Golf Club's Senior and Junior Scratch Cups saw Joe Rooney and Lee Stewart whitewash their opponents before painting the town red in celebration of their respective tournament triumphs.
Since its successful introduction at CAGC two years ago, this 36-hole fairway feast has grown in both scale and lustre, quickly becoming a much-anticipated item on the local fixture list. On 25 August, the most recent iteration of the prestigious gross event was contested in ideal playing conditions by a record number of home-grown and visiting participants, all of whom hoped they possessed the necessary stamina to complement their undoubted skill.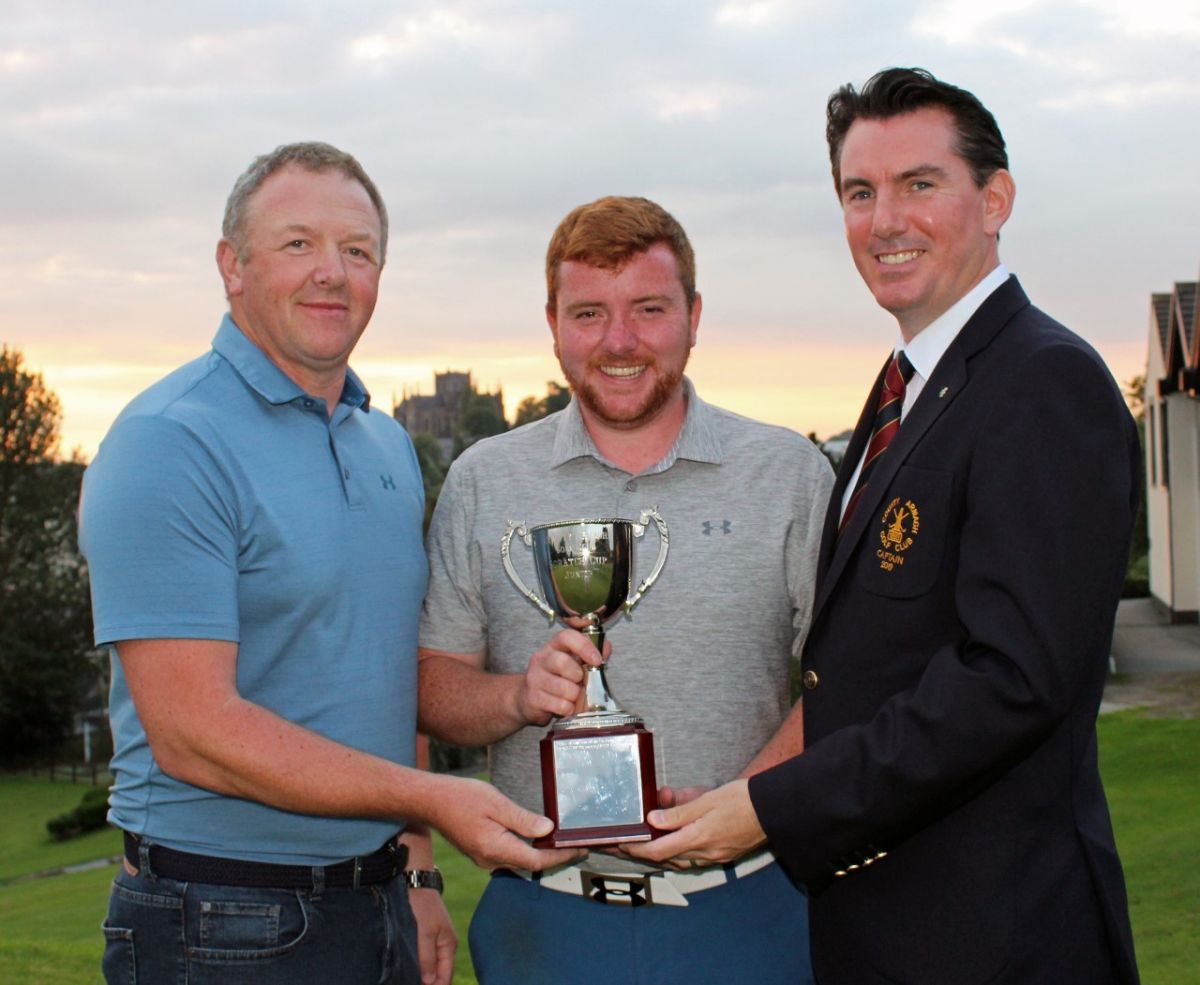 Lee Stewart, winner of County Armagh Golf Club's Junior Scratch Cup 2019, was presented with the trophy by sponsor Francie Smyth, F&K Smyth Restoration and Decoration, and Club Captain, Kenny Edgar.
Joe Rooney is no stranger to golfing acclaim and the 18-year-old's latest glory day began with a sensational three-under-par display that was concluded in the fine style of back-to-back birdies at the 17th and 18th. That morning masterclass provided an almost unmissable opportunity for victory and, indeed, a post-lunch 75 proved sufficient for the zero-handicapper to seal glory. A two-round total of 142 ensured that, after Jarlath McReynolds and Michael McSherry, the name of Joe Rooney is the third to be etched on the much coveted Senior Scratch Cup silverware.
Behind Joe, talented Lurgan contender, Gary Clarke, negotiated the relatively unfamiliar surroundings in an impressive 36-hole score of five-over-par and was, thus, a worthy recipient of the overall runner-up spoils. The bronze-medal berth had a more familiar occupant, however, in the form of Adam Cromwell , who returned the same creditable figure and was nudged down the standings only on a second-half countback.
An early level-par 70 enabled Declan Hughes to collect the accolade for the lowest first-round score. Later, Declan's Fortwilliam clubmate, Conor Bradley, also justified his journey down the M1 with a 72 that was the best recorded in the afternoon by those who didn't feature elsewhere on the Sunday prize roster.
Meanwhile, Lee Stewart was crowned a most deserving Junior Scratch Cup champion. In the competition vied for by those with a handicap of six or above, Killylea's favourite son topped the pile with brilliantly assured knocks of 76 and then 75. Across the piece, Lee registered two birdies, 22 pars and, perhaps most significantly, just a solitary double bogey as he followed in the footsteps of previous winners Jimmy Wilson and Caolan McReynolds.
Indeed, it was that admirable demonstration of consistency that ultimately proved decisive in Stewart's fending off by a single shot the challenge of second-placed Jerome Leer. The adroit leftie performed highly effectively for 34 holes, but his title tilt was eventually scuppered by a pair of costly sevens in his final nine holes.
Third position on the Junior Scratch Cup leaderboard was filled by last year's runner-up, young Calum Connell, with a steady 155 tally. Back on his old stomping ground, an 80-stroke offering was enough for Conor Woods to land the first-18 award among the 6+ contingent, while James Johnston's 77 was the pick of the afternoon scores in this section.
While handicaps aren't factored into the reckoning for the main Scratch Cup honours, there are, nonetheless, always lucrative nett laurels up for grabs. On this occasion, the prevailing nett showing was 140 from Lurgan's Brian Scullion, who was one better than CAGC's very own Sean McAnenly on a respectable 141.
Finally, there was 'Nearest the Pin' and 'Longest Drive' Scratch Cup recognition for the variously precise and Herculean quartet of Declan Hughes, Philip Kelly, Martin Gill and Adam Cromwell.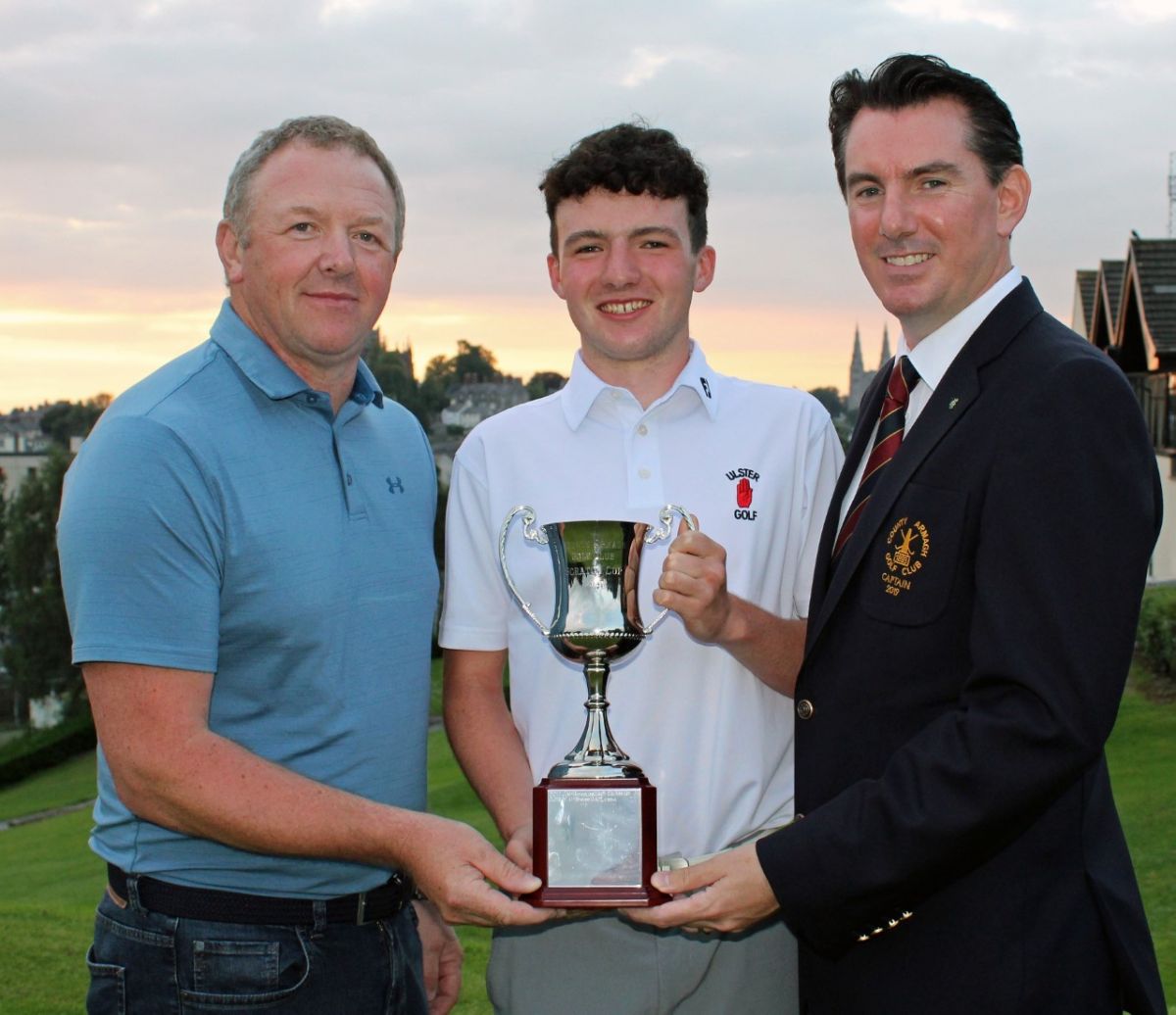 Joe Rooney, County Armagh Golf Club's Senior Scratch Cup Champion 2019, was presented with the trophy by sponsor Francie Smyth, F&K Smyth Restoration and Decoration, and Club Captain, Kenny Edgar.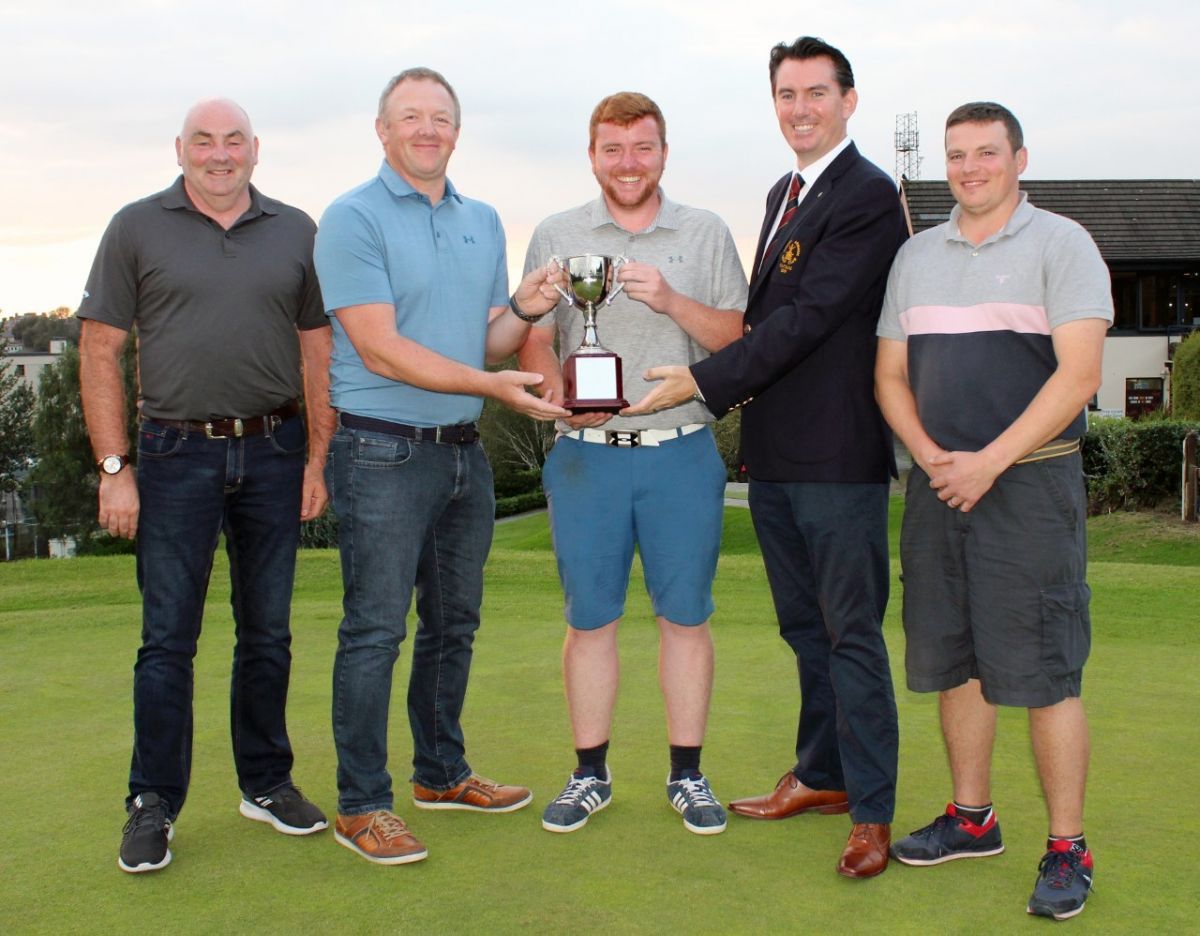 Alongside Lee Stewart (County Armagh Golf Club Junior Scratch Cup victor), Francie Smyth (from sponsors F&K Smyth Restoration and Decoration), and Kenny Edgar (Club Captain) are Jerome Leer (overall runner-up) and James Johnston (best second round).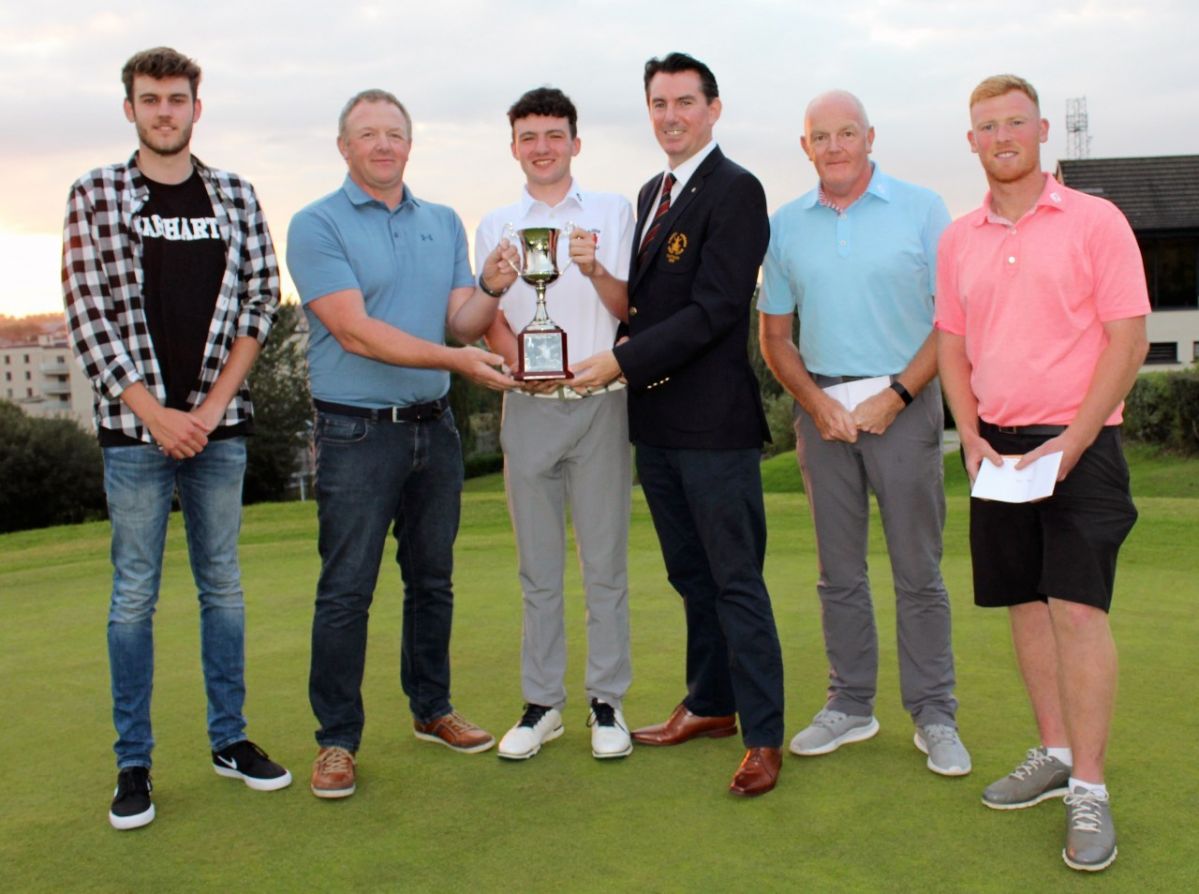 Joe Rooney received the County Armagh Golf Club Senior Scratch Cup from sponsor, Francie Smyth of F&K Smyth Restoration and Decoration, and Club Captain, Kenny Edgar. Also are pictured are other prizewinners (L-R): Adam Cromwell (third overall), Gary Clarke (overall runner-up) and Declan Hughes (Nearest the Pin).