More than 100 players went off in search of Webster Cup acclaim at County Armagh Golf Club on 6 July, but it was Jamie Calvert who returned with the spoils by virtue of an impressive nine-over-par outing.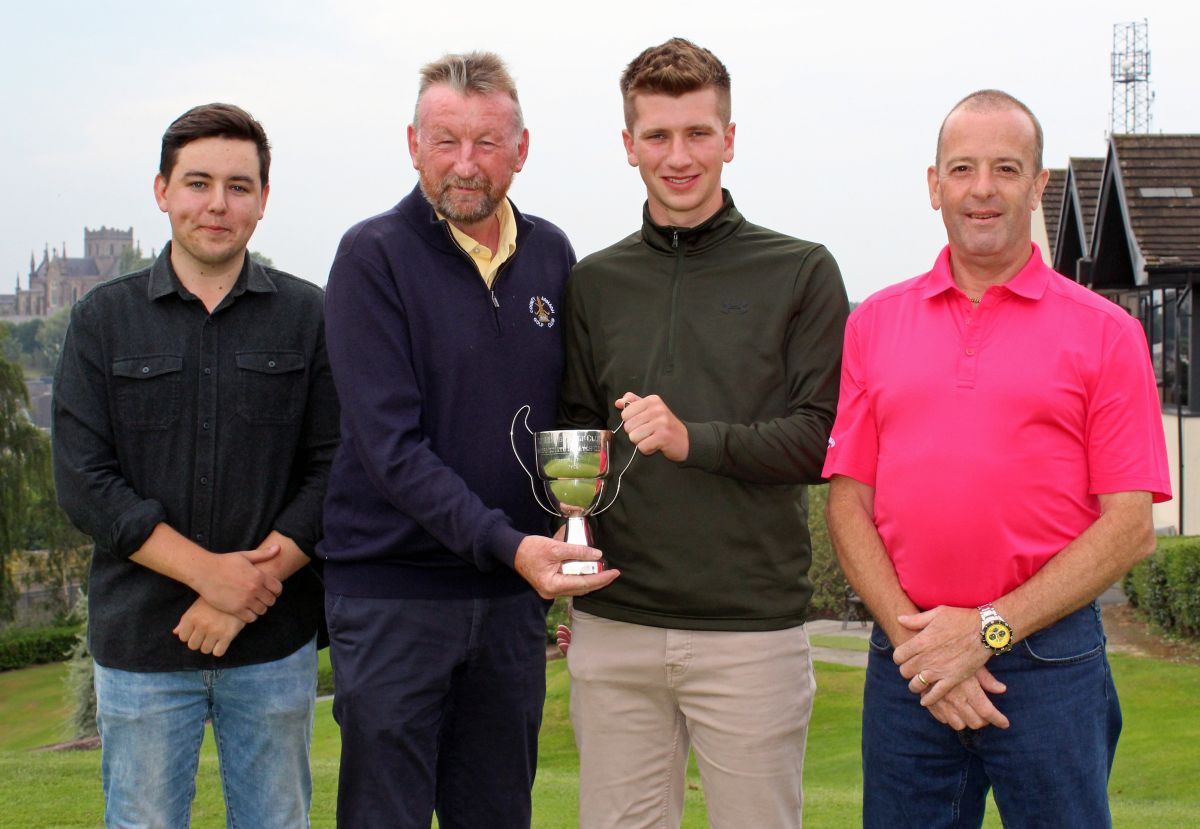 Jamie Calvert is presented with the Webster Cup by County Armagh Vice-Captain, Declan McReynolds. Also pictured are runner-up, Johnny Brown, and John Maguire, who won the day's event for 0-5 handicappers.
The Webster Cup, which was again generously backed by Abbey Bond Lovis Insurance, gives competitors a rare opportunity to test their scratch mettle against peers from the same 10-18 handicap section.
And young Calvert was up for the gross fight right from the off, as he accounted for the first nine holes in a neat-and-tidy four pars and five bogeys. The even more par-heavy homeward dander that followed — which included five on the spin from the 11th to 15th — ultimately proved decisive and ensured that the 21-year-old succeeded 2018 champion, Conor McAneney, in having his name etched on the Webster Cup.
The margin of victory, however, was a particularly narrow one, as it was only Jamie's superior last half a dozen holes that kept him ahead of Johnny Brown, who also carded a gross 79 and finished as runner-up. Ten-handicapper Brown birdied the 2nd and 11th and amassed eight pars in a terrific display that was undermined very slightly by the unwanted hat-trick of double bogeys that punctuated his outward nine.
The Webster Cup nett prize was landed by Don McKee, who parred seven holes on the front nine on his way to a fabulous nett 64 and 15-to-13 handicap reduction. Indeed, after requiring just 79 blows, Don too was pipped to the silverware by Calvert only on a break of tie.
Meanwhile, on the same Saturday, a competition for 0-5 handicappers was won by John Maguire with a characteristically consummate gross 70.