As a popular and hardworking figure at County Armagh Golf Club since 1975, Gerry McCreesh's selection as Club President last year was a well-deserved one.
And 27 July 2019 represented the showpiece date of that 24-month tenure as CAGC hosted its biennial President's Day, when Gerry's main award was claimed by Rory Smyth after a fabulous 39-point round.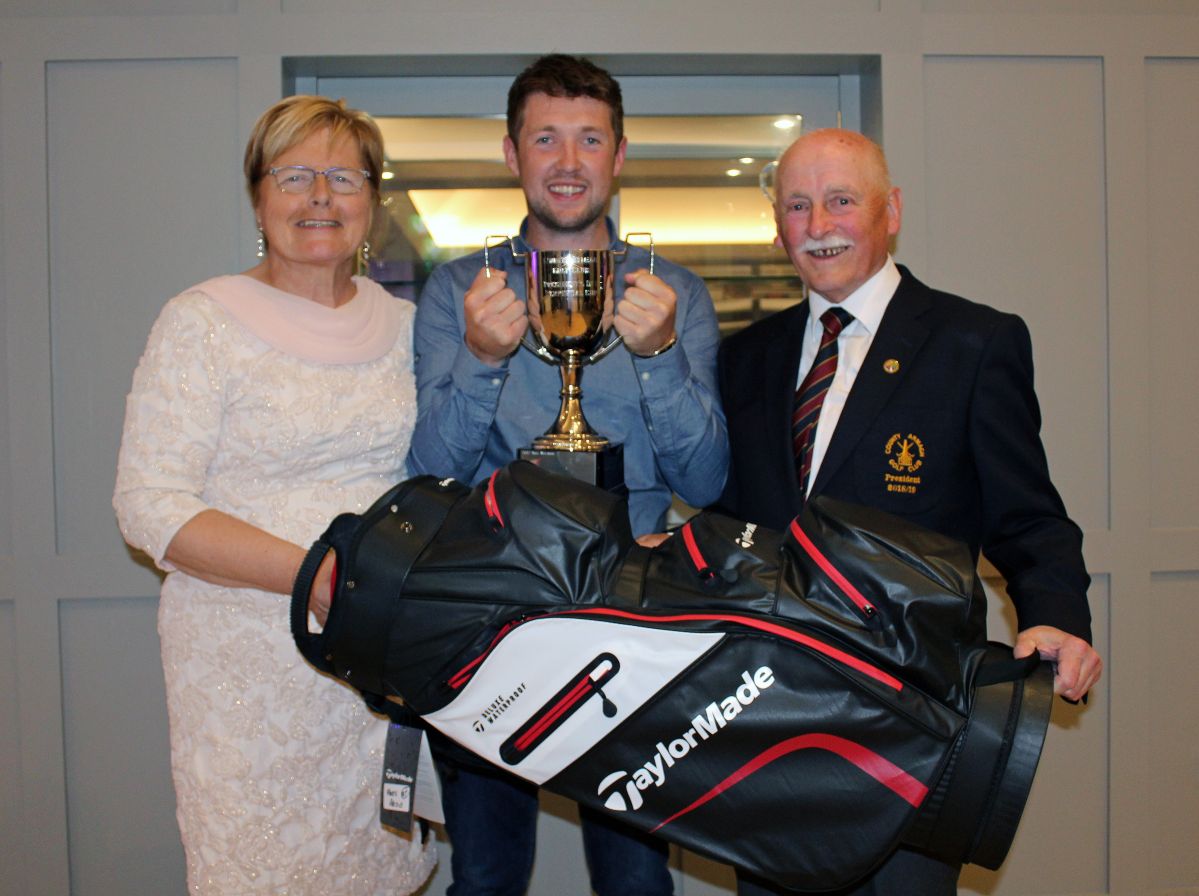 President's Day Champion 2019, Rory Smyth, was presented with his prizes by County Armagh Golf Club President, Gerry McCreesh, and his wife, Maura.
CAGC PRESIDENT'S DAY 2019 - ROLL OF HONOUR
Champion: Rory Smyth
Runner-up: Michael Macklin
Gross: Joe Rooney
Category 1: Michael Cullen
Category 2: Niall McGeown
Category 3: Jarlath Hagan
Past Captains & Presidents: Eric Hamilton
Council, Committee & Team Captains: Kenny Edgar
Country, Overseas & 18-24: Niall Brady
Family: Paul McCreesh
Ladies Winner: Michelle Kinane
Ladies Runner-up: Karen Edgar
Ladies Putting: Sylvia Ashe
Senior Boys: Mark McKenna
Junior Boys: Joshua Hamilton
Cadet Boys: Thomas McCreesh
Senior Girls: Lauryn McKeown
Junior Girls: Yasmin Monaghan
Cadet Girls: Rebecca Rafferty
Family, friends and members surrounded Gerry for a Saturday coffee morning where, as ever, Hilary Johnston of Johnston's Bakery and the Ladies' branch excelled themselves with customarily efficient organisation and provision. The coffee morning gave everyone present a great chance to catch up with old chums, admire the superb prizes up for grabs and wish our President Gerry all the very best for his big day and beyond.
The immaculate and recently refurbished clubhouse was enhanced with beautiful floral decoration provided by the lady members and, all in all, this was yet another occasion that served as fitting testimony to the many club staff and volunteers who work so diligently to ensure big CAGC events run smoothly.
As the weather too played ball by serving up dry and warm competition conditions, more than 200 men packed an impeccably prepared Cathedral City course, each aiming to follow in the footsteps of 2017 champion, Noel Muldoon, and become the second person to have their name etched on the President's Day Perpetual Cup.
Passing with flying colours the test posed by devilish the pin positions and tangly rough was the aforementioned Rory Smyth, whose triumphant outing boasted bountiful birdies on the 6th and 11th, the latter coming amidst a blistering start to the back nine.
Rory parred the 10th, 12th, 13th and 14th and, although a treble bogey at Beresford briefly threatened to derail his President's Day hopes, he recovered exceptionally to record a solid 4, 5, 5 closing sequence.
It all added up to an impressive gross 81 that means the Keady native will enter the fray of his upcoming golf battles as a 12-handicapper, a fact that is unlikely to daunt him in this mood.
On collecting the new TaylorMade golf bag to go along with his hard-earned silverware, a jubilant Smyth addressed the buzzing Saturday night clubhouse crowd to speak of his pride at this achievement and to express gratitude to President Gerry, the CAGC ground staff and his playing partners.
Close by in Smyth's winning wake was overall runner-up, Michael Macklin, who equalled the victorious stableford total but was denied on a countback. Consecutive double bogeys at the 15th and 16th were the only minor blemishes on an otherwise marvellous Macklin scorecard that showed half a dozen pars and 10 bogeys, and his handicap has been clipped to 16 as a consequence.
Meanwhile, an incredibly worthy recipient of the day's gross accolade was Joe Rooney who, fresh from his effective exploits with the Ulster under-18 squad earlier in the week, turned in a flawless four-under-par display comprising 14 pars and four birdies. Decent.
With scoring mostly relatively conservative across the piece, however, the category 1 honours were secured by Michael Cullen who racked up a fine 37-point haul, having been helped along by 10 pars and his avoidance of anything more than a five.
Elsewhere, Niall McGeown proved unmatchable in category 2. Remarkably, the 15-handicapper's outing was bookended by ugly treble bogeys but, happily, that was entirely incongruous with the terrific 38 points amassed in between, four of which came through a birdie at Sequoias.
Coincidentally, Lonsdale Cup holder, Jarlath Hagan, also birdied the 14th, and he returned to the CAGC presentation podium after signing for 37 points.
The Past Captains and Presidents' gong was clinched by Eric Hamilton, who posted a steady 36 points, and a birdie at the 10th was the highlight of another handicap-levelling outing that sealed the Council and Committee laurels for Captain Kenny Edgar.
Niall Brady was best in the eclectic country, overseas and 18-24 age group classification for a second President's Day running after a classy hat-trick of birdies boosted his tally to 37 points, while Gerry's younger brother Paul McCreesh bagged the family prize on a creditable 34 points.
In the ladies' section, new Aussie member Michelle Kinane's magnificent 44-point return landed her the presidential spoils. Seven points adrift of Michelle was Karen Edgar, who maintained her fruitful recent form to occupy the runner-up berth. And with the short stick, Sylvia Ashe tasted success in the ladies putting competition.
There was no let-up either in the club's juvenile ranks, where Rebecca Rafferty, Yasmin Monaghan and Lauryn McKeown emerged victorious among the Cadet Girls, Junior Girls and Senior Girls cohorts respectively. It was fitting that Gerry's wife Maura, who has done so much for the club's junior girls' section over the years, was on hand to add her warm congratulations to these young prizewinners.
In the lads' tournaments, the President's grandson, Thomas McCreesh, took the Cadet Boys crown, Joshua Hamilton topped the Junior Boys standings, and Mark McKenna deservedly accepted the Senior Boys plaudits.
A delicious President's Night meal was partaken in Seven Hills Restaurant and the bar was packed for a busy prizegiving ceremony.
The President articulated once again his honour at serving the club in this capacity and thanked all those who make CAGC what it is. Later, immediate Past President, Walter Neville, spoke entertainingly about his lifelong friendship with Gerry.
President McCreesh enjoyed his special day and evening in the company of his beloved wife Maura and their extended family, as well as numerous other friends. He can reflect with much satisfaction and fondness on a job extremely well done and look forward to a more tranquil last few months of his presidential incumbency.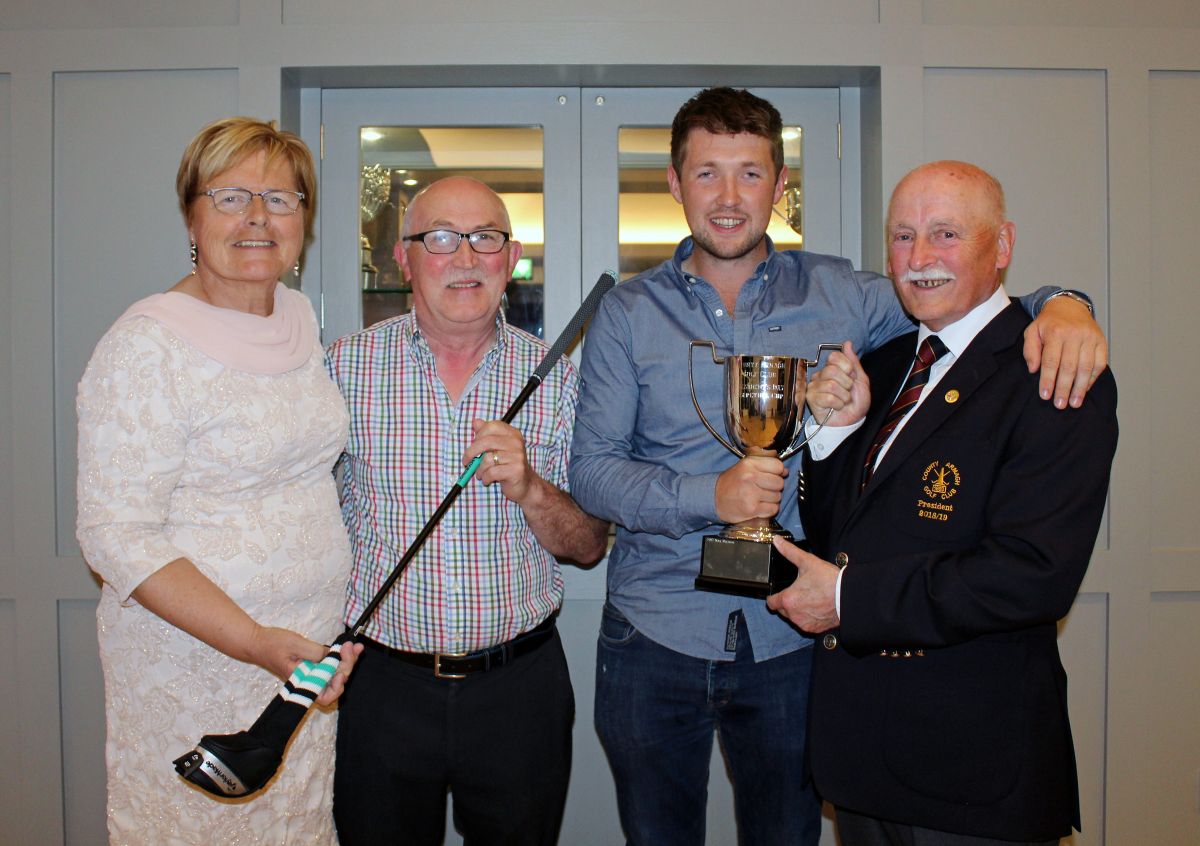 County Armagh Golf Club President's Day runner-up, Michael Macklin, and winner, Rory Smyth, are presented with their awards by President, Gerry McCreesh, and his wife Maura.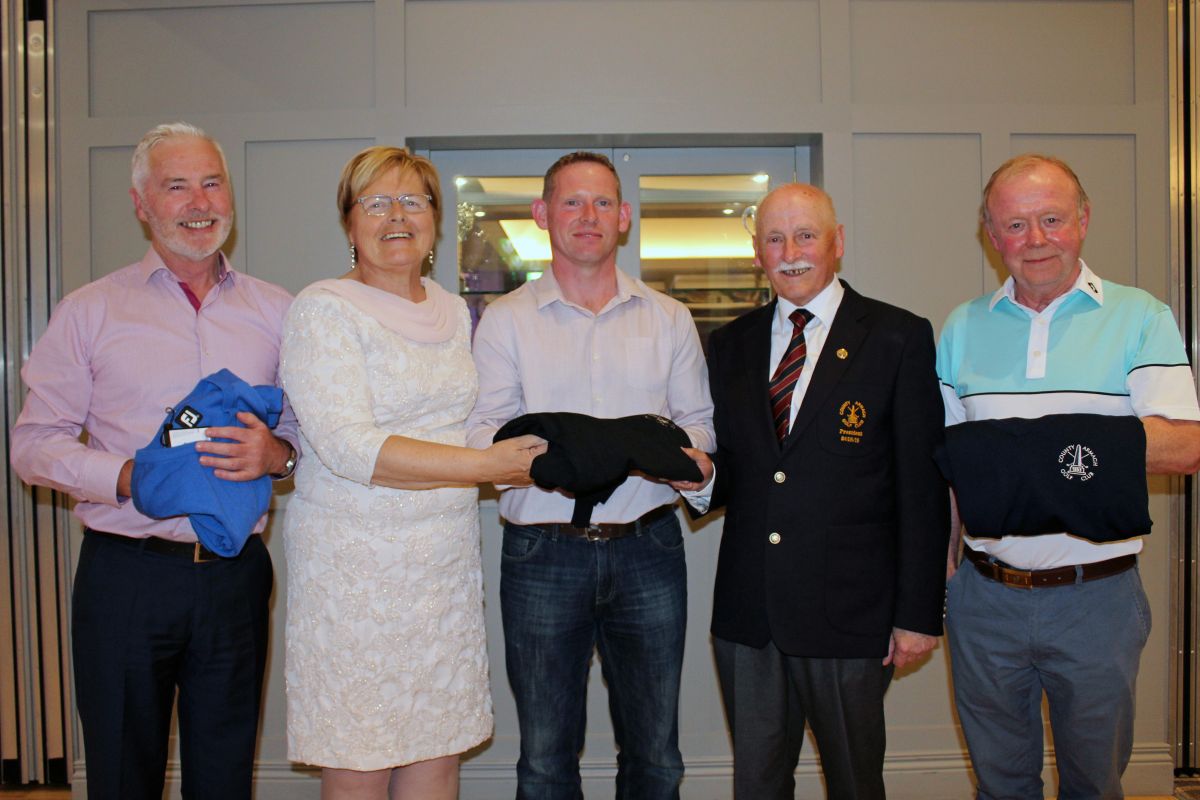 County Armagh Golf Club President's Day category winners (L-R) Niall McGeown, Michael Cullen and Jarlath Hagan are pictured with President, Gerry McCreesh, and his wife, Maura.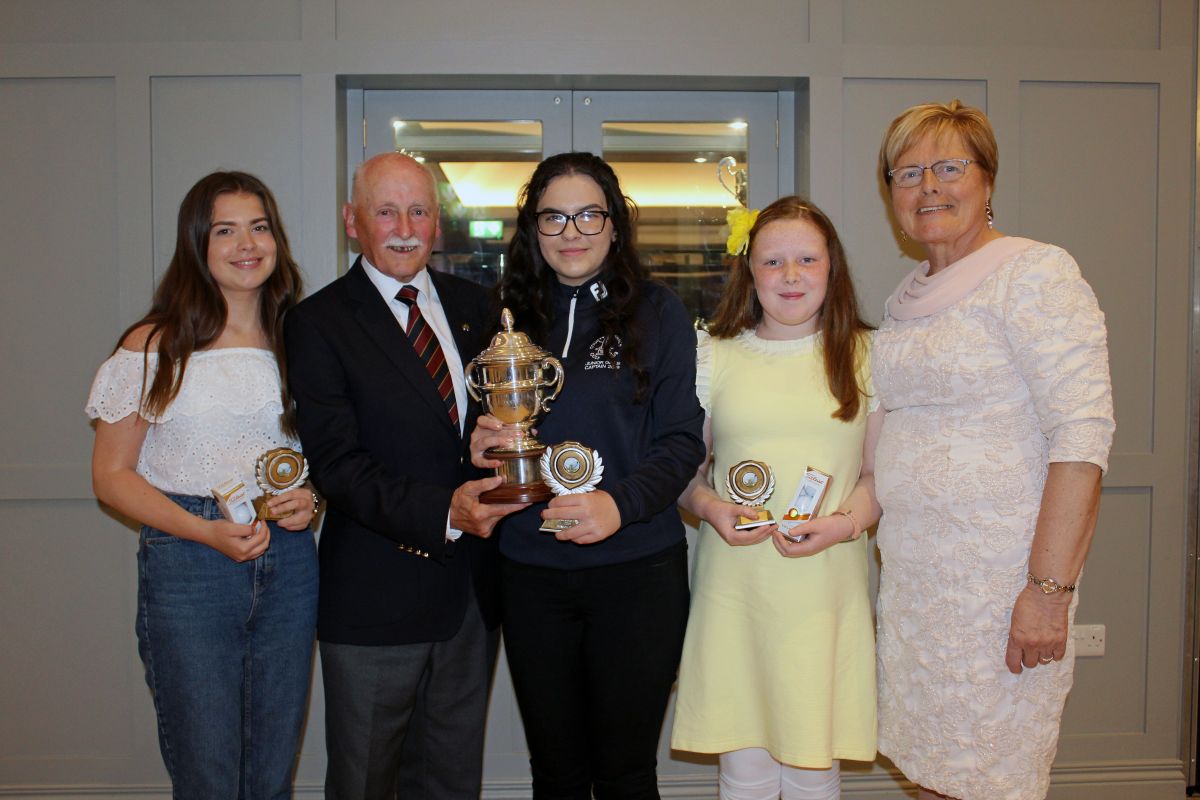 County Armagh Golf Club President, Gerry McCreesh, and his wife, Maura, presented the Senior Girls President's Cup to Lauryn McKeown, while Yasmin Monaghan and Rebecca Rafferty collected the Junior Girls and Cadet Girls prizes respectively.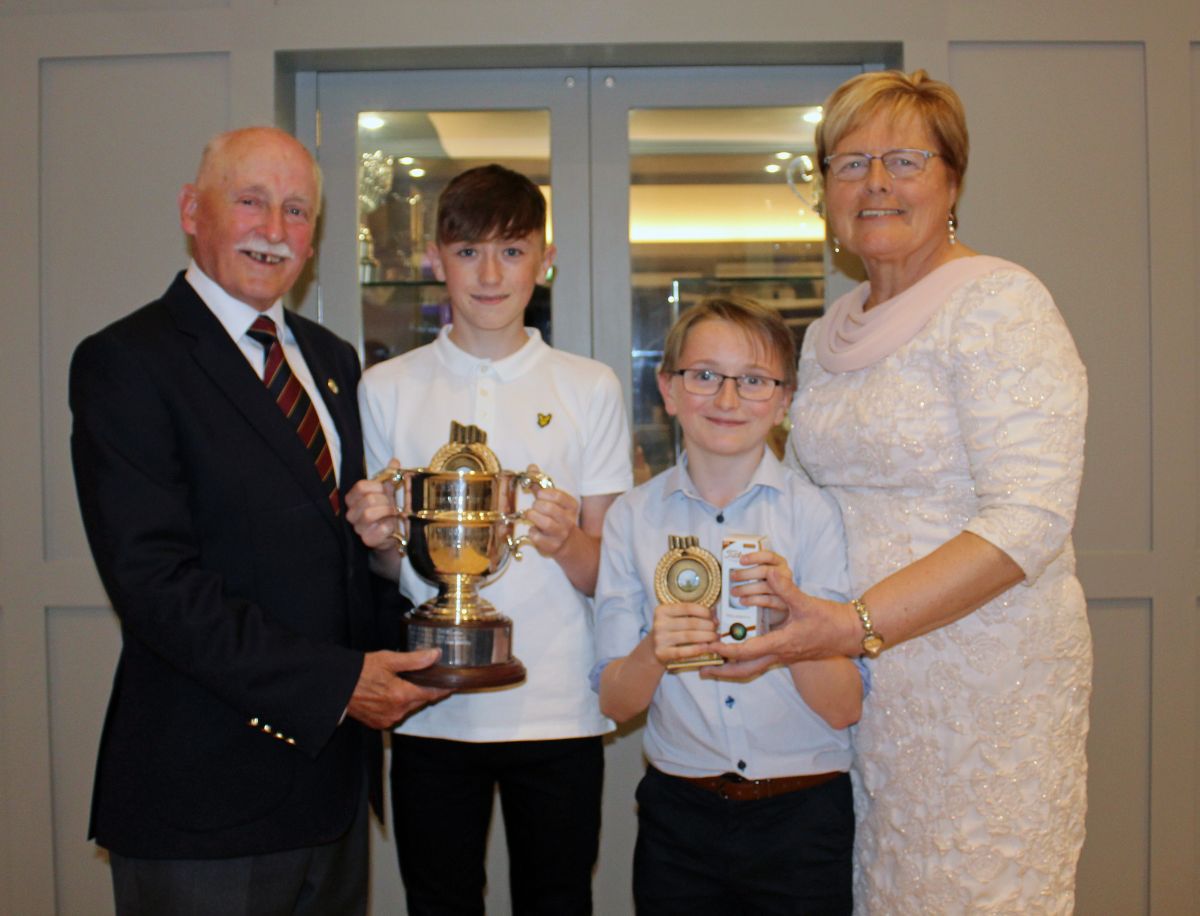 County Armagh Golf Club President, Gerry McCreesh, presented the Senior Boys President's Cup to Mark McKenna, while his wife, Maura, proudly awarded the Cadet Boys trophy to their grandson, Thomas McCreesh.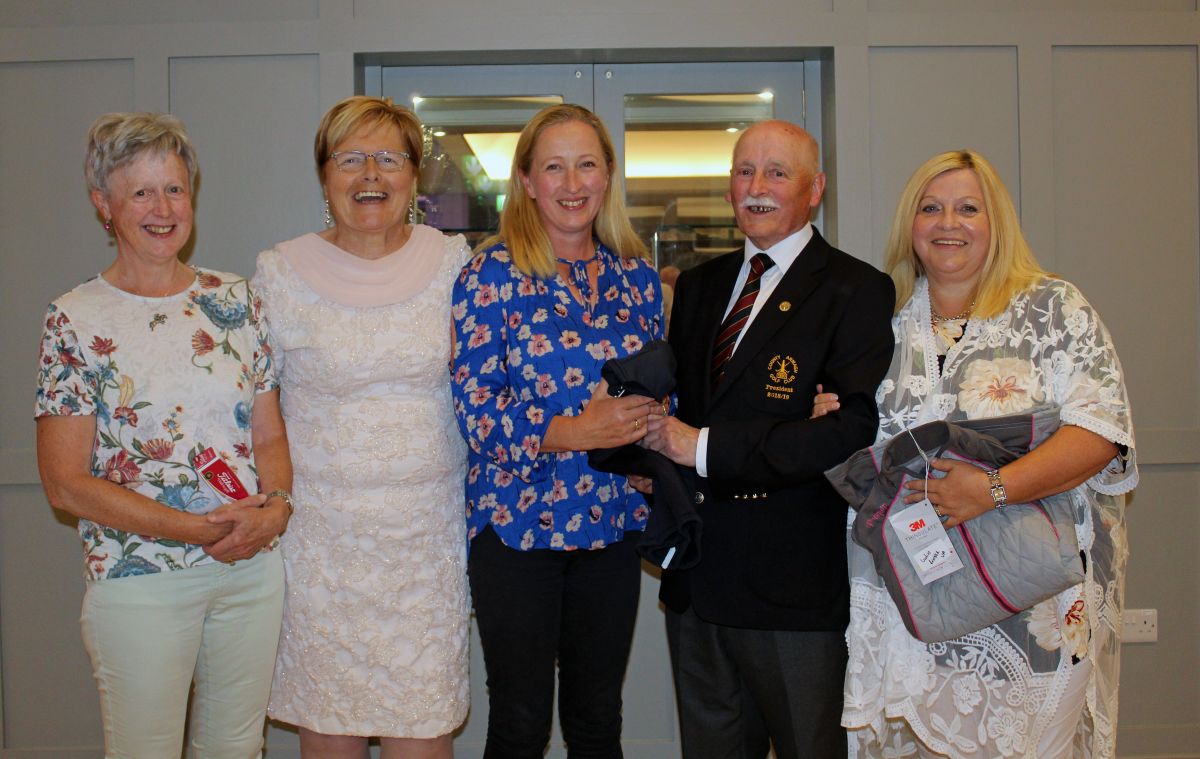 Ladies prizewinners on President's Day at County Armagh Golf Club (L-R) Sylvia Ashe (putting), Michelle Kinane (1st overall) and Karen Edgar (2nd overall) celebrate their success with President, Gerry McCreesh, and his wife, Maura.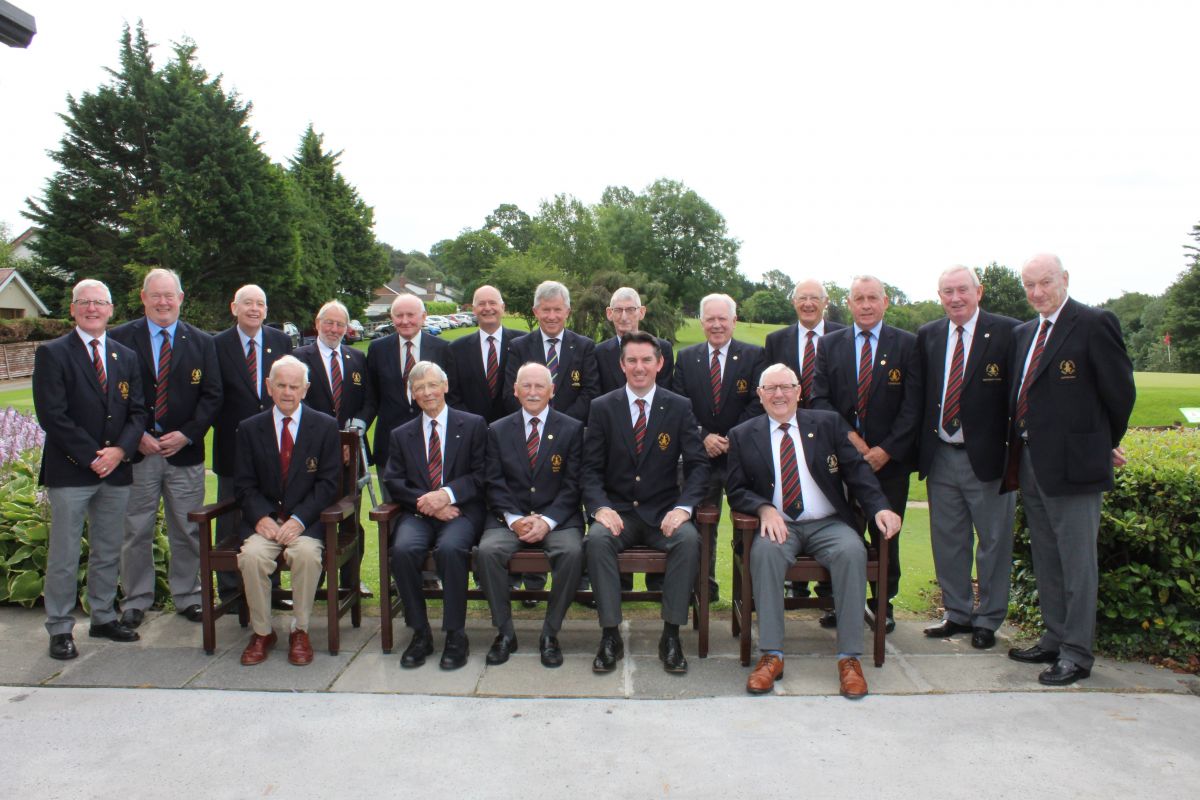 All the President's Men: County Armagh Golf Club President, Gerry McCreesh, was joined by Club Captain, Kenny Edgar, and many Past Captains and Presidents at a President's Day coffee morning on 27 July.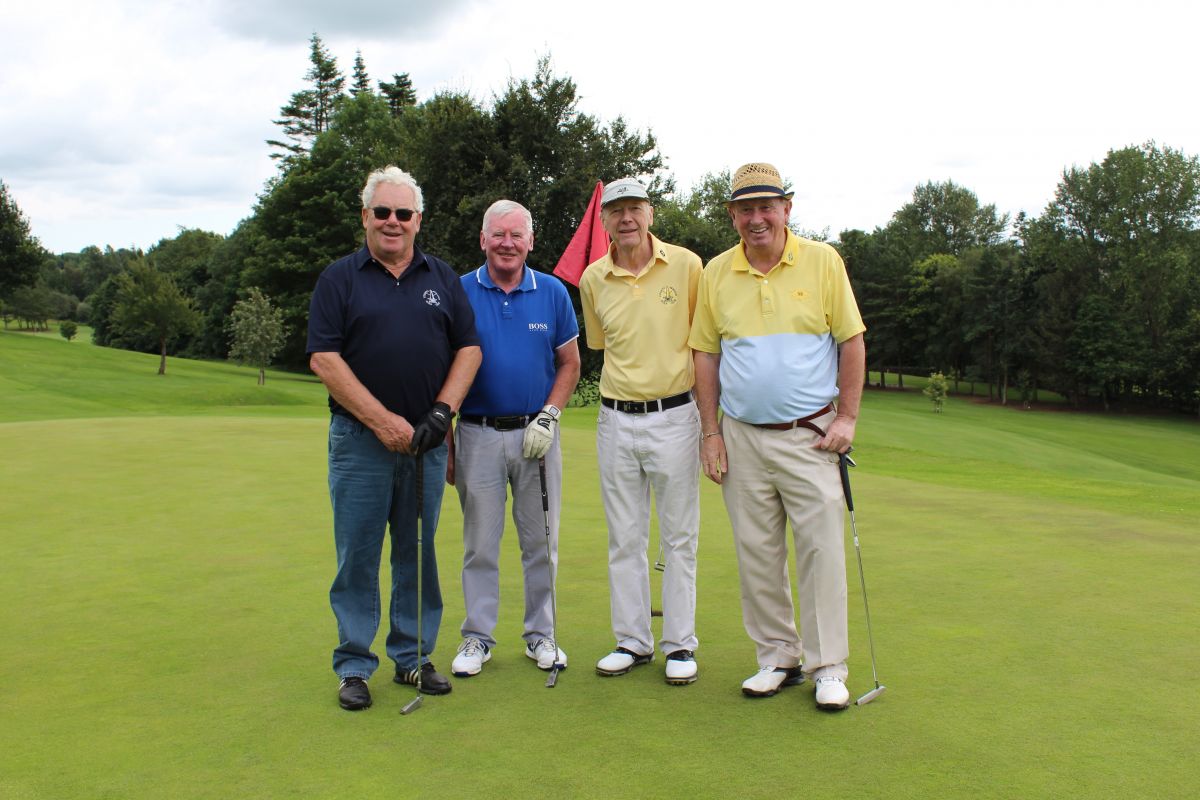 Photographed on completion of their President's Day round at County Armagh Golf Club are club stalwarts Mick Murphy, Pascal Toner, Rodney Villiers and Pearse McBride.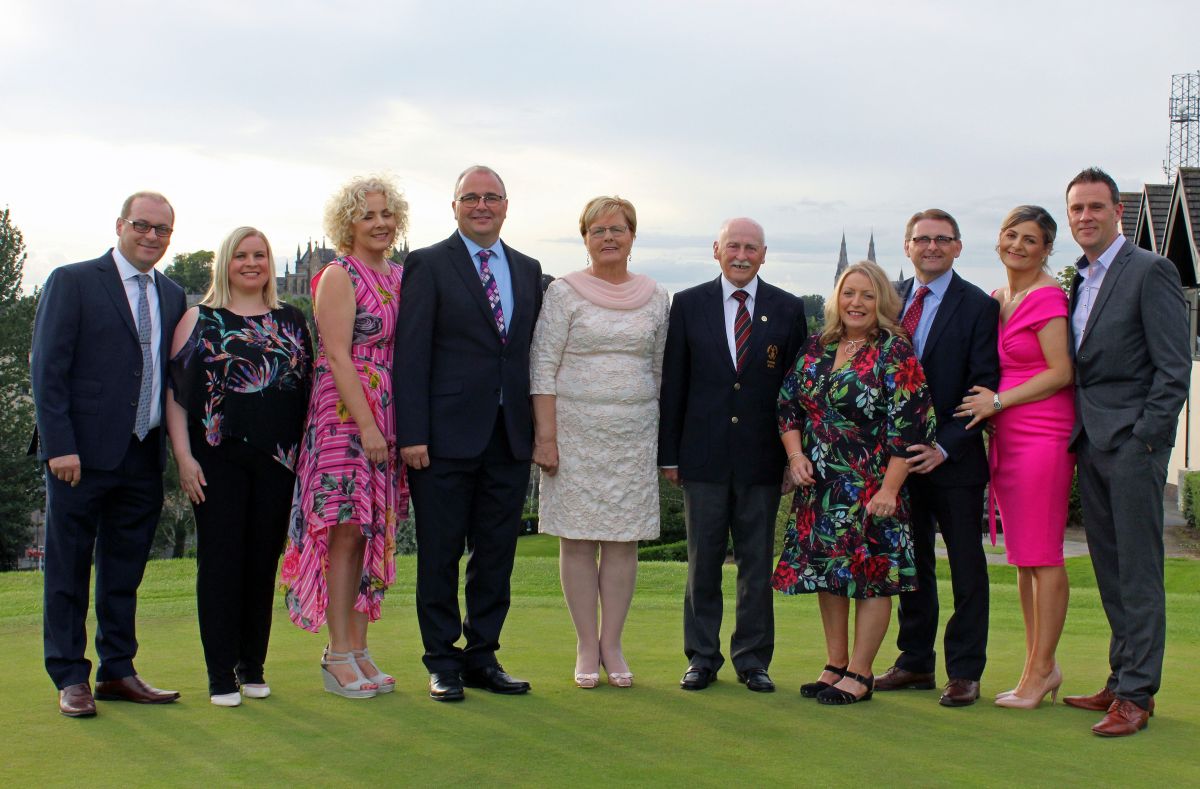 County Armagh Golf Club President, Gerry McCreesh, and his wife Maura are joined on the picturesque 18th green by the close family who helped him celebrate a very special occasion.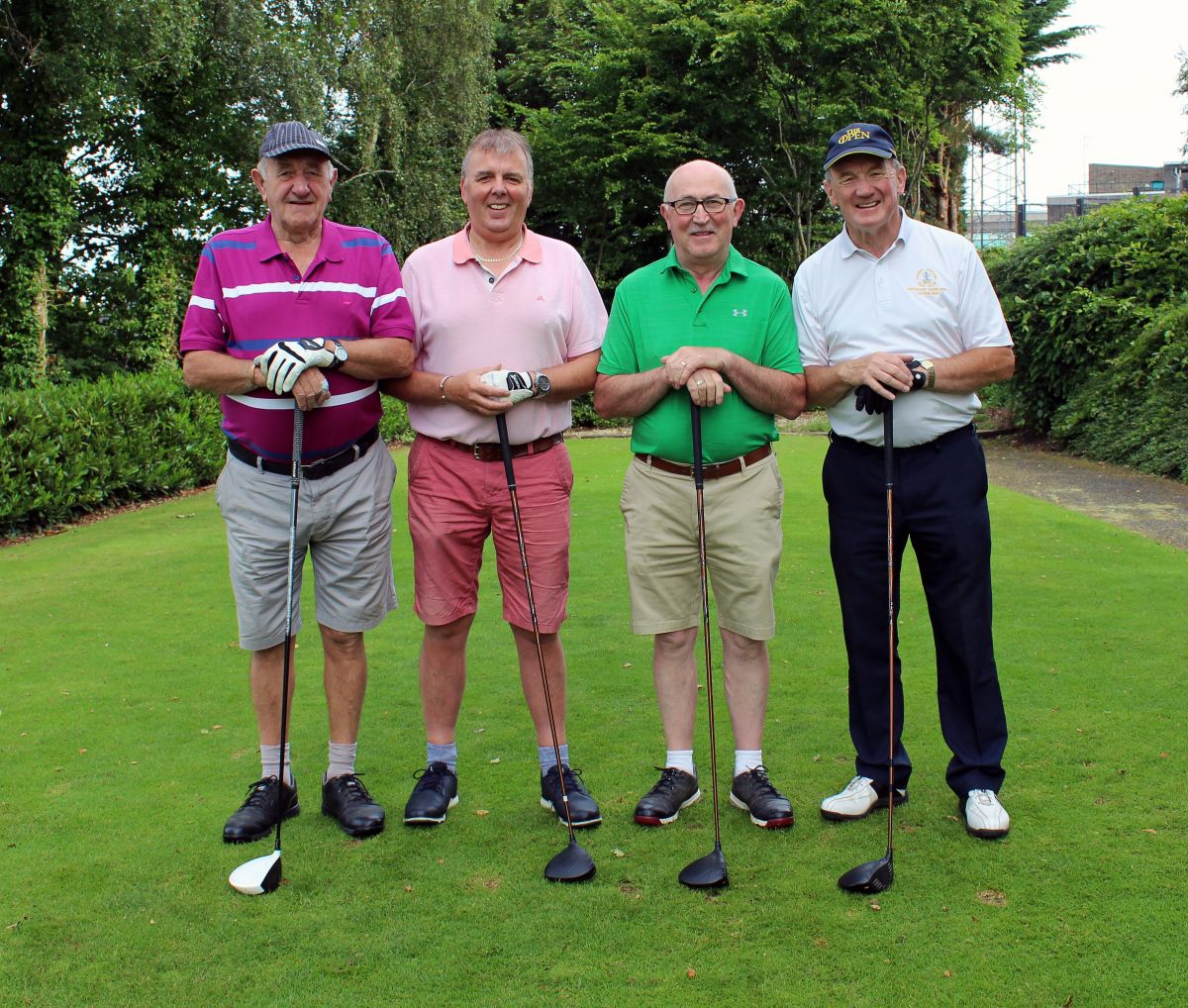 Pictured on the 1st tee during President's Day at County Armagh Golf Club are (L-R) Benny Simpson, Don McKee, eventual runner-up, Michael Macklin, and Honorary Secretary, Paddy Burns.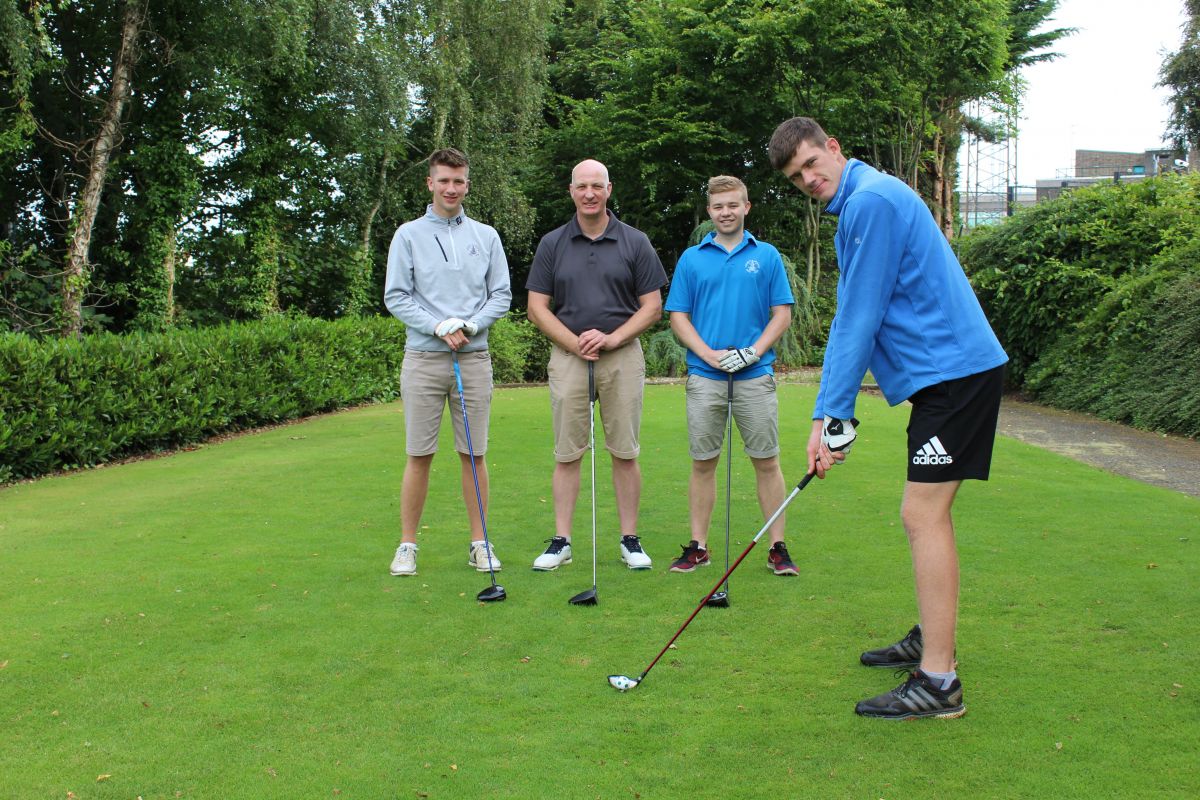 Teed up and ready to go for President's Day at County Armagh Golf Club is Kris Calvert, who played alongside his brother Jamie, dad Michael and pal Steven Monaghan on 27 July.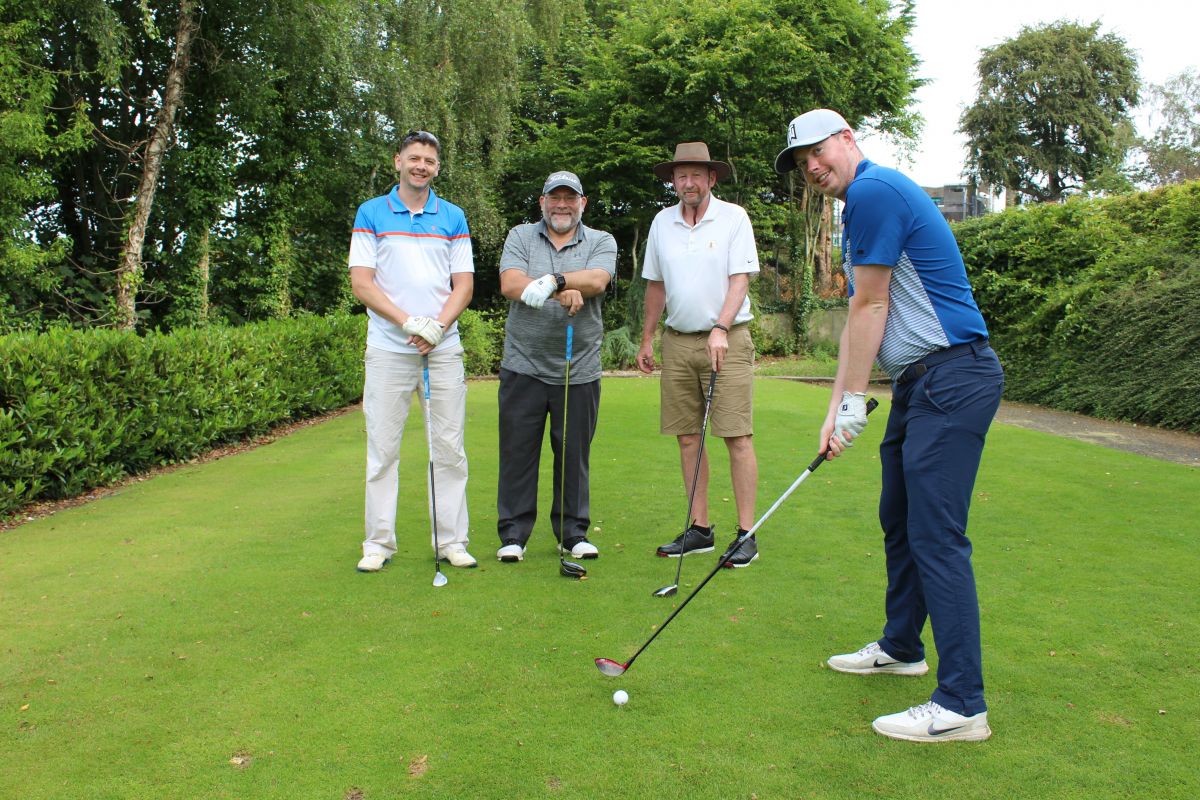 All set for President's Day at County Armagh Golf Club on 27 July is Shea Brady, the CAGC competitions' convenor, as Philip Richards, Paul Donnelly and Club Vice-Captain, Declan McReynolds, look on.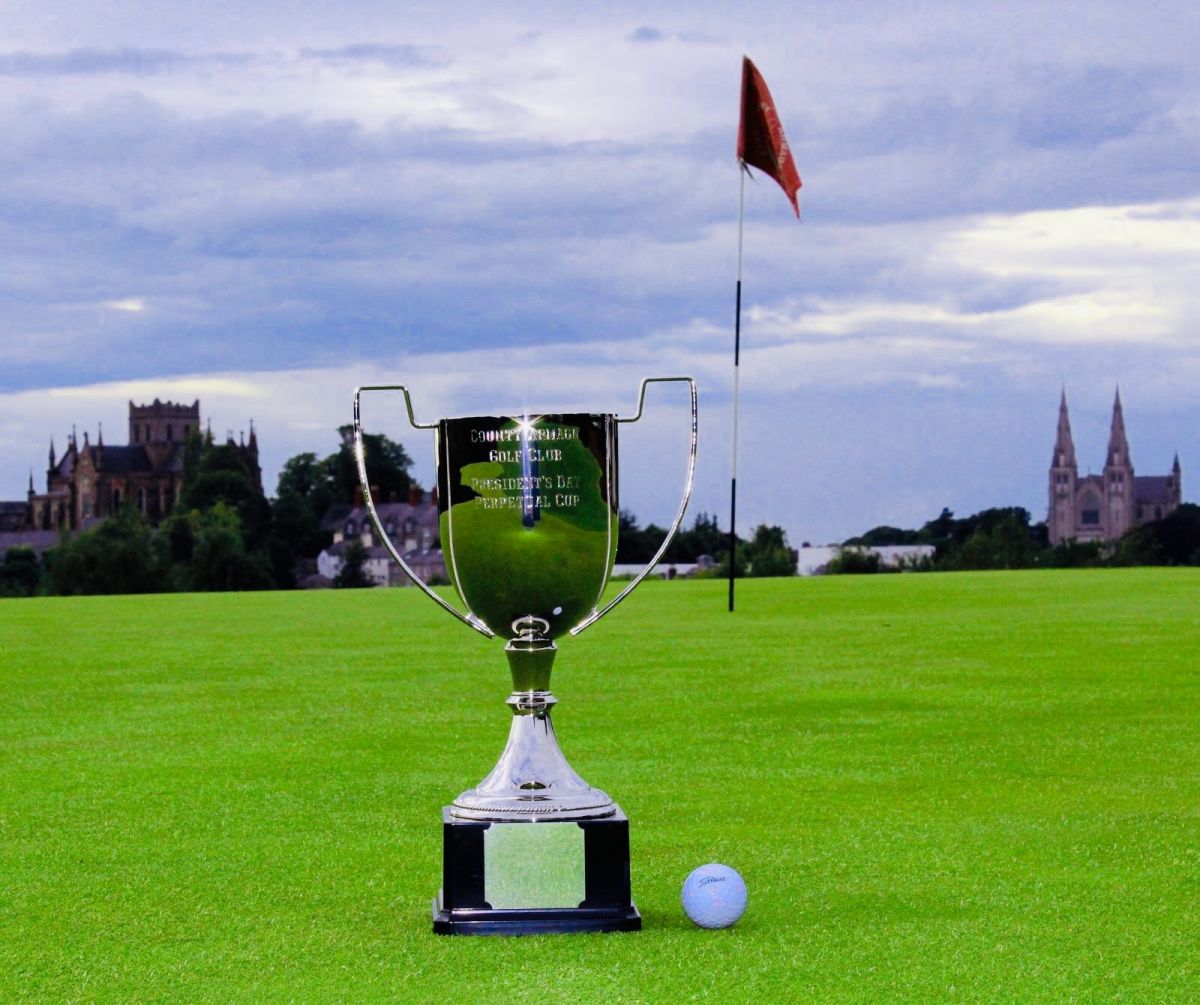 Following on from Noel Muldoon in 2017, Rory Smyth is the second player to have his name engraved on the CAGC President's Cup.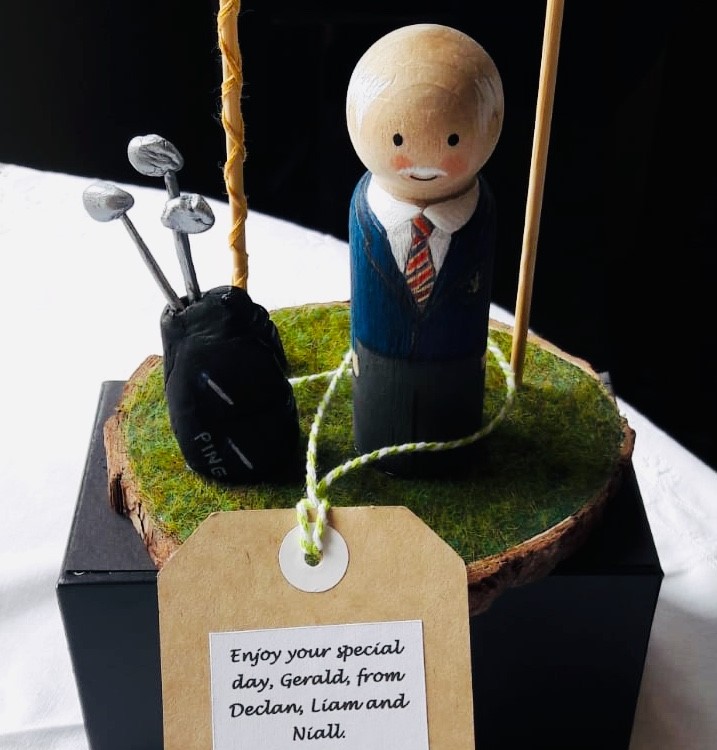 Gerry McCreesh remained resplendent throughout his 2019 President's Day festivities!