Philip Kelly was crowned County Armagh Golf Club's Captain's Prize Champion 2019 after firing a breath-taking five-under-par gross 65 on Kenny Edgar's showpiece occasion last weekend.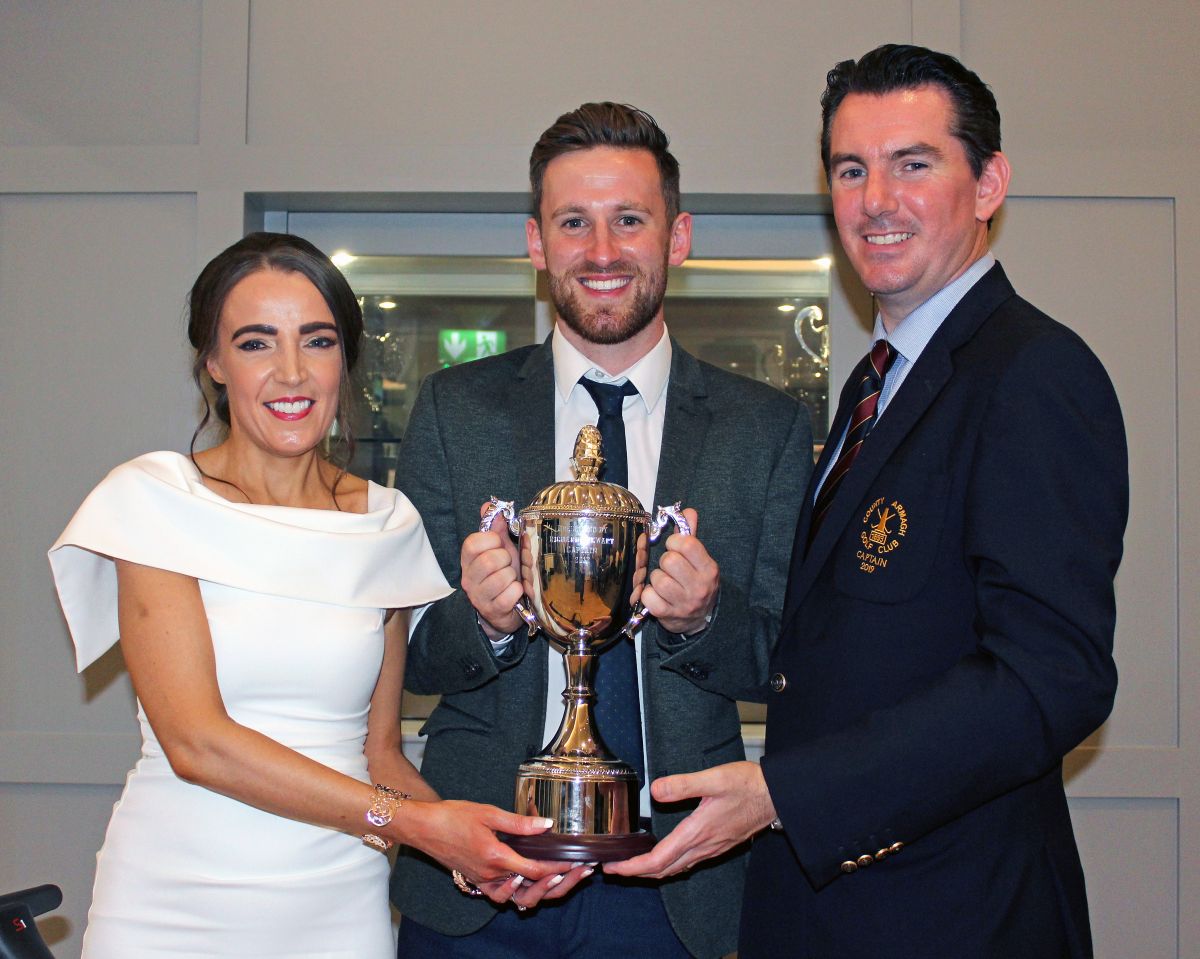 County Armagh Golf Club Captain's Day winner Philip Kelly is presented with the beautiful Captain's Cup by Captain, Kenny Edgar, and his wife Roisin.
Prior to that formidable on-course action, family, friends and members joined Kenny for a decidedly more tranquil Saturday coffee morning that provided the perfect opportunity for all those in attendance to catch up with old pals, admire the wonderful array of prizes on offer, and wish our always industrious, yet agreeably laidback, Captain all the very best.
The pristine clubhouse and environs and the refreshments enjoyed by everyone present also served as testimony to the club staff and volunteers who work so tirelessly to see to it that such events run like clockwork and with considerable aplomb.
However, when all's said and done, golfing competition is the main event and, with the lady members and juvenile girls and boys already having contested their various categories earlier in the week, 295 male competitors crammed the Cathedral City fairways on 28 and 29 June in search of the ultimate domestic glory.
While the Friday players were bathed in searing sunshine, albeit one accompanied by a stiff breeze that presented a stern test, weather conditions the next day were somewhat more dramatic.
Saturday's early starters were rudely interrupted by a spectacular outbreak of thunder and lighting and torrential rain but, mercifully, this led to only a delay in the day's proceedings rather than a cancellation.
And when play was eventually fully restored, Philip, assuming the role of coiled spring, immediately set about constructing his Captain's Day masterpiece.
Birdies at the 1st, 6th and 8th saw the gifted 25-year-old reach the turn in just 31 strokes. And even better would follow soon on the back nine, as Kelly's humbling of the demesne's par 5s continued with a four up on Obelisk and an eagle at Ballyheridan.
With another birdie arriving at the 15th, the then two-handicapper's thoughts will no doubt have turned to the possibility of breaking Jonathan McMillen's longstanding seven-under-par CAGC course record.
Two bogeys in the notoriously problematic last three holes dashed those particular hopes, but that will be of little concern now. Amid what had been a relatively listless season for him thus far, Kelly chose the perfect time to turn on the style in such sensational fashion. His 43 points yielded a return to one-handicap status and rendered the Ballyhegan man a most deserving and popular Captain's Prize winner.
Trailing Philip's stableford tally by a single point was runner-up Paul McCurry, who put in a phenomenal display of his own. A hat-trick of birdies at the 1st, 5th and 14th delivered the Ulster Cup talisman to the dominant position of one under par with just four holes remaining.
A few shots were frittered away amid an understandably jittery finish, but McCurry would not be denied the silver-medal berth and will reflect with much pride on his 75-shot Captain's Day outing.
On the category front, the 0-12 handicap leaderboard was headed by the ever-consistent Paul Corvan with a marvellous 41-point haul. That looked an unlikely prospect after a no-score at the 1st, but a commendable fightback would soon gather momentum. A two at the Quarry kick-started a Corvan charge that culminated in another birdie at the closing hole for a level-par homeward nine.
Remarkably, the top man in category 2 also endured the disappointment of an opening ding at St Brigid's Well. Unbowed though, Rory Smyth produced a Corvan-style recovery that comprised a serene nine pars and eight bogeys and meant he signed for a terrific 39 points.
The highlight of Neill Quinn's round was a useful birdie at the 7th, and the avoidance of any significant damage elsewhere enabled him to record an excellent 37-point total to clinch the honours in category 3.
Half a dozen birdies kept the irrepressible John Maguire on track for a consummate one-under-par outing of 69 that earned him Kenny's gross accolade. Meanwhile, Sam Rutherford skipper, Patrick Brannigan, birdied the first and amassed 10 pars on his way to a brilliant 39-point return to claim the Council, Committee and Team Captains award.
Greens convenor Davy Baird has received many plaudits for his efforts in overseeing the presentation of a course in such superb nick, and he took some golfing plaudits too on account of the 38-point scorecard with which he prevailed among his fellow Past Captains and Presidents.
Also worthy of note are the Captain's Day antics of 2018 Lonsdale winner, Ed Hughes, who performed something of a Joe Rooney tribute act in holing his second shot from deep in the quarry on 7 … and quickly backing that up with a hole-in-one at the 9th. Well done, that man!
In the eclectic Country, Overseas and Aged 18-24 classification, David Agnew's assured 37 points proved unbeatable, while Chris Cairns clinched the Visitors' prize to make his journey worthwhile.
Scoring was outstanding in the Ladies' section too, where Helen Forster went sub-80 and took top spot with the magnificent accruing tally of 43 points. Helen was most closely challenged by, fittingly, the Captain's sister-in-law, Karen Edgar, who posted a fine 37 points to occupy the ladies' runner-up spot. And Anne Atwell rolled her way to victory in the 18-hole putting.
The best of the Senior Juvenile Boys was 2018 Golfer of the Year, Callum Connell, with a solid 36 points, while Senior and Juvenile Girls' successes were enjoyed by Lauren McKeown and Caitlin Leeman respectively by virtue of high-quality play from both girls.
Following a delicious Captain's Night meal served by Seven Hills Restaurant, the prizes were presented and the beaming victor, Philip, articulated his delight at his day's work and showed appreciation to his group of golfing buddies. He also made sure to mention his mum and dad, Jacqueline and Gerry, both of whom are former Captain's Day champions in their own right!
Kenny then spoke to the pride that he has felt in leading a golf club that has been such a big part of his life. He thanked his wife Roisin for her continued patience as he carries out his CAGC duties in 2019, and outlined what an honour it has been to follow in the footsteps of his brother Bill, who was Club Captain back in 2001. Kenny also paid particular tribute to all those who give up so much time to make CAGC all that it is, not only on Captain's Day but throughout the year.
After Andrew Rennie's Vote of Thanks speech, which looks certain to lead to some bookings on the comedy circuit, was concluded; after the Lady Captain had secured victory in a well-hydrated post-midnight putting tournament under the headlights; after the last dance was danced; and after every conceivable concoction had been supped from the Captain's Cup, the shutters finally came down on another memorable CAGC Captain's Day. Massive congratulations to Kenny and Philip … roll on 2020!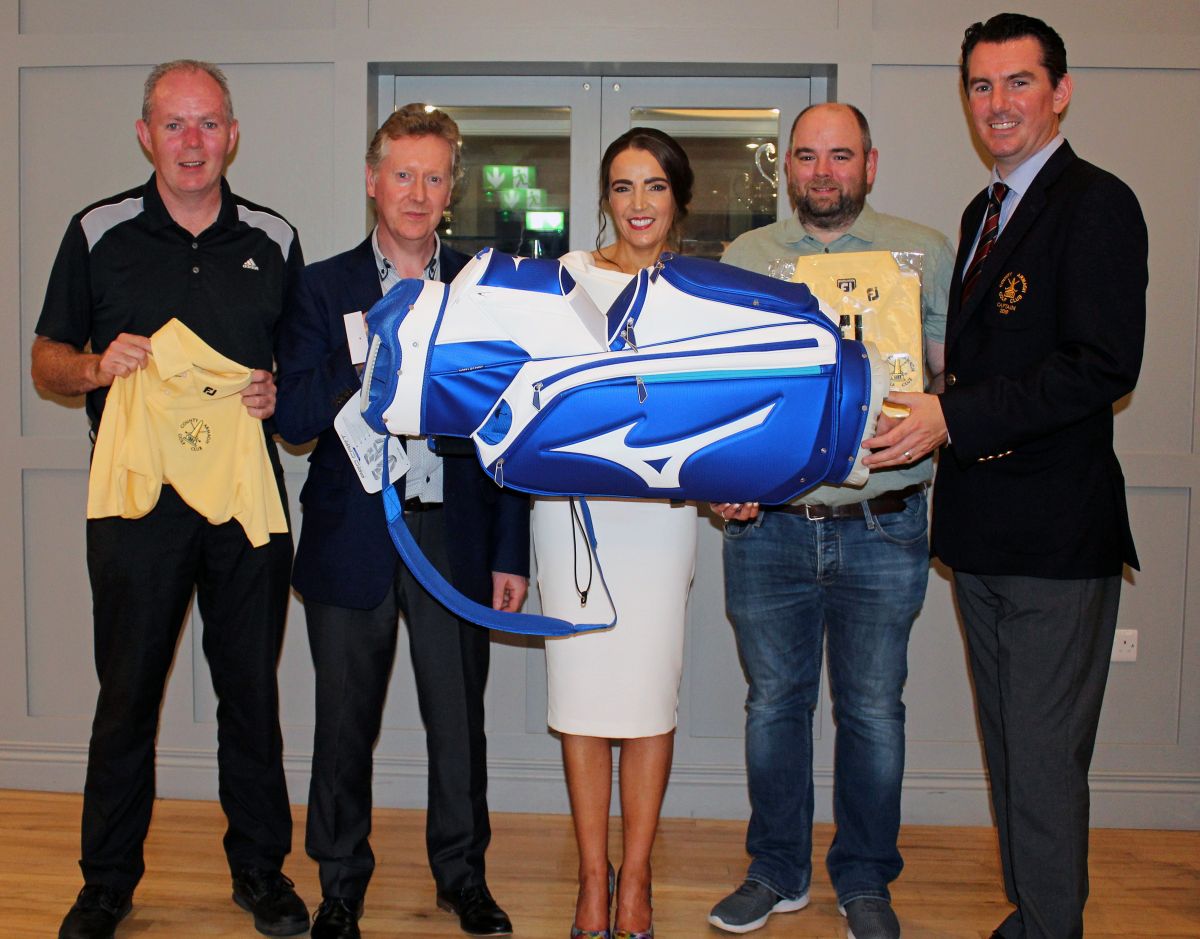 County Armagh Golf Club Captain, Kenny Edgar, and his wife, Roisin, presented Captain's Day prizes to (L-R): Paul Corvan (category 1 winner); Paul Curry (overall runner-up), and Neill Quinn (category 3 winner).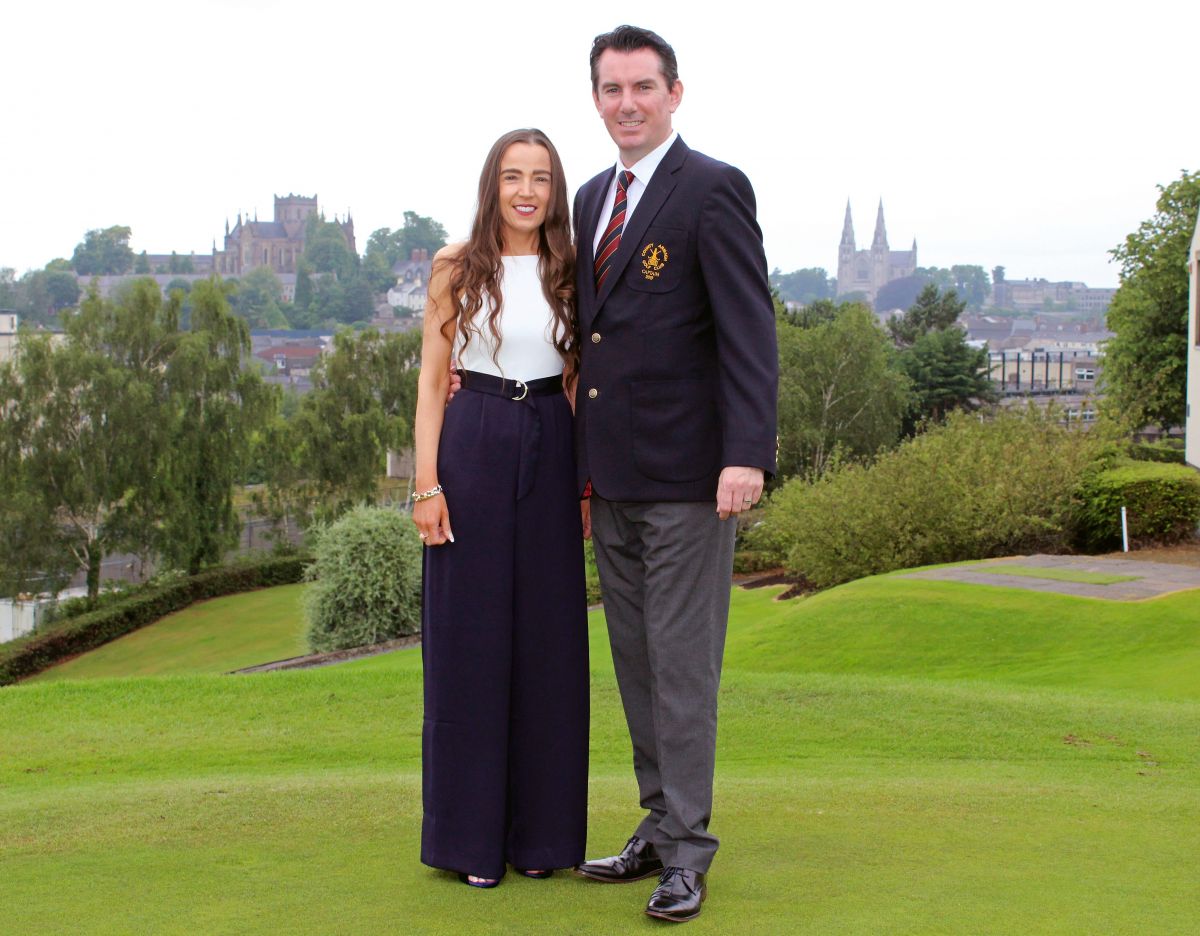 The spectacular view of Armagh city's two cathedrals from County Armagh Golf Club's 18th green, provided the perfect backdrop for a special photograph of Captain, Kenny Edgar, and his wife, Roisin, on Captain's Day 2019.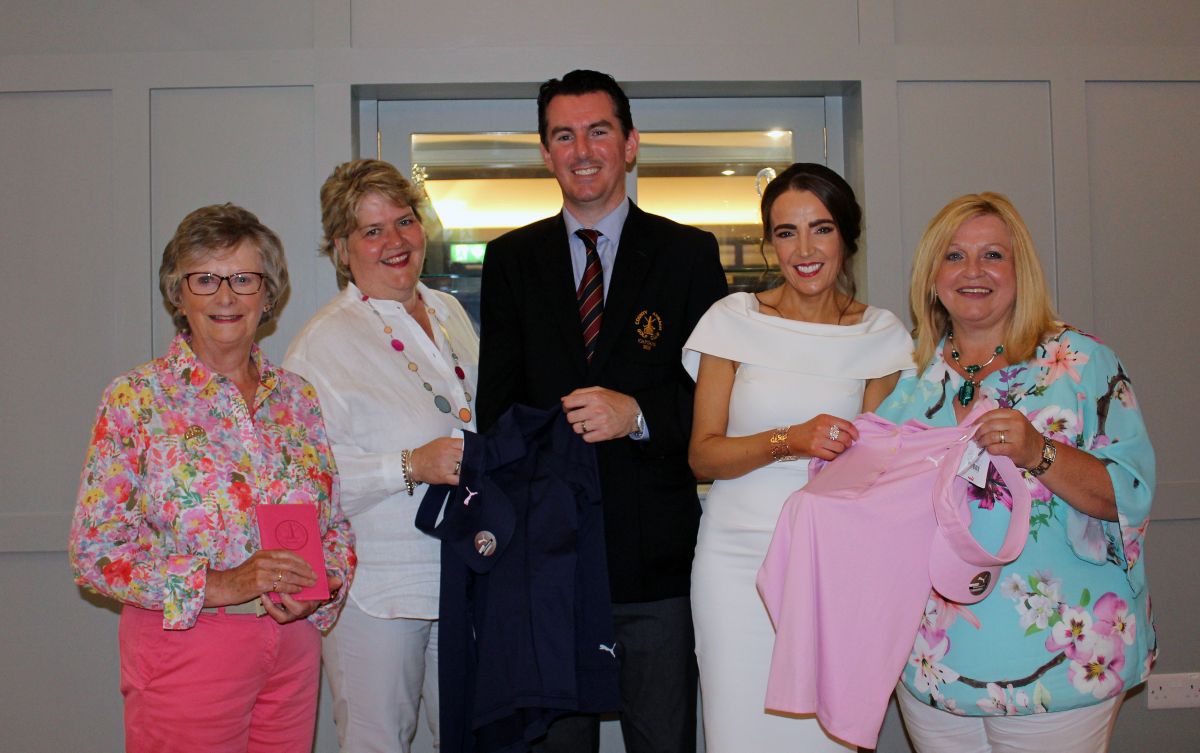 Ladies prizewinners on Captain's Day at County Armagh Golf Club, Anne Attwell (putting), Helen Forster (winner) and Karen Edgar (runner-up), are pictured with Club Captain, Kenny Edgar, and his wife Roisin.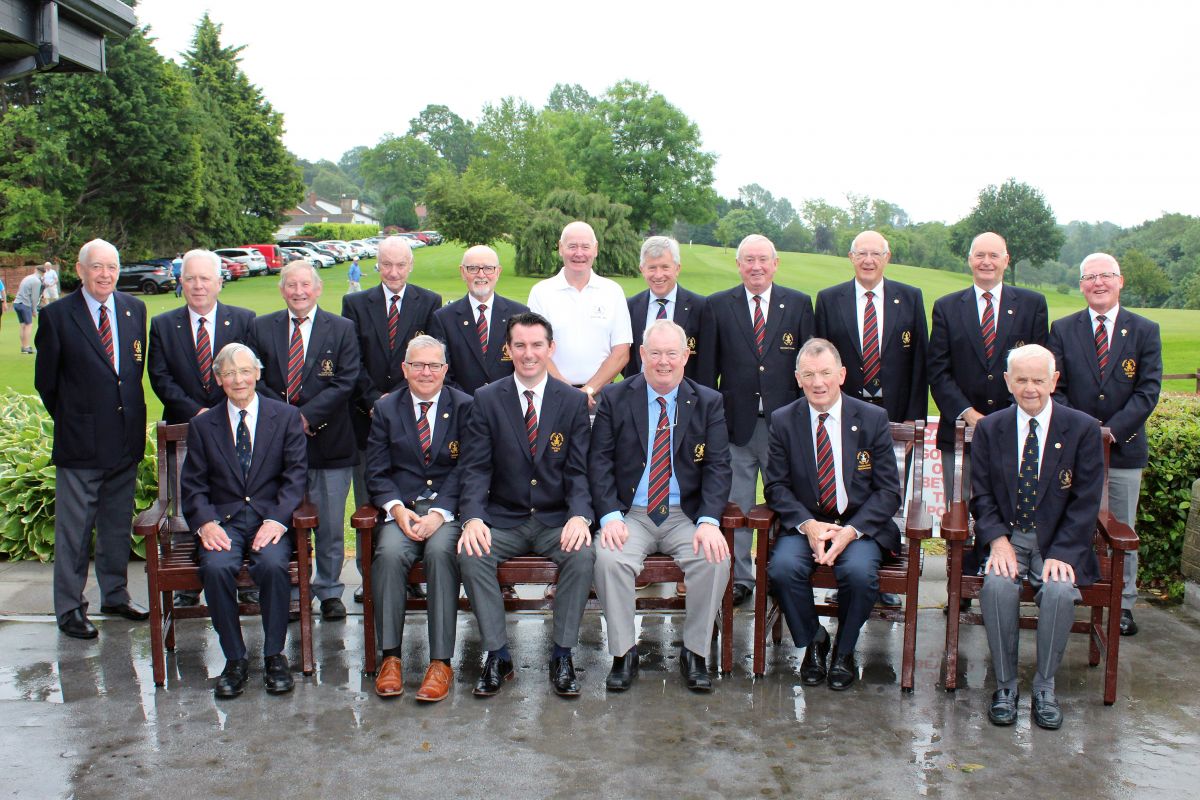 County Armagh Golf Club Past Captains and Presidents joined current Captain, Kenny Edgar, at his Captain's Day coffee morning.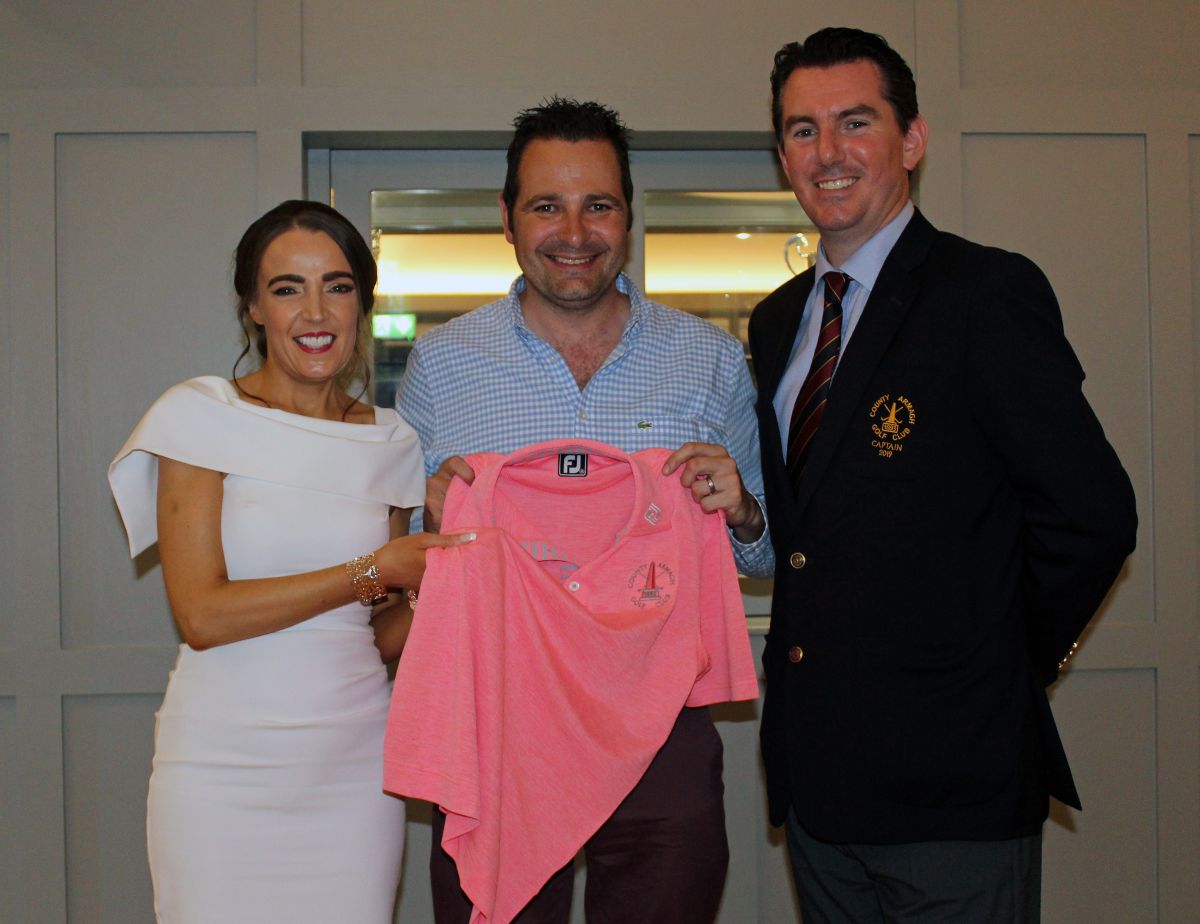 The County Armagh Golf Club Captain's Day Visitors' Prize was won by Chris Cairns, who is pictured with Club Captain, Kenny Edgar, and his wife, Roisin.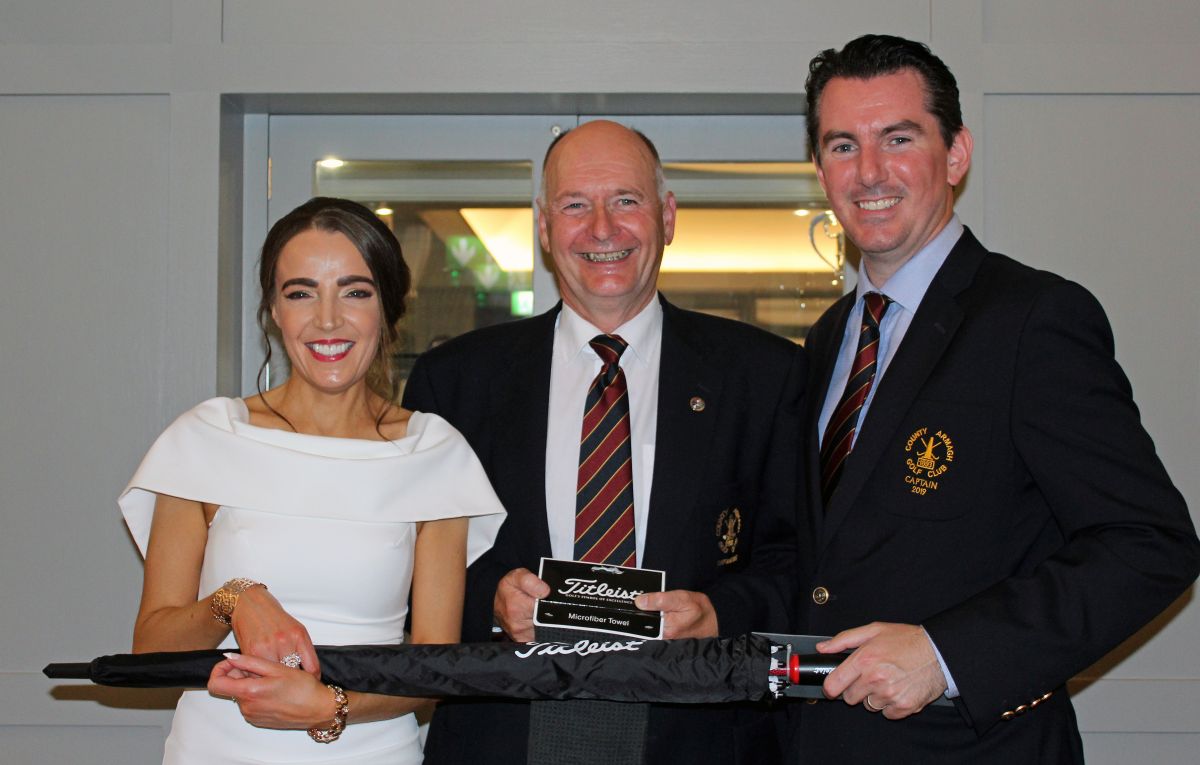 The Past Captains and Presidents prize on Captain's Day at County Armagh Golf Club was won by Davy Baird, who was presented with it by Club Captain, Kenny Edgar, and his wife, Roisin.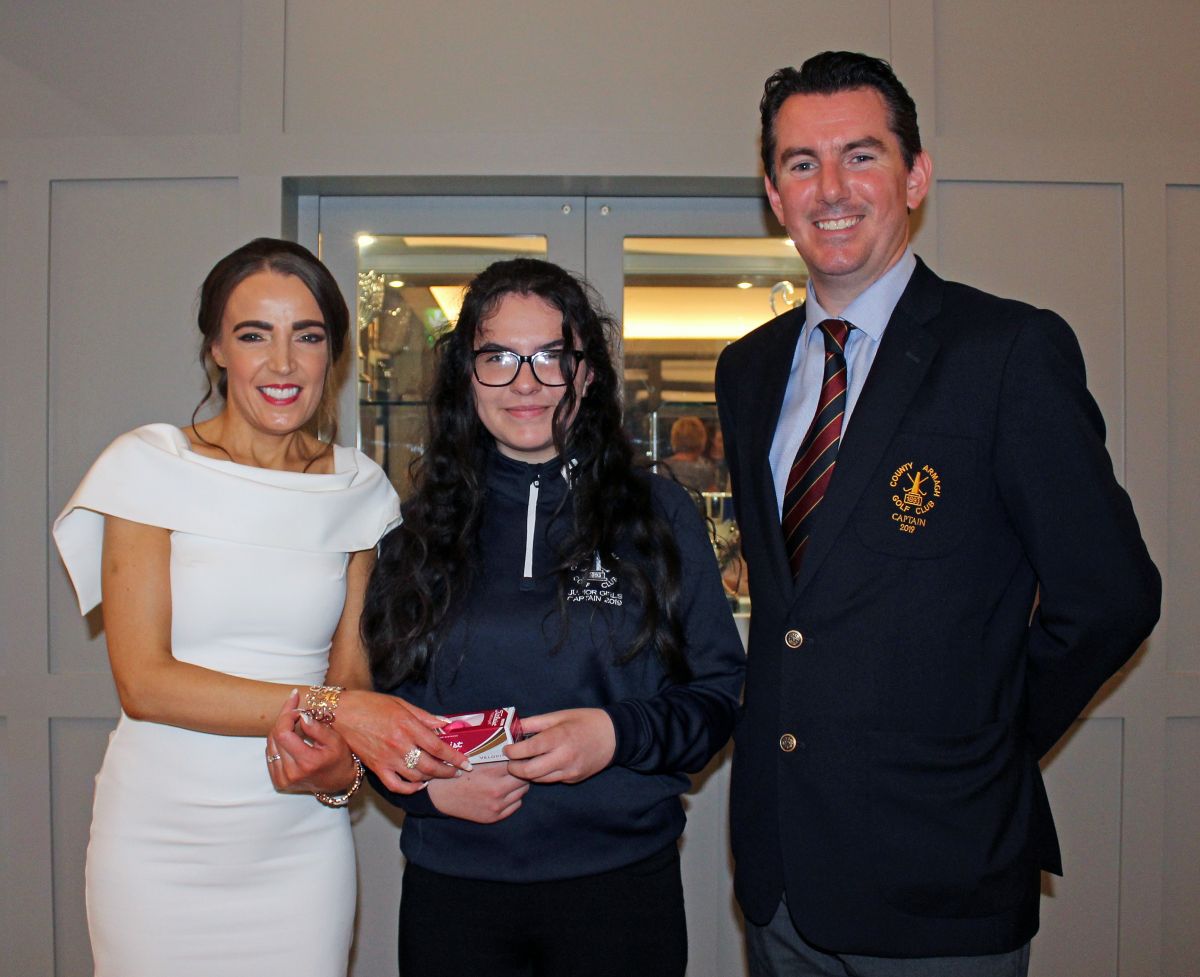 The County Armagh Golf Club Captain's Day Senior Juvenile Girls prize was won by Lauren McKeown, Juvenile Girls Captain, who received her award from Club Captain, Kenny Edgar, and his wife, Roisin.

County Armagh Golf Club Captain, Kenny Edgar, and his wife, Roisin, were joined by close family and friends as they celebrated Captain's Day on 29 June.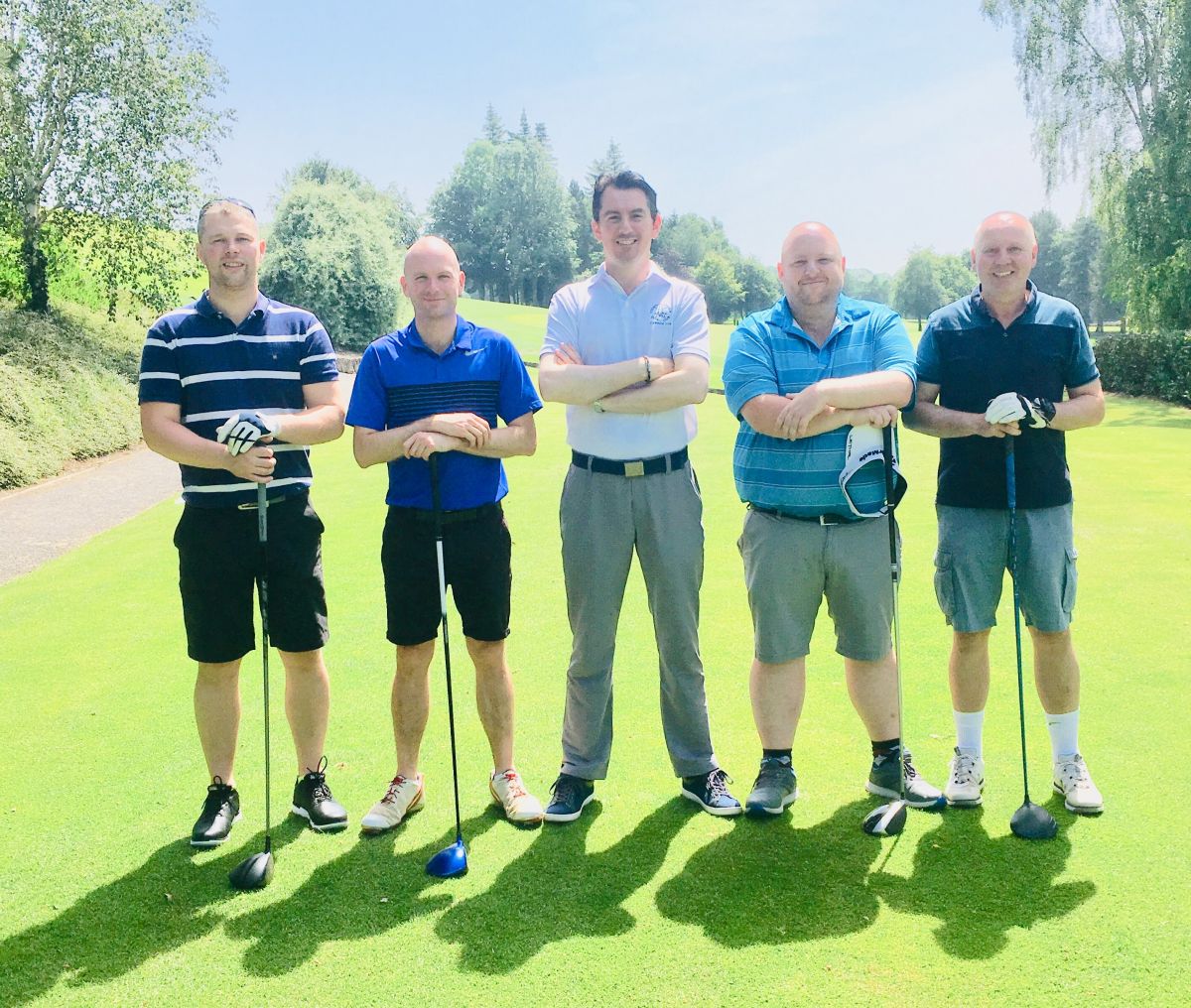 Adam Hunniford, Rónan O'Reilly, Stuart Lee and Alan Wilson were the first fourball to compete on Kenny Edgar's Captain's Day weekend at County Armagh Golf Club.