Jurgen Klopps's ecstasy on Saturday 2 June was in sharp contrast to the agony experienced by his opposite number, Mauricio Pochettino. That same day, however, the two men found common ground amid despair at their mutual inability to lift County Armagh Golf Club's prestigious Lonsdale Cup.
That enormous privilege was bestowed upon Jarlath Hagan, who expertly fended off 206 fellow competitors in the stroke tournament sponsored by Armagh City Hotel.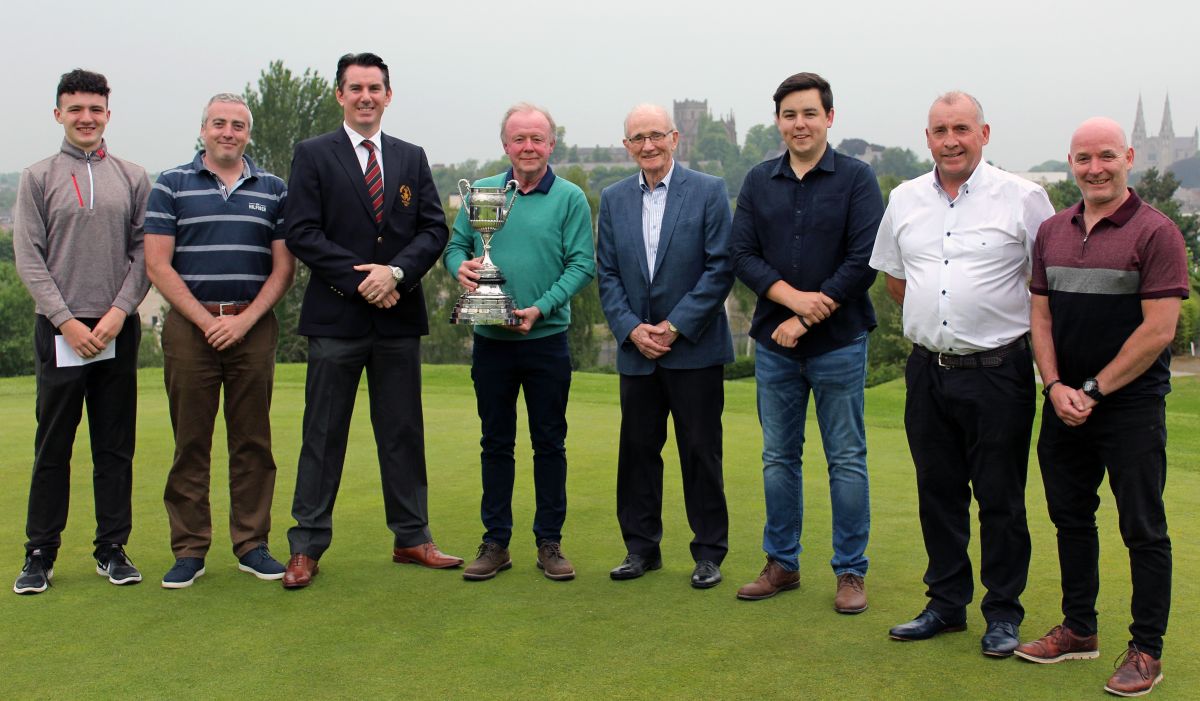 Jarlath Hagan was presented with the Lonsdale Cup by County Armagh Golf Club Captain, Kenny Edgar, and Brian McCormack from Armagh City Hotel, proud sponsors of the annual stroke competition. Pictured on the 18th green, they are joined by other Lonsdale prizewinners (L-R): Joe Rooney, Stewart Stevenson (collecting on behalf of Keith Hamilton), John Maguire, Richard Black and John Lavery.
The Lonsdale Cup was first won by H.J. Daly back in 1896, while the reigning champion had been Ed Hughes on account of his 2018 masterclass. In 2019, Jarlath paid fitting tribute to the storied silverware's 123-year history with a stout-hearted nett 67 that will see his name etched alongside those many victors who have gone before.
Although a nett 67 as a prevailing tally is relatively conservative, it can be easily explained by the playing conditions on the day. Back tees, a stiff breeze, little run and awkward pin placements all contributed to an exacting golfing examination.
But Hagan was largely unperturbed by these potential complications in a round where his eight at the 5th entirely anomalous. Elsewhere, the now 19-handicapper's performance was exemplary, as evidenced by a glory-grabbing scorecard that featured a birdie at the 11th, half a dozen pars and just 41 shots on the homeward half.
Keith Hamilton has made a welcome return to CAGC in recent months, and a Lonsdale runner-up accolade has copper-fastened that homecoming. The prodigal son posted equally impressive nines, each comprising five pars, three bogeys and one double bogey. Hamilton's Lonsdale tilt was not helped by four putts on Rokeby Green — but, hey, putting is fun.
Anyway, the overall outcome of all that was another nett 67, which missed out on a place at the leaderboard summit only on a break of tie and means Keith is now playing off 14.
The tricky trio of Kieran McClelland, John Lavery and Richard Black all recorded excellent nett 68s and were separated into 3rd, 4th and 5th positions respectively after a countback.
McClelland was level par for a marvellous nine-hole stretch either side of the turn, but his ambitions for the day's top award were scuppered by an untidy conclusion to proceedings.
Lavery's 78-stroke outing, meanwhile, was a completely unflustered affair, containing as it did a tranquil final makeup of 10 pars and eight bogeys.
And Black, although suffering the sort of costly denouement with which Kieran could empathise, turned in a tremendous display hitherto and negotiated the opening 16 holes in eight pars and eight bogeys.
Six days prior to the Lonsdale, Sam Jenkins had triumphed in a Sunday competition, and the unflappable six-handicapper reproduced that form on the even bigger occasion here. His superb gross 75 included a level par back nine and secured 6th prize.
The final spot on the Lonsdale nett podium was filled by Anthony Conlon, who matched Jenkins's score of nett 69 with a no-nonsense showing that contained a Beresford birdie and the satisfying absence of a double bogey.
And unsurprisingly given their recent heroics, the gross awards were contested most keenly by Joe Rooney and John Maguire. The former's outstanding 69-hit effort just pipped the latter's (still pretty decent!) two-over-par offering.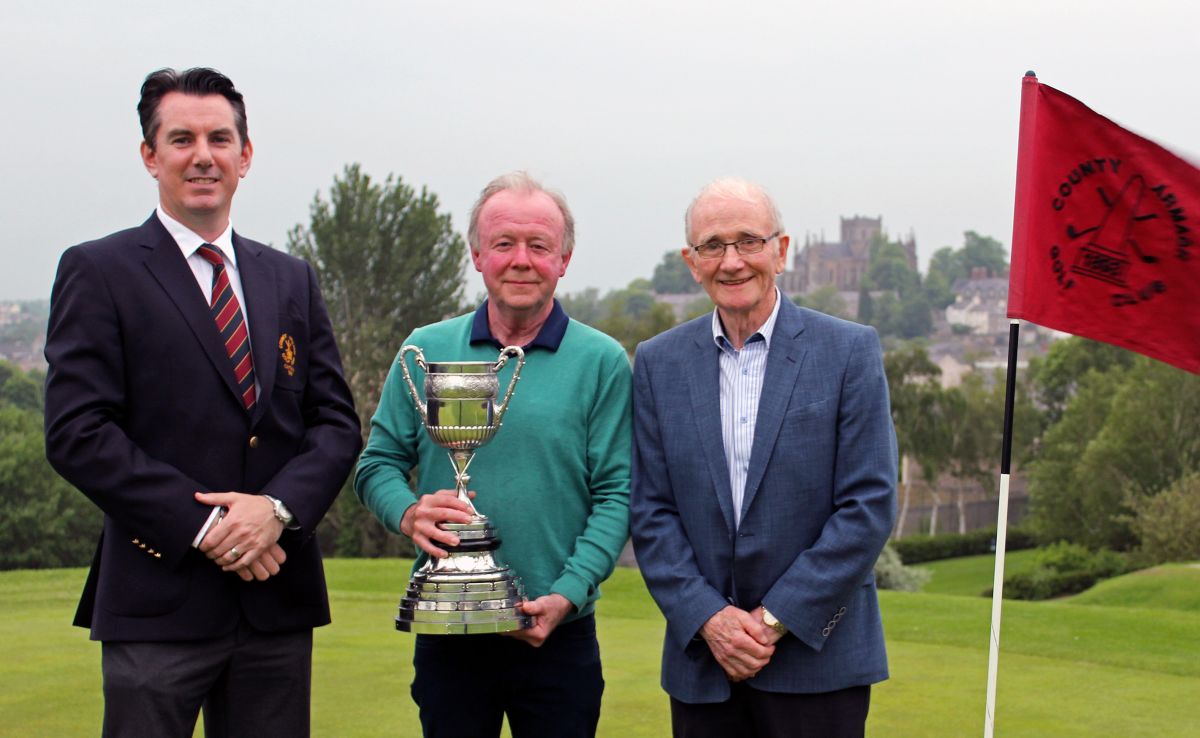 Jarlath Hagan's nett 67 clinched the Lonsdale Cup on 2 June. He is pictured alongside County Armagh Golf Club Captain, Kenny Edgar, and Brian McCormack from Armagh City Hotel, tournament sponsors.