Digby's Restaurant generously supported a County Armagh Golf Club competition on 18 May, when strokeplay success was very much on the menu for the worthy winner Mark Hughes.

The Keady player plated a gross 79, which led to a mouth-watering nett 65 that will surely have satisfied his golfing hunger.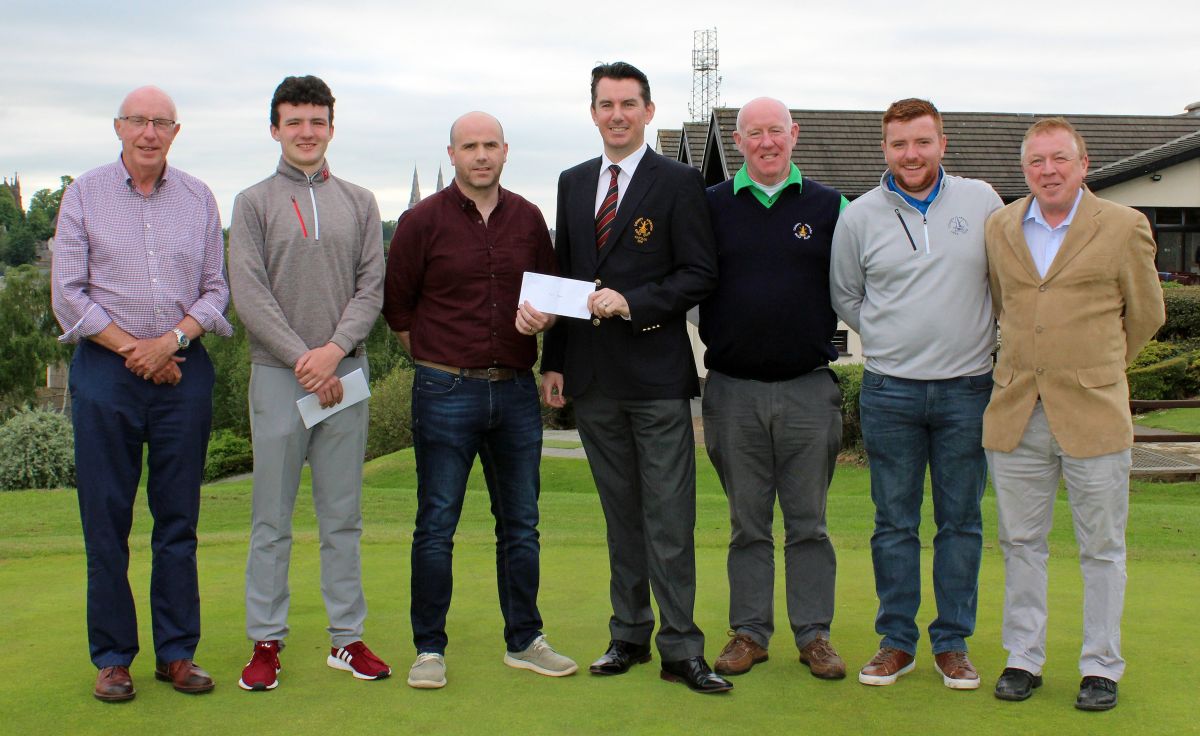 County Armagh Golf Club Captain, Kenny Edgar, presents Mark Hughes with the winner's prize in the Digby's Restaurant-sponsored Club Stroke tournament. Also pictured are other prizewinners (L-R): Kenny Gordon, Joe Rooney, Derek McKeever, Lee Stewart and Gerry Doyle.

And if tournament victory was the delicious main course, Mark's moreish haul of 10 pars represented the amuse-bouche and his 14-to-13 handicap clip the flavoursome dessert.
Elsewhere in the Saturday proceedings — and mercifully away from the tiresome food puns — Joe Rooney was the overall runner-up on account of a quite exquisite three-under-par outing. A three at the 15th was Rooney's sixth birdie of the day and brought the two-handicapper to an incredible five under par at that late juncture. Joe's bogeys at the 16th and 18th ultimately resulted in a nett 65 that was denied the top honours on a break of tie.

The category 1 prizes in this Digby's event were, somewhat fittingly, claimed by a pair of Killylea men. Neil Linton prevailed among the 0-12 handicappers after a tremendous round that included birdies at the 7th and 15th and just 74 shots in total.

Linton's nett 68 was matched by second-placed Lee Stewart, whose fabulous three-over-par effort featured no birdies, although a dozen pars and an eagle made up for that fact!

The category 2 plaudits were taken by Kenny Gordon, who hared out of the traps with four pars on the spin, reached the turn in a mere 38 blows, and eventually signed for a terrific nett 66.

Losing out to Kenny only on a countback was Derek McKeever, whose devilish run of 6, 6, ,6 from Beresford to Fairy Thorn was entirely out of keeping with the rest of an angelic scorecard that showed a hat-trick of birdies and means he's now playing off 12.

Finally, Gerry Doyle's pars at the 3rd, 7th, 9th and 15th helped him on his way to an excellent nett 67 that proved unbeatable in category 3. Coming closest to doing so was Peter McParland, whose fine nett 68 saw him occupy second position among this cohort.