The first of the two ladies' Open Competitions was a 3-Ball Scramble, held on Monday 7 August.
Twenty-two teams took part in the competition which was sponsored by Le Jardin Luxury Spa, The Linen Green, Dungannon. This included visiting teams from Aughnacloy, Dungannon, Fintona, Tandragee and Moyola.
1st Michelle Kinane, Emma Garrigan and Colette McSorley Nett 60.9
2nd Alexis Davidson, Sheila McNamee and Jayne Henry (Dungannon) Nett 62.5
3rd Bernie McBride, Maggie McKee and Mary Black Nett 63
4th Frances Lawther, Abbie Poole and Oonagh Devine (Rockmount) Nett 63.1
5th Lady Vice Captain Ellen Brady, Anne McDonald and Valerie Gordon Nett 65.2
The second Open Competition of the week took place on Thursday 10 August, the Summer Open Stableford, was sponsored by The Parkland Restaurant and Ryan Kelly, The Parkland Restaurant was in attendance to present the prizes. Sixty-one ladies played in the 18 hole competition.
1st Ellen Brady 36 pts
2nd Lynne Brown 36 pts
3rd Patricia Hughes 36 pts
4th Maggie Donnelly 35 pts
Cat A Mary Black 32 pts
Cat B Una Cullinane 34 pts
Cat C Karen Edgar
(btg Sheila Hughes on c/b) 35 pts
Cat D Anne McDonald 34 pts
Front 9 Geraldine Rafferty 21 pts
Back 9 Libby Lamont (Aughnacloy) 18 pts
Longest Drive @ 5th Carina Oliver
Nearest the Pin @ 7th Colette McAleavey
A further 12 ladies entered the 9 hole competition, which was won by Anne Cairns with 18 pts. Second was Brigid McEneaney, also with 18 pts.
There were birdies for Teresa McVeigh at the 1st, Colette McSorley at the 1st and 12th and Lady Vice Captain Ellen Brady at the 5th.
Twos were record by Lynne Brown at the 3rd, Siobhan Donnelly and Helen McLaughlin at the 7th and Michelle Kinane at the 18th.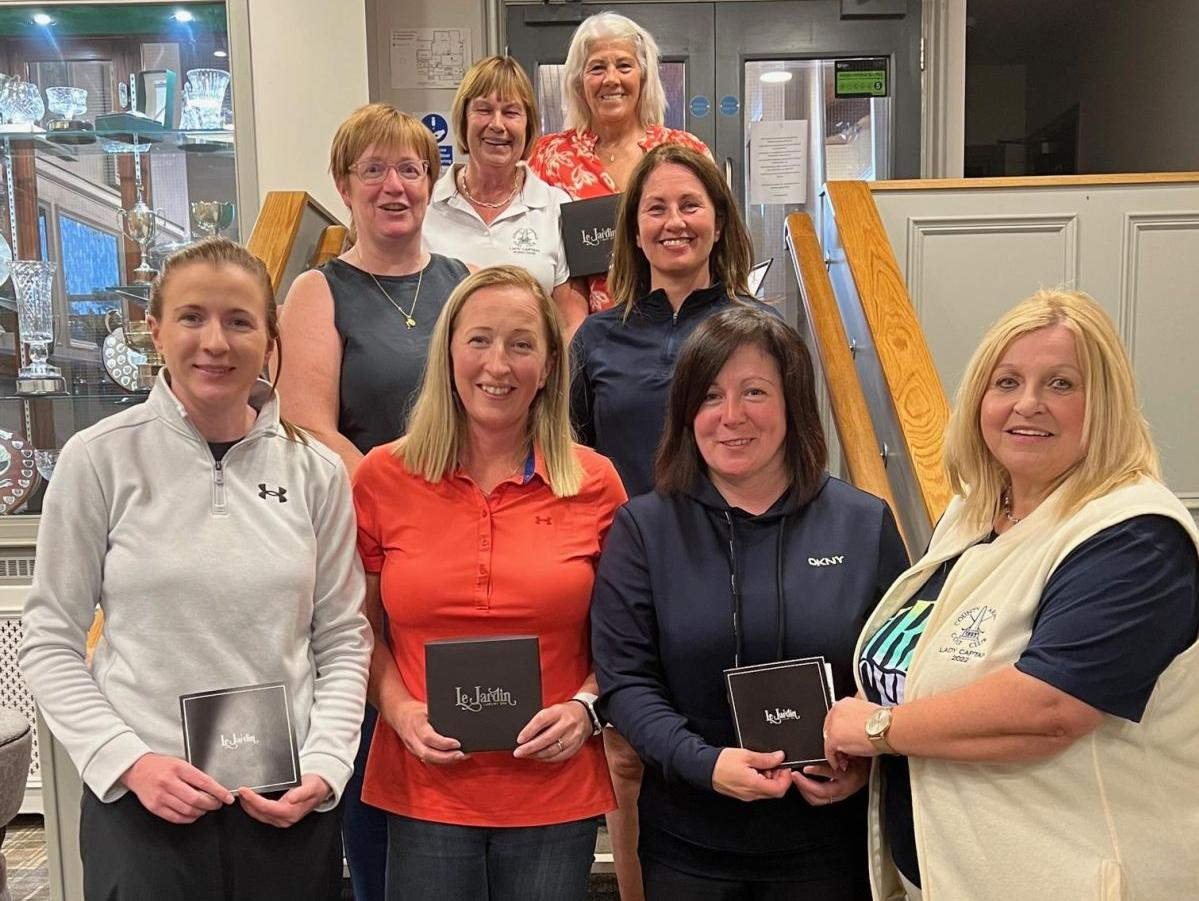 Back L-R: Anne McDonald and Lady Vice Captain Ellen Brady
Middle L-R: Bernie McBride and Mary Black
Front L-R: Colette McSorley, Michelle Kinane, Emma Garrigan and Past Lady Captain Karen Edgar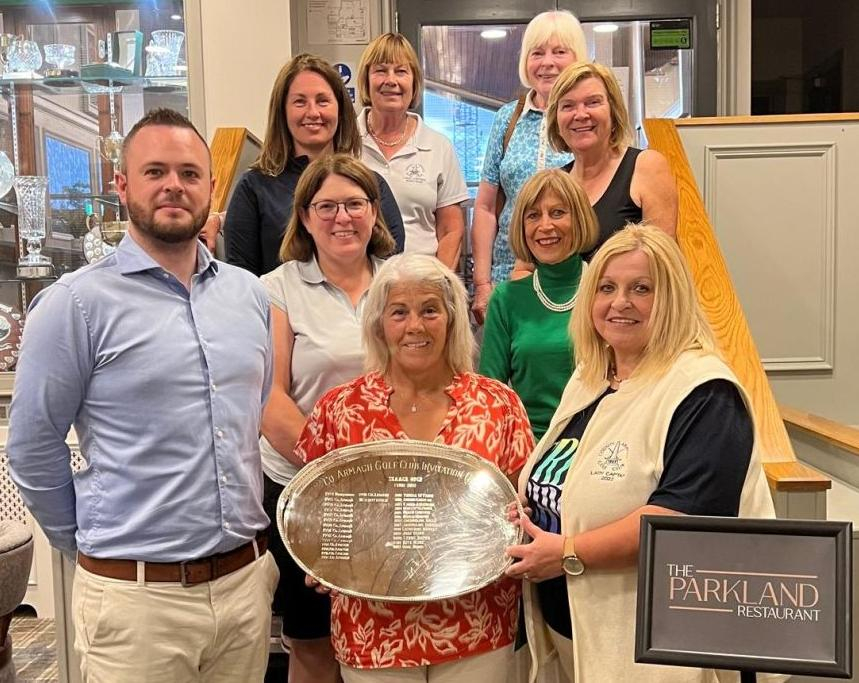 Back L-R: Mary Black, Anne McDonald, Colette McAleavey and Geraldine Rafferty
Middle L-R: Lynne Brown and Patricia Hughes
Front L-R: Ryan Kelly, The Parkland Restaurant, Lady Vice Captain Ellen Brady and Past Lady Captain Karen Edgar