One hundred and nine ladies played in the second Ladies Open Competition of Open Week at Co Armagh Golf Club on Thursday 8 August 2019 – the Summer Open Stableford Competition. The competition was once again sponsored by Johnston's Bakery who have very generously sponsored the competition in recent years.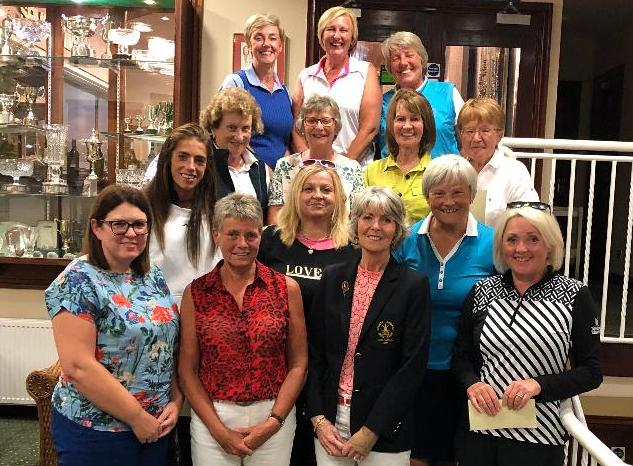 Back L-R: Siobhan Donnelly, Jane Henry and June Humphries
3 rd row L-R: Maura McCoy, Anne Attwell, Rea Haughey and Marie Corrigan
2 nd row L-R: Katherine Steenson, Karen Edgar and Flo McCall
Front L-R: Lynne Brown, Hilary Johnston, Johnston's Bakery, Lady Captain Moya Brady and Lily McMullan
Co Armagh ladies competed alongside 25 visiting ladies from Castlerock, Dungannon, Rossmore, Portadown, Loughgall, City of Derry and Rockmount for the much coveted salver and voucher prizes.
Competition Standard Scratch for Members was 71 and for Visitors 73.
Lady Captain, Mrs Moya Brady welcomed fellow golfer and sponsor's representative, Hilary Johnston, Johnston's Bakery, and thanked her for their long and valued sponsorship.
1 st Joan Quinn 39 pts
2 nd Lynne Brown 38 pts
3 rd Flo McCall 38 pts
Gross Lily McMullan 28 pts
4 th Hilary Johnston 37 pts
5 th Marie Corrigan 37 pts
Visitor Prize - Jane Henry (Dungannon) 35 pts
Cat A June Humphries 35 pts
Cat B Katherine Steenson 34 pts
Cat C Karen Edgar
(btg Rea Haughey on c/b) 35 pts
Cat D Anne Attwell 36 pts
Back 9 Siobhan Donnelly 20 pts
Front 9 Rea Haughey 22 pts
Maura McCoy won the 9 hole competition with 14 pts.
In the absence of the winner, runner-up Lynne Brown thanked Hilary Johnston, Johnston's Bakery for their continued support and generous prizes.
There were birdies at the 2 nd for L McMullan, 5 th for Jane Henry, 6 th for I O'Connor and 8 th for A McBirney and twos at the 3 rd for M Kinane, 7 th for A Lennon and P Rice and at the 13 th for J Quinn.
The handicap cuts were Lynne Brown 27-26 and Flo McCall 20-19.2.