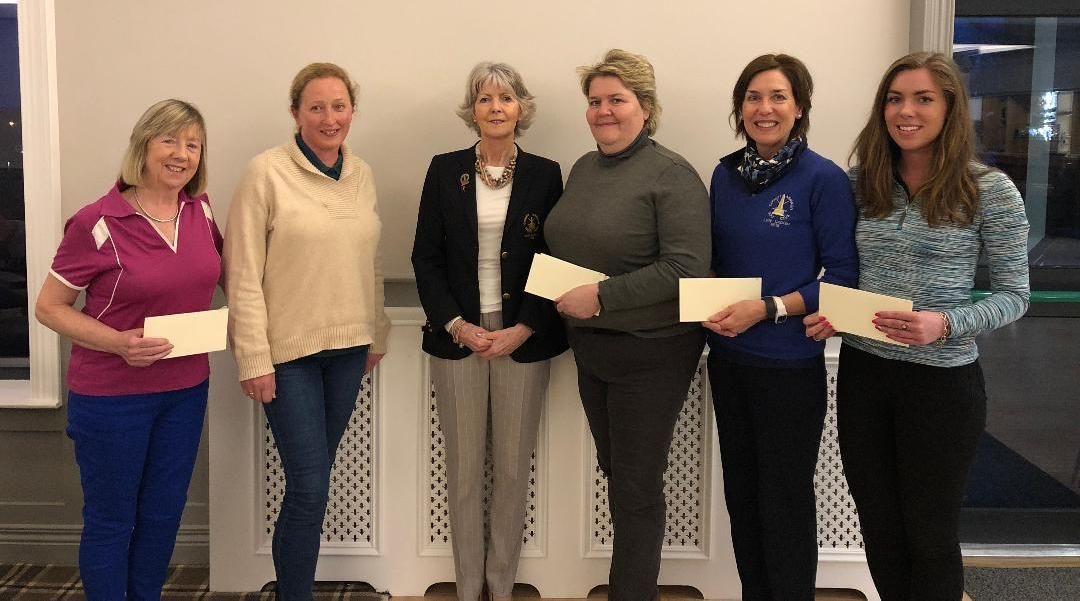 L-R: Bernie Harvey, Michelle Kinane, Lady Captain Moya Brady, Helen Forster, Elizabeth Mawhinney and Alexandra Mawhinney
The annual Daisy Ferguson Greensomes took place on Thursday 11 April 2019 and was once again very generously sponsored by Wright's Interiors, Armagh.
Lady Captain, Mrs Moya Brady welcomed everyone to prize giving and thanked Wright's Interiors for their continued sponsorship.
The results were:
1 st – Emma Garrigan / Helen Forster 41 pts
2 nd – Geraldine Rafferty / Michelle Kinane 40 pts
3 rd – Alexandra Mawhinney / Elizabeth Mawhinney 38 pts
The pairing of Emma Garrigan and Helen Forster will represent Co Armagh Golf Club in Royal County Down later in the year.
Ita Deveney won the 9 hole competition with 18 pts, beating Bernie Harvey, also with 18 pts, into second place.
The weekly Time for Nine competition was won by Helen McCourt with 20 pts. Patricia Hughes took 2 nd place with 19 pts.
There were birdies at the 9 th for June Humphries/Celine McParland, at the 11 th for Anne O'Reilly/Donna Carolan, at the 14 th and 17 th for Emma Garrigan/Helen Forster and at the 16 th for Ellen Brady/Valerie Gordon.