The annual McAnerney's Open Charity Stableford competition was held on Thursday 20 th September on a course recovering from the ravages of storm Ali which had raged across the country the previous day leaving behind fallen tree trunks and branches.
The sponsor Mrs Catherine McAnerney held a coffee morning on the day raising over £1,000 for the Hospice . 76 ladies and 18 gentlemen played in the open stableford competition which was generously sponsored by McAnerney's Supermarket Armagh with proceeds going to Breast Cancer Research. The top prize went to Caitlin Hanna (Dungannon) with 40 points beating Lorraine Megaw into second with 38 points. Third place went to Teresa McVeigh with 37 points just ahead of Helen McCourt who took 4 th place with 36 points. The Gross prize was won by June Humphries with 26 gross points.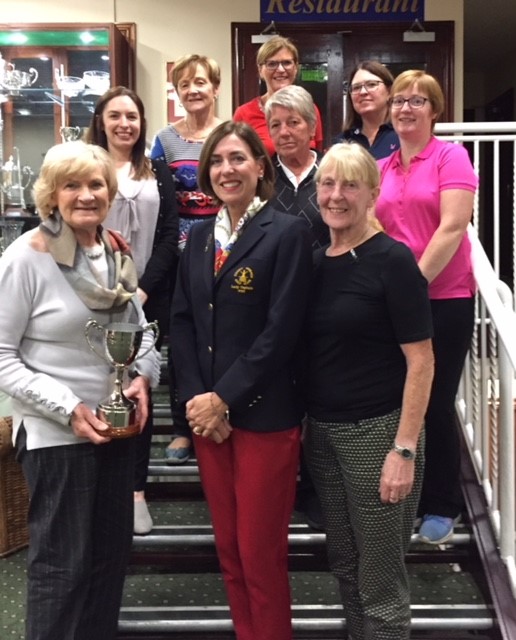 Mrs Catherine McAnerney sponsor and Lady Captain Elizabeth Mawhinney with prize winners from McAnerney's Charity Open Stableford.
The categories were also highly contested.
Cat. A Bernie Rice 35 points
Cat. B Pauline Gingles 34 points
Cat. C Lynne Brown 35 points
Cat. D Molly Conway 34 points
Visitor Fiona Martin Loughgall 35 points.
Front Nine Gillian Poole 20 points.
Back Nine Geraldine Rafferty 19 points
9-hole competition Helen McLoughlin 17 points.
Nearest the Pin =Bernie Rice.
Longest Drive =Jayne Henry
Men's 18 hole 1 st Gary Lappin 42 points and 2 nd Andy Conn with 40 points.
Birdies were returned by June Humphries 4 @10 th , Geraldine Rafferty 4 @8 th , Emma Garrigan & Pauline Gingles 3 @ 6 th .
Twos were recorded by Teresa McVeigh @ 13 th and Bernie McBride @ 3 rd .
Time for Nine Patricia Hughes 21 points.
Teresa McVeigh, speaking on behalf of the prize winners and competitors, sincerely thanked Catherine McAnerney for hosting the event for so many years. Catherine in turn thanked all those who took part in the competition and paid thanks to Geraldine, Ronnie, Teresa, Flo, Audrey and Patricia who had done so much to help ensure the smooth running of the coffee morning.