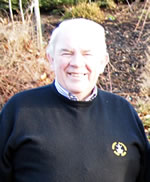 BRENDAN Smyth was presented with his new navy-blue Captain's blazer by outgoing Captain Tom Calvert in front of a packed clubhouse on 1st January.
A member of County Armagh since 1971, the affable Brendan has held a number of posts in the club, including, last year, Greens Convenor when he was also Vice-Captain.
He has captained the club's Junior Cowdy team and Craigavon Senior Shield team on several occasions down the years and up until last year could boast an unbeaten run in all matches in which he played. His name is also engraved on the club's coveted Tuesday Cup as a previous winner.