The Presentation of Prizes for the following Open week competitions will take place on Sat 13th Aug at 6.30pm all prizes winners are requested to attend.
Open Stableford Sat 3oth Jul
Open Stableford Tue 2nd Aug
Open Stroke Wed 3rd Aug
Open Seniors Fri 5th Aug
Gerry Lenagh Open Stableford Sat 6th Aug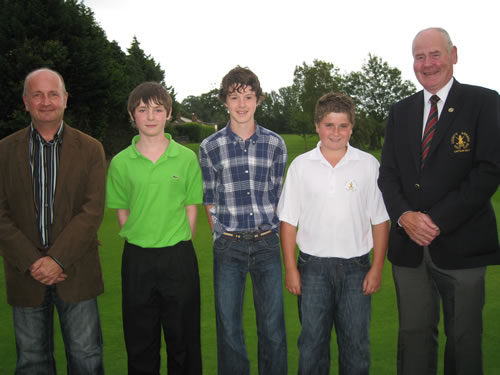 The Open Juveniles competition during Open Week at County Armagh Golf Club was sponsored by Campbell Gray & Co. Accountants, and Jeremy Phipps (left), representing the company, is pictured with winners Shea Donnelly, Dermot Hicks and Michael Brunsdon. Included also is Club Captain Tom Calvert.