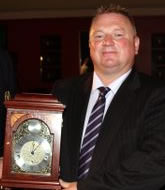 SIXTY-SIX was the magic number on County Armagh Golf Club Captain Tom Calvert's special day. (See photos at end of article)
Nigel McMahon's winning nett 66 was one of four same scores on the day. But his better back nine, including birdie three's at the par four 15 th and par four 17 th holes took the coveted prize.
In front of a packed clubhouse on Saturday evening, Captain Tom Calvert and wife Renee presented Nigel with a magnificent miniature timepiece which no doubt today sits proudly on the city man's mantlepiece, a reminder for many years to come of the day he won Captain's Day at County Armagh .
Ivan Brown, Derek Little and Damian McConville were the three other players with rounds of nett 66 but each conceding in turn to the affable Nigel on countback.
More than 310 golfers teed off over the two days which the Captain's competition now demands. Friday's competitors unfortunately did not enjoy the best of conditions with heavy rain and winds throughout the day and into the evening, but on Saturday players had only the warm, swirling wind to contend with.
Friends and family gathered in huge numbers at the club on Saturday for a coffee morning to set a relaxing scene for Captain's Day, and a Ladies putting competition – won by Lady Captain Barbara Gartland – got competitive proceedings underway.
In the previous days the Ladies also had the opportunity to play for a Captain's Prize in a stableford competition and June Humphries emerged the eventual and popular winner with 41 points, with Rea Haughey runner up with 37 points.
The club juveniles' too had an opportunity to compete and Thomas Clarke, with another 66nett, and Caoimhe Kelly, nett 74, picked up the main prizes. Christopher Jennings (nett 61) and Maeve Mallon (nett 40) were the junior prizewinners.
Paul Russell, professional and son of former club captain Pat Russell, won the Visitors Prize with a nett 68; the Country, Student and Overseas Prize was won by Richard Black (nett 71); the Council and Committee prize went to Colm Shannon (nett 69) and the Past Captain and President's prize was picked up by Paddy Burns who also delivered a hugely complimentary and entertaining vote of thanks to Captain Tom during Saturday evening's presentation.
Three-handicapper Conor McGurgan deservedly won the Gross Prize with a superb gross score 72, dropped shots at the ninth and 18 th holes the only blemishes in an otherwise flawless round.
However, it was 11 handicapper Nigel McMahon who was to emerge the victor on the day with a superb nett 66.
Surprisingly it was not the start one would have expected from an eventual winner, a bogey and double bogey registered for the first two holes. But a string of five straight pars followed before a further two shots were dropped at eight and nine.
He was five over at the turn but just a further two over after the back nine where birdies at 15 and 17 ultimately secured him the Captain's Prize.
Runner Up was Ivan Brown, a nine handicapper who was just two over after nine and dropped a further three shots on the homeward trek. And with similar nett 66 scores, Derek Little picked up the 0-12 Handicap Category Prize and Damian McConville (14-handicap) won the 13-18 Handicap Category Prize.
Mick Murphy's nett 68 was, as he declared himself, always winning the 19-28 handicap category and deserved, along with all the other prizewinners, earned the congratulations of Captain Tom Calvert.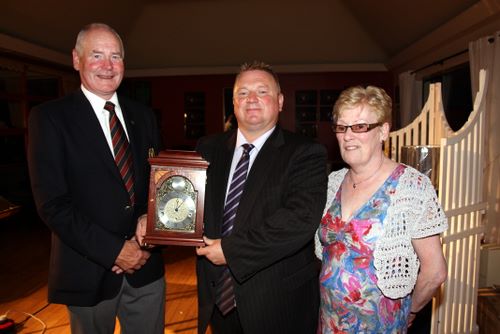 County Armagh Golf Club Captain Tom Calvert and wife Renee present Nigel McMahon with a beautiful timepiece after winning the Captain's prize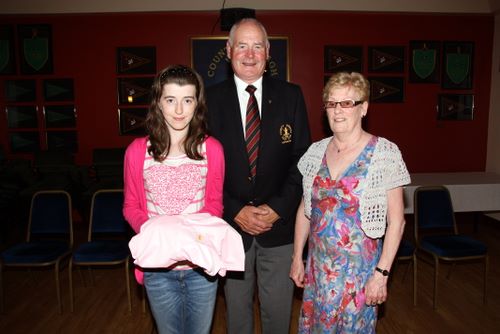 Maeve Mallon, winner the Juvenile Girls 9-hole competition on Captain's Day, is presented with her prize by Captain Tom Calvert and wife Renee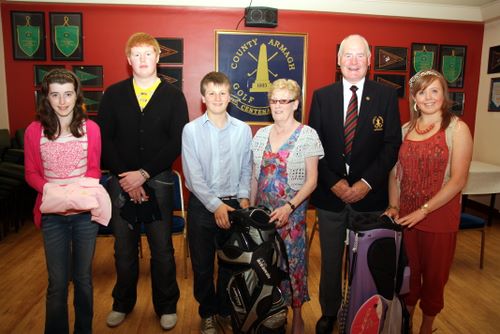 County Armagh Golf Club Captain Tom Calvert and wife Renee are pictured juvenile prize winners Maeve Mallon, Caoimhe, Christopher Jennings, and Thomas Clarke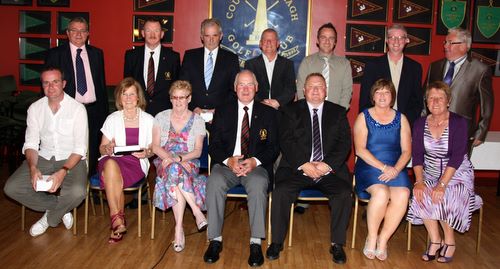 County Armagh Golf Club Captain Tom Calvert and wife Renee are pictured with prize winners at Captain's Day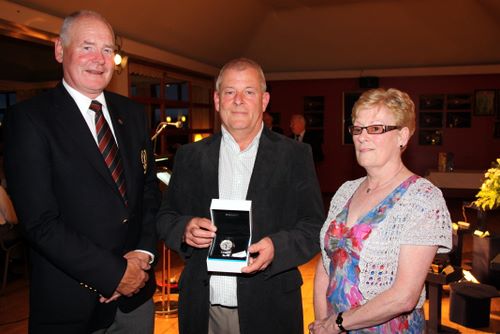 Captain's Day competition runner up was Ivan Brown, collecting his prize from Captain Tom Calvert and wife Renee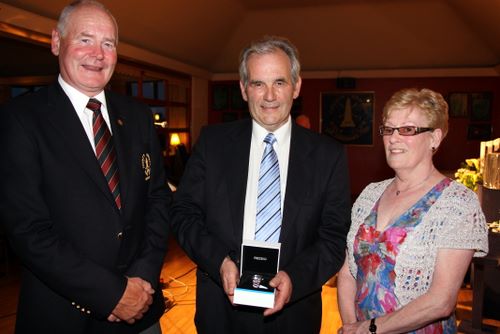 Derek Little won the Captain's Day 0-12 Handicap Category on Captain's Day and collected his prize from Captain Tom Calvert and wife Renee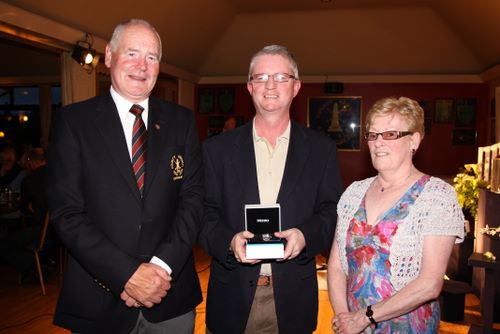 Damian McConville won the Captain's Day 13-18 Handicap Category on Captain's Day and collected his prize from Captain Tom Calvert and wife Renee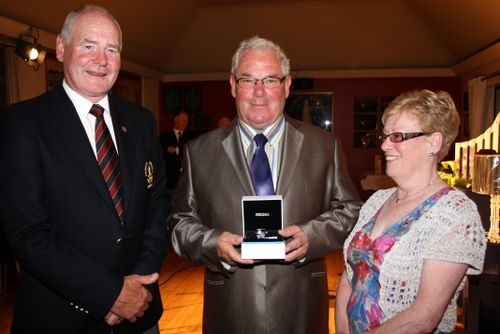 Mick Murphy won the Captain's Day 19-28 Handicap Category on Captain's Day and collected his prize from Captain Tom Calvert and wife Renee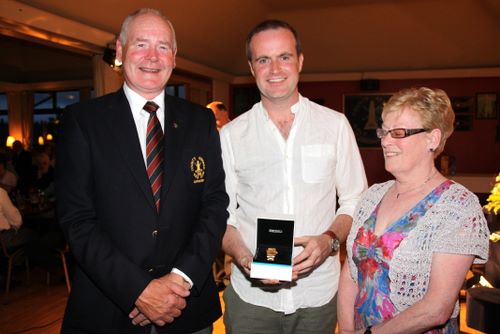 Three-handicapper Conor McGurgan deservedly won the Gross Prize with a superb gross score 72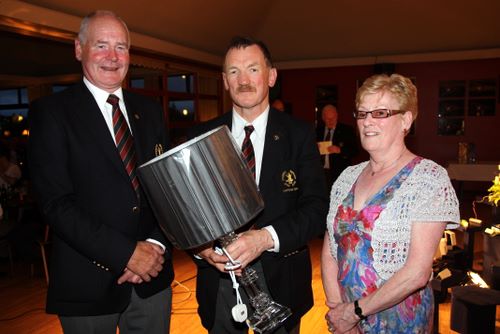 Past Captain and President's prize was picked up by Paddy Burns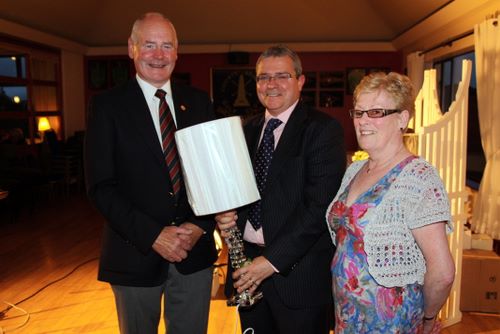 Council and Committee prize went to Colm Shannon (nett 69)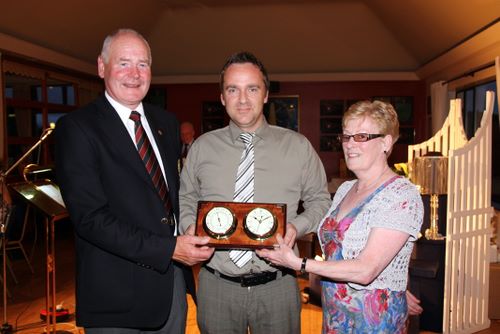 Paul Russell, professional and son of former club captain Pat Russell, won the Visitors Prize with a nett 68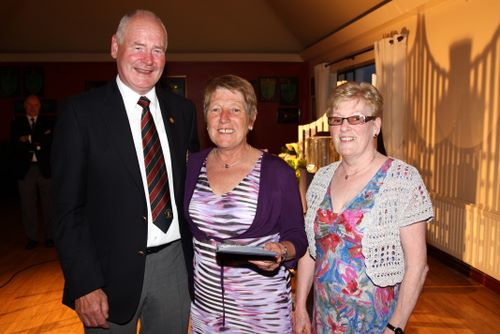 June Humphries emerged the popular Ladies winner with 41 points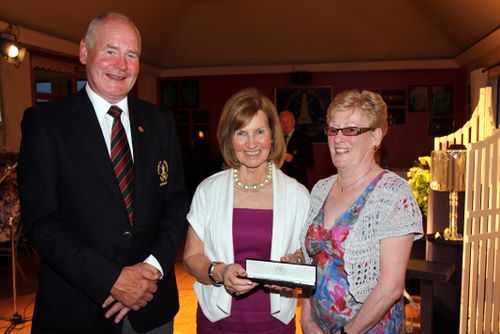 Runner up in the Ladies competition on Captain's Day was Rea Haughey who is pictured receiving her prize from Captain Tom Calvert and wife Renee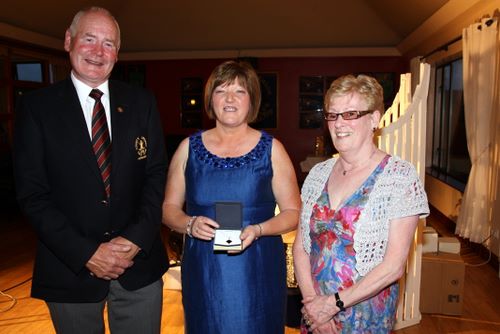 County Armagh Lady Captain Barbara Gartland (centre) won the Putting Competition on Captain's Day and was presented with her prize by Captain Tom Calvert and his wife Renee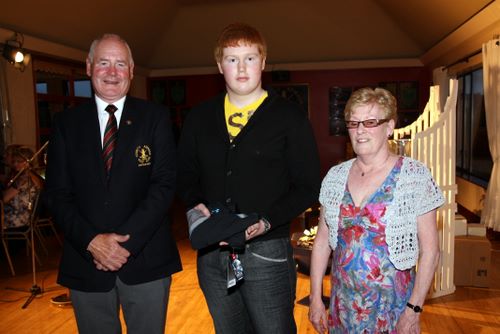 Thomas Clarke (centre) was the winner of the Juvenile Boys (Senior) competiton on Captain's Day and is picted with Captain Tom Calvert and wife Renee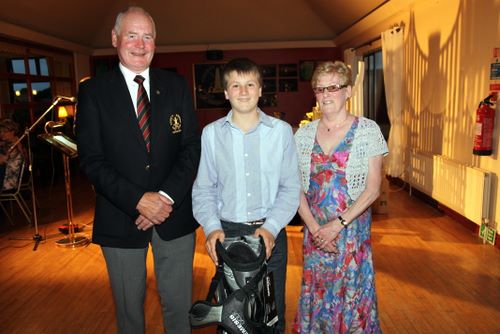 Christopher Jennings (nett 61) was a junior prizewinner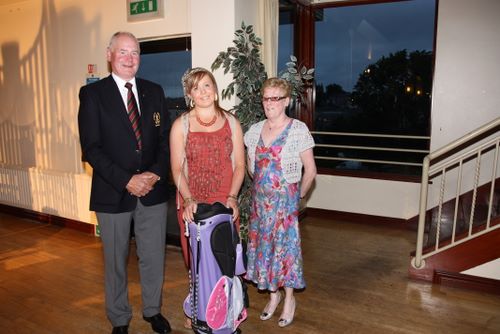 Maeve Mallon (nett 40) was a junior prizewinner
{gallery}250611_2{/gallery}