1st Kieran Grimley nett 64
2nd Paul Hughes nett 67
Category 1
1st Barrie Walker nett 68
2nd Brian Hughes nett 68
Category 2
1st Michael Curley nett 68
2nd Noel Murtagh nett 69
Category 3
1st Gareth Frizell nett 67
2nd Kieran Mullan nett 69
Kieran lifts Allen Cup prize
Kieran Grimley could be a good bet for the Captain's prize on Saturday June 25 after shooting the club's best score for the second consecutive week on Sunday.
He had to settle for a category prize in the June Medal competition last week, but he wasn't for sharing the JR McMahon sponsored Allen Cup with anyone this week, romping to victory by three clear shots. His nett 64 was also two shots better than last week's nett 66 and such form should augur well for Captain's Day this week.
With Lady Captain's Day limiting the men to one competition at the week-end, scores were always expected to be exceptional and for the first time in several weeks thewinning scores were all posted in the 60's.
None better though than 12-handicapper Kieran Grimley's nett 64. Dropped shots at holes 2, 3 and 6 saw Kieran just three over at the turn. A birdie four at the 10th set the stage for the back nine, and although he double bogeyed at the par three 11th, he dropped only a further two shots at the 12th and 17th to finish with a gross 76, nett 64.  
Paul Hughes was his nearest challenger, three points adrift on nett 67, a birdie four at the par five 12th hole the highlight of a steady round.
Seven-handicapper Barrie Walker led the category prizes with a nett 68, one over after nine holes and dropping only a further four shots over his back nine to win Category One from Brian Hughes on nett 68.
In Category 2 Michael Curley shot a similar nett 68 to take first prize, but he will remember his round for one other reason, or rather a hole-in-one. Michael delivered the perfect 4-iron shot to the ninth green for his ace. Noel Murtagh was a deserved runner up with a nett 69.
And Gareth Frizell took the Category 3 top prize with a nett 67 with a steady round and Kieran Mullan sank a 20 foot putt at the course's most difficult 16th hole for a par to earn him runners up with a nett 69.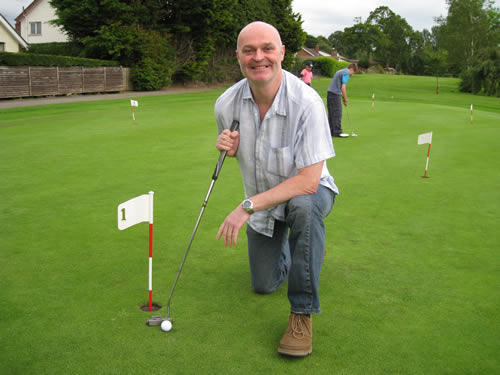 Michael Curley celebrated a Hole-in-One at County Armagh on Sunday. His magificent 4-iron shot to the ninth green found the cup for his ace in the Allen Cup competition, sponored by JR McMahon.