1st F Curley nett 62
2nd A McTaggart 64
Category 1
1st P Doyle nett 65
2nd M Gill nett 66
Category 2
1st P Comiskey nett 67
2nd E O'Kane nett 68
Category 3
1st JP Hughes nett 68
2nd T Teahan nett 68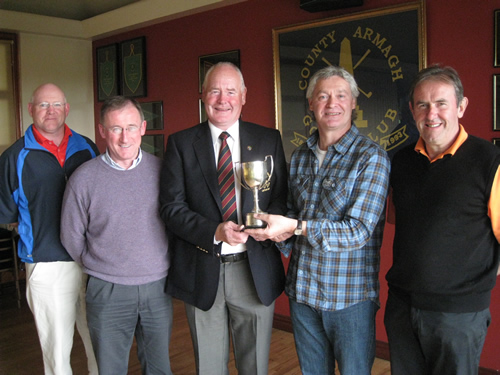 Francis Curley is presented with the Bumble Bee Cup by County Armagh Golf Club Captain Tom Calvert. Included also are competition prize winners Paul Doyle, Tim Teehan and Pat Comiskey

Flyer Francis wins Bumble Bee Cup
Francis Curley got his Bumble Cup competition round off to a flyer on Saturday, opening with two birdies on his way to winning the prestigious trophy.
He added a third birdie at the par four sixth hole before finishing the front nine just one over par. And with some consistent scoring continued on the homeward trek where he used up just a further four shots of his 13 handicap, he was always certain of a prize in the Armatile sponsored competition.
His nett 62 deservedly took the top honours at the end of the day, two clear shots ahead of his nearest rival Andrew McTaggart who recorded a nett 64.
Paul Doyle was also back in the prizes with a very steady round and nett 65 finish earning him the Category One first prize. And Aiden O'Kane's 66 brought him runners up prize.
P Comiskey claimed the Category 2 main prize with a nett 67 with Eamon O'Kane runner up with a nett 68 and sharing in the Two's Pot with birdies at the third and 11th par three holes.
JP Hughes returned a similar 68 nett to win Category 3, his better back nine winning ahead of Tim Teahan who also returned a nett 68.