As temperatures edged ever closer to the record 31.4 degrees set in Armagh just two days previous, Matthew Clifford kept his cool as others withered in the heat to claim Captain Declan McReynolds top prize at County Armagh Golf Club.
The 19-handicapper's sizzling 64 nett proved unbeatable, and deservedly the young Ballymacnab man was crowned the Captain's Prize Champion 2021.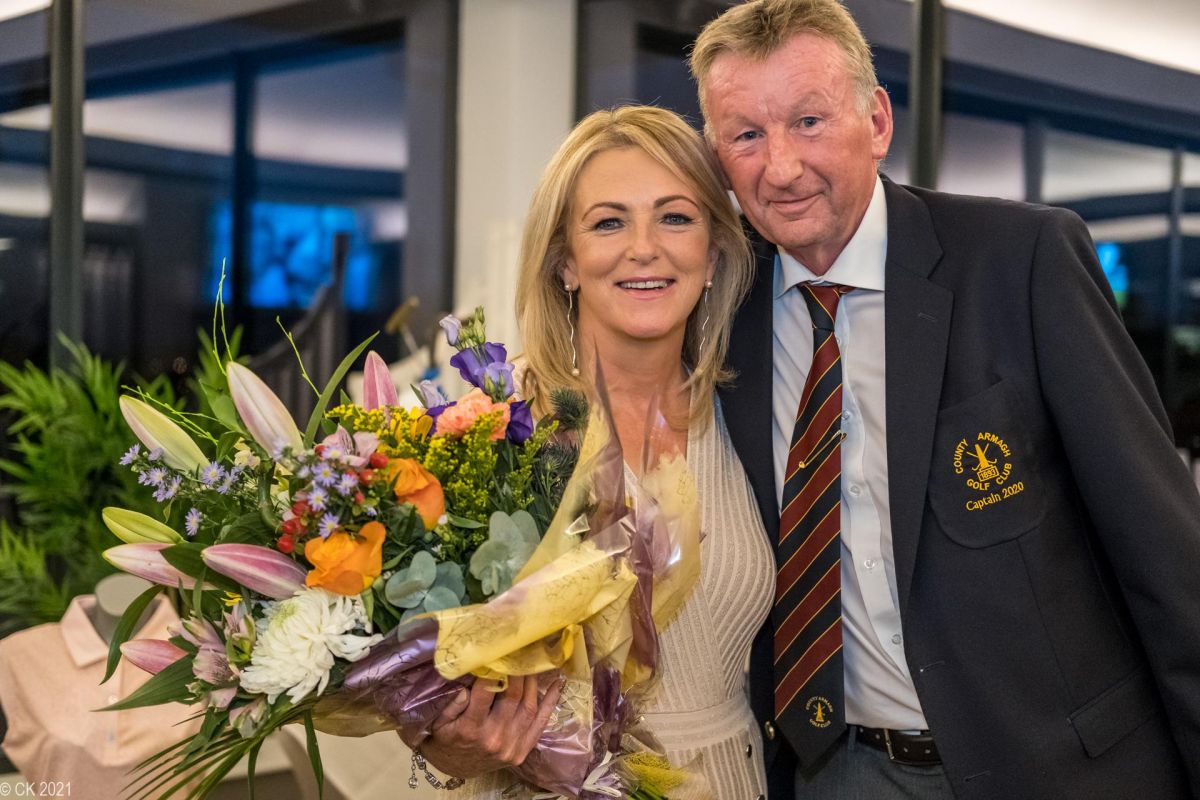 XXXX CLICK HERE TO VIEW PHOTO ALBUM FOR CAPTAIN'S DAY 2021 XXXX
Prior to that formidable on-course action, family, friends and members joined Declan for a decidedly more tranquil charity coffee morning that provided the perfect opportunity for all those in attendance to catch up with old pals, admire the wonderful array of prizes on offer, and wish the industrious Captain all the very best.
The pristine clubhouse and environs and the refreshments enjoyed by everyone present also served as testimony to the club staff and volunteers who work so tirelessly to see to it that such events run like clockwork and with considerable aplomb.
However, when all's said and done, golfing competition is the main event and, with the lady members and juvenile girls and boys already having contested their various categories earlier in the week, 310 male competitors crammed the Cathedral City fairways on 23 and 24 July in search of the ultimate domestic glory.
On both days players were bathed in searing sunshine which had scorched much of the course. The road-hard ground and prefect greens tested the best, but it was Matthew Clifford who mastered the conditions to claim the Captain's Cup.
Despite a double-bogey at the 1st hole, pars at the 2nd and 3rd settled him until further bogeys at the 6th and 7th and another double bogey at the 8th threatened to spoil the day. However, an impressive run of 3 pars at the 9th, 10th and 11th quickly steadied things with a further four pars including at the 17th and 18th, between two nasty double bogeys at the 14th and 16th, saw him complete his winning round with a nett 64.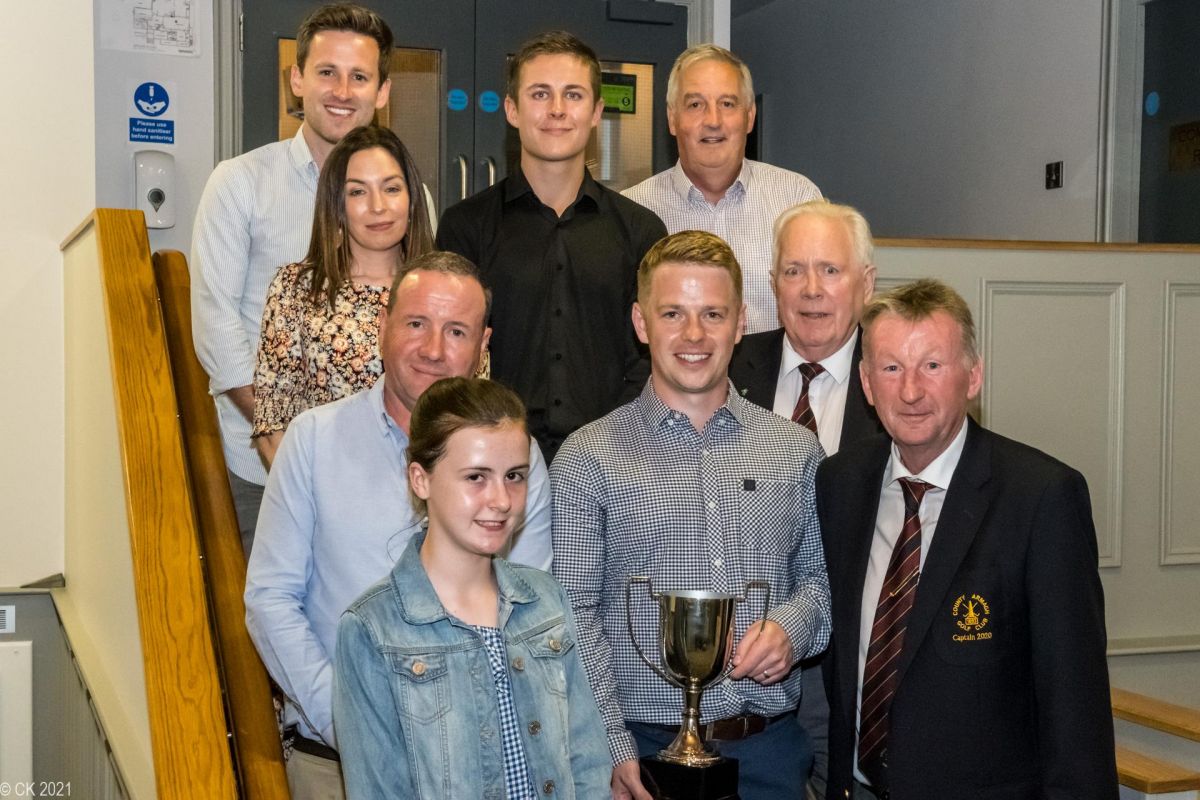 Some of Saturday's proud prize winners
Trailing Matthew's tally by a single shot was runner-up Kieran Grimley, who put in a phenomenal display of his own. Out in 36 shots and returning in 41, secured by a birdie and 10 pars, 12-handicapper Kieran was the deserved silver-medal winner and will reflect with much pride on his nett 65 Captain's Day outing.
On the category front, the 0-12 handicap leaderboard was headed by the ever-consistent Brian Digby with a marvellous nett 66.
Impressively, the top man in category 2, Dermot Hicks, was untouchable, going out in 37 shots and returning in 43 with a birdie and 10 pars collected en-route.
The highlight of Johnny Mulligan's round was a useful birdie at the 7th, and the avoidance of any significant damage elsewhere enabled him to record an excellent nett 66 to clinch the honours in category 3.
Philip Kelly, who won the Captain's Prize back in 2019, carded 3 birdies on his way to a two-under-par outing of 68 that earned him Declan's gross accolade. Meanwhile, 2016 Captain Martin Oliver had two birdies and amassed 9 pars on his way to a brilliant nett 67 return to claim the Past Captains' & Presidents' Prize.
Ian O'Hea has received many plaudits for his efforts in overseeing the return of service in the clubhouse bar, and he took some golfing plaudits too on account of his nett 70 scorecard with which he prevailed among his fellow Council, Committee and Team Captains.
In the eclectic Country and Aged 18-24 classification, Cameron Beggs' assured nett 67 proved unbeatable.
Scoring was outstanding in the Ladies' section too, where Helen McCourt took top spot with the magnificently accrued tally of 42 points. Anne Cairns posted a fine 24 points to claim the ladies' 9-Hole competition prize. And the affable June Humphries rolled her way to victory in the 18-hole putting.
The best of the Senior Juvenile Boys was Leon Taylor, with a solid 46 points, with Conall O'Hanlon winning the Blue Tee competition while the Senior Juvenile Girls' prize was picked up by Ava Powell.
The Captain's Family and Friends prizes were won by Fionntain Oliver (18 holes) and Theresa Campbell (9 holes).
Following a delicious Captain's Night meal served by the Parkland Restaurant, the prizes were presented and the beaming victor, Matthew, articulated his delight at his day's work in his debut Captain's Day competition at County Armagh Golf Club.
Declan then spoke to the pride that he has felt in leading a golf club through recent difficult times during the Covid pandemic. He thanked his fiancé Teresa for her continued patience as he carries out his CAGC duties, and outlined what an honour it has been to follow in the footsteps of his mother Maire, who was Ladies Captain back in 1979. Declan also paid particular tribute to all those who give up so much time to make CAGC all that it is, not only on Captain's Day but throughout the year.
To round-up proceedings, Past Captain and until recent years Honorary Secretary, Paddy Burns provided the Vote of Thanks, in which he articulated Declan's involvement in so many aspects of the club from juvenile boys, team captain and on Council as well as his tireless enthusiasm for quizzes, music and fund-raising at the clubhouse.