On being sworn in as its Captain for 2020, Declan McReynolds talked enthusiastically and entertainingly about all things County Armagh Golf club as he considered with optimism the next 12 months and beyond.
After carving his ceremonial drive up the right-hand-side of the 1st — it stayed in play though, he's keen to let people know! — McReynolds was more straightforward as he addressed the large clubhouse at crowd at a New Year's Day inauguration event.
"It is a great privilege for me to be up here today. I am indebted to a number of people for the honour, not least Marty Oliver for inviting me onto Council initially, and the trio of Richard Stewart, Colm Shannon and Kenny Edgar for all their encouragement and support more recently.
"We were extremely fortunate to have Kenny at the helm to oversee the 2019 bar renovations, and the splendid results serve as a fitting testament to the work of those Past Captains just mentioned as well as Honorary Treasurer Pat McAleavey and Honorary Secretary Paddy Burns."
Indeed, Declan paid particular tribute to Paddy, who has just stepped down from that Honorary Secretary role after almost 20 years of continuous service in various CAGC capacities. "Paddy leaves the club in rude health as he retires to the fairways to iron out the very few flaws in his game. I look forward to collaborating with Paddy's successor, John Lowe, to build on past achievements and progress the club even further."
While bidding a fond farewell, too, to outgoing President, Gerry McCreesh, McReynolds also offered hearty congratulations and best wishes to Anne McDonald, Tom Calvert and Michael Calvert as they assume the positions of Lady Captain, President and Vice Captain respectively.
Reflecting on his memories of the club dating all the way back to the 1960s, Declan expressed gratitude to his parents, Joe and Maire, for passing on their love of the game. "My mother was Lady Captain here in 1979 — and I think I inherited my competitive streak on the course from Dad!"
"My time at CAGC has been most enjoyable. I have played on many teams, and captained a few as well." Not one to dwell solely on the past, however, Declan added, "Hopefully, we will have a winning team back at the club this season. I have high hopes and aspirations for the next crop of local players."
It is clear that the golfing bug has reached another generation of McReynolds too. "My sons Jaralth and Caolan compete around here with some degree of success, and I'm sure my daughters Eadoin, Caoimhe and Blaithin will see the light and make their returns soon."
Turning to mixed greensomes matters, our new Captain commented, "I have played in many mixed competitions and, indeed, won prizes alongside my sisters, daughters, niece Carina and soon-to-be daughter-in-law Aideen. And thanks in no small part to the excellent Get into Golf programme, Theresa has also now taken to the hallowed turf — but let's just say, with her golf game something of a work in progress, it'll eclipse that lot if I manage to add to my record of mixed wins this term!"
In concluding his 1 January speech, Declan remarked, "We have a wonderful course, and now we have the clubhouse surroundings to complement it. There are undoubtedly challenges ahead, but I'm confident that the right committees and structures are in place to meet them.
"The club's future is a promising one. I urge all members to be ambassadors and to promote it at every opportunity."
In turn, everyone associated with CAGC wishes Declan, and all those taking up new posts, good luck for 2020.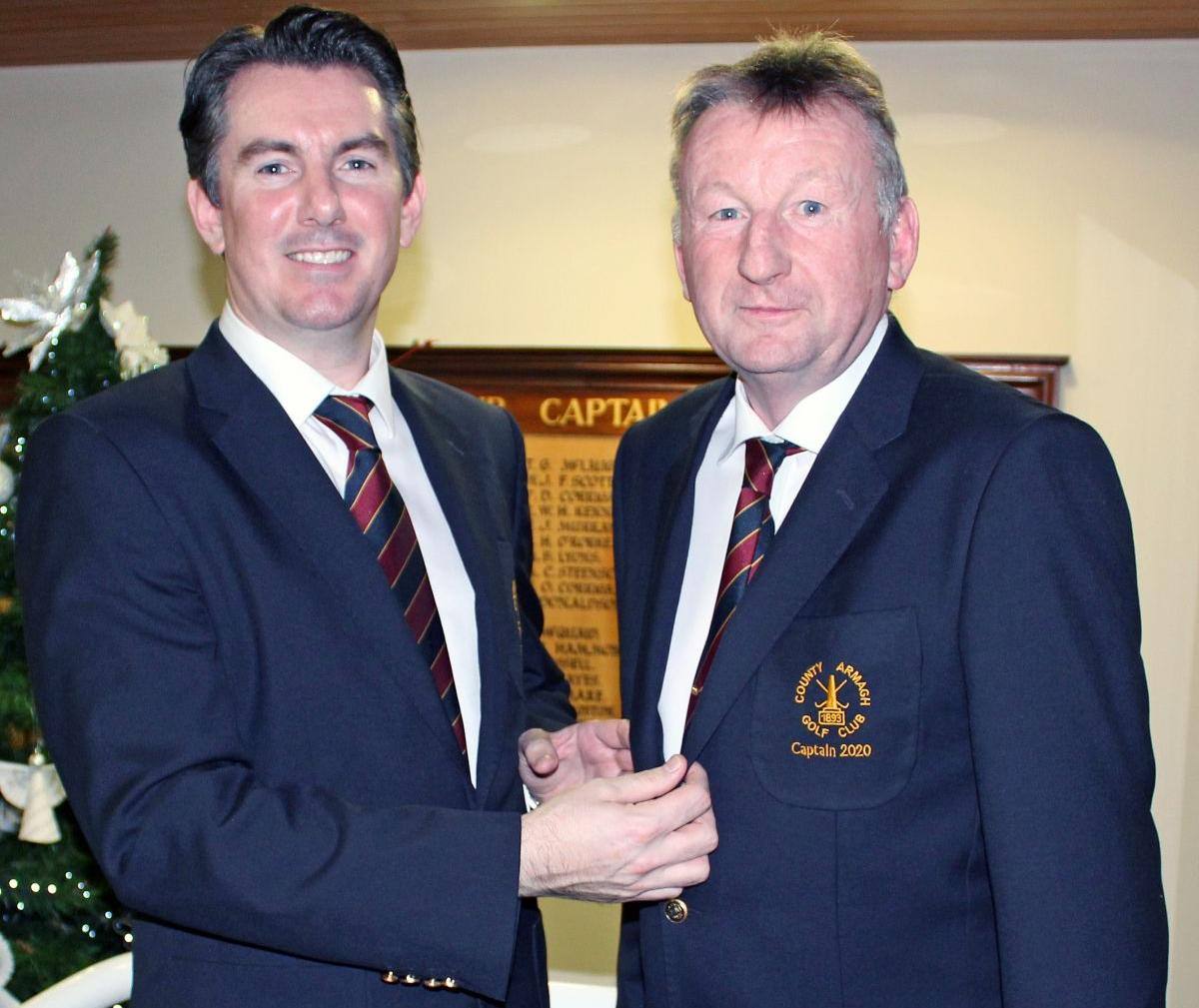 County Armagh Golf Club's 2020 Captain, Declan McReynolds, is presented with his new blazer by outgoing Captain, Kenny Edgar.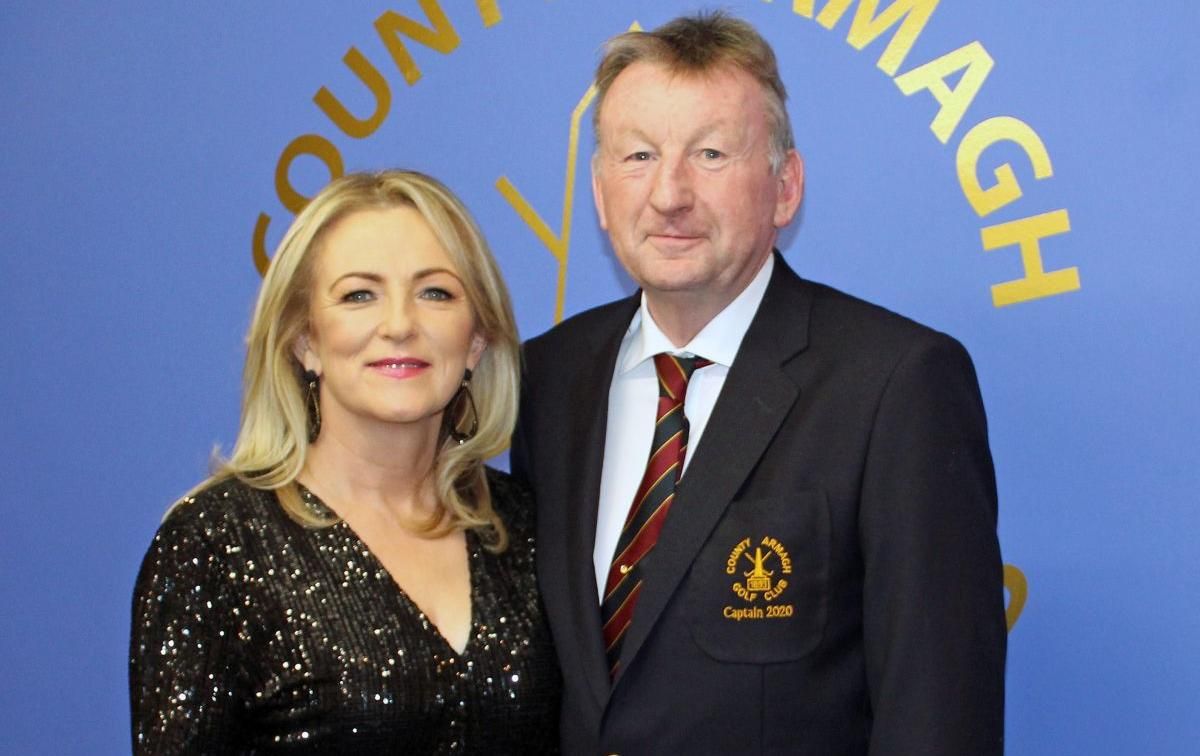 County Armagh Golf Club's new Captain, Declan McReynolds, is pictured with fiancée, Theresa, at the Captain's Inauguration on New Year's Day.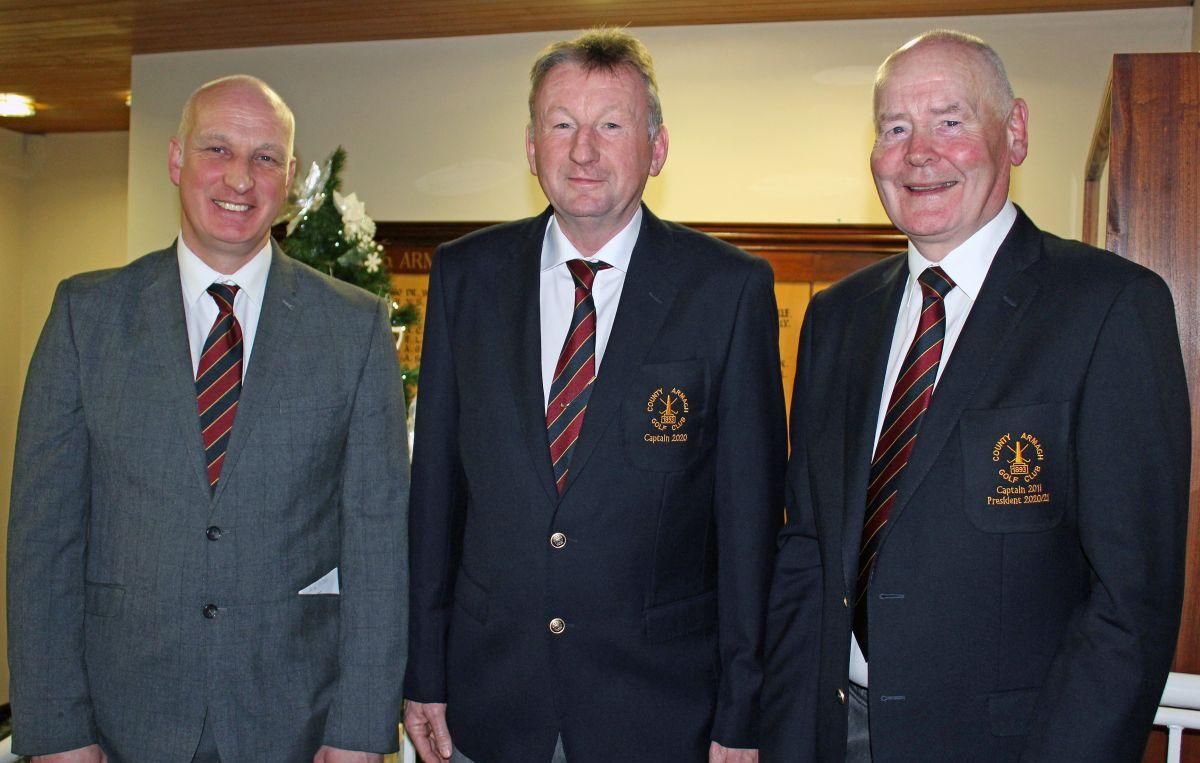 CAGC's new men at the helm (L-R): Vice Captain Michael Calvert, Captain Declan McReynolds, and President Tom Calvert.