A freak on-course injury hindered Adam Cromwell's early 2019 campaign at County Armagh Golf Club, keeping the lofty two-handicapper out of competitive action for more than six weeks.
Since then, however, Adam has made up for lost time in quite sensational fashion.
Just a fortnight after his well-documented six-on-the-spin birdie salvo propelled him to Milne Holiday Parks Open victory, Cromwell produced another golfing clinic in the Gerry Lenagh Memorial Cup.
The annual tournament was contested on 10 August and once again generously supported by Morgan McLernon transport Distribution, and it provided the platform for Adam to follow to the letter Philip Kelly's Captain's Day example: namely by firing a thrilling gross 65 to clinch one of CAGC's 'Majors'.
The club barman's Saturday masterclass comprised 11 pars, a solitary bogey at the Lakes, and another haul of half a dozen birdies, which this time arrived at the 1st, 2nd, 6th, 8th, 11th and 14th.
Closest to Cromwell on the Lenagh leaderboard was overall runner-up, Ian O'Hea, who declared just one point shy of the winning stableford tally. Ian's very own supershow came in the form of a delightful gross 79 that yielded 42 points and slashed his handicap from 15 to 13.
Behind O'Hea, Paul Corvan and Norman Mallon, too, reached that grand 42-point total and were sorted into third and fourth places respectively on a break of tie. Corvan returned a handsome gross 76 scorecard that showed a birdie at Sequoias and a double bogey nowhere, while Mallon accumulated a breathtaking 25 points on his 37-stroke outward nine.
Next in line, two more players were tied on 40 points. Paul McCurry's occupation of fifth position came courtesy of a characteriustically accomplished six-over-par knock that was rounded off with a fluster-free five consecutive pars, a sequence that ultimately gave him the edge over sixth-placed Lee Stewart in a back-nine countback. Lee's display was superb nonetheless, containing as it did just 72 digs.
The nett podium line-up was completed by Michael Cullen, who grabbed seventh prize through a marvellous 39-point outing that concluded with a birdie and clipped his handicap to 11.
Meanwhile, another virtuoso performance from John Maguire saw him equal Adam's five-under-par antics. As well as securing the gross award, this 65 helped Maguire to achieve scratch-handicap status. Finally, runner-up in the Gerry Lenagh gross standings was Joe Rooney, whose 71-shot affair was as impressive as ever, but somehow relatively prosaic compared to events elsewhere on another memorable weekend on the fairways at CAGC.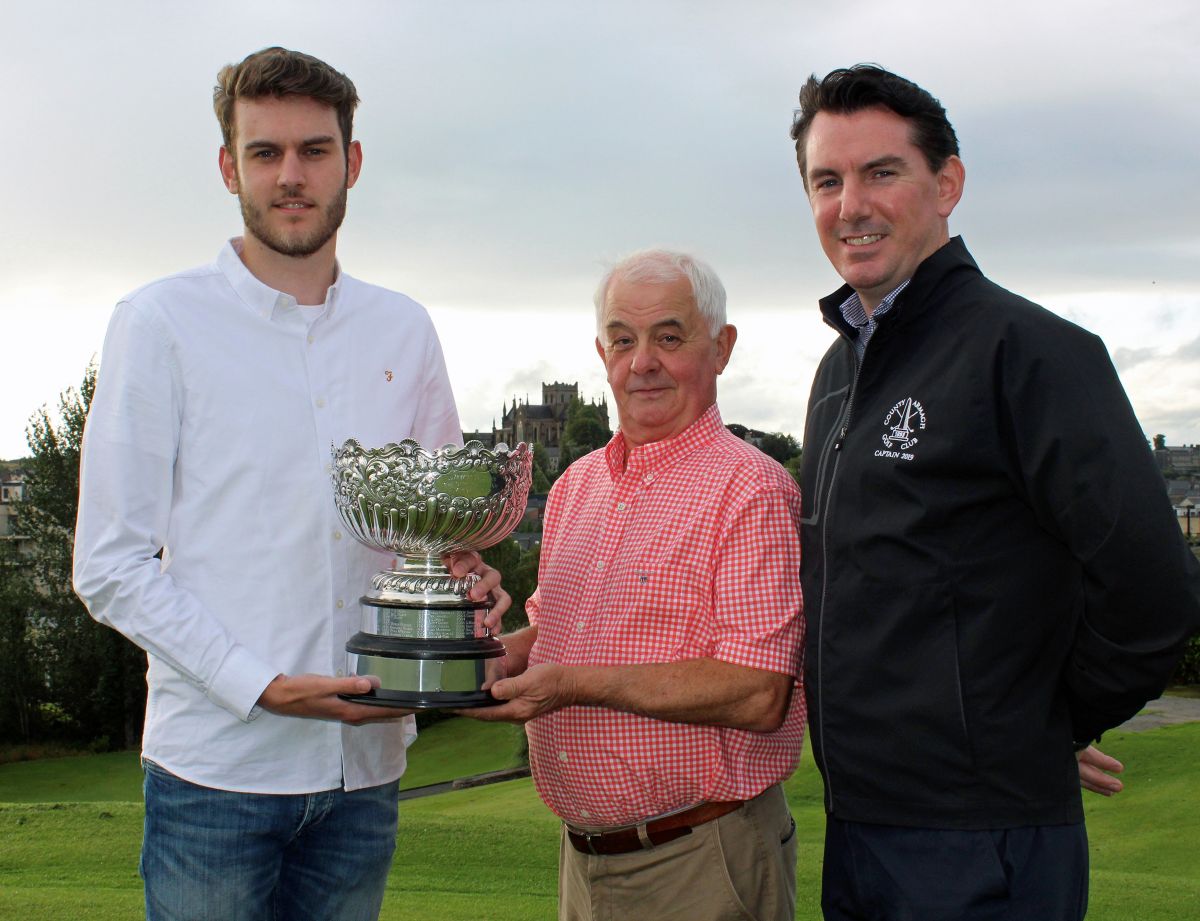 Adam Cromwell is presented with the Gerry Lenagh Memorial Cup by John Morgan from sponsors Morgan McLernon Transport Distribution, and County Armagh Golf Club Captain Kenny Edgar.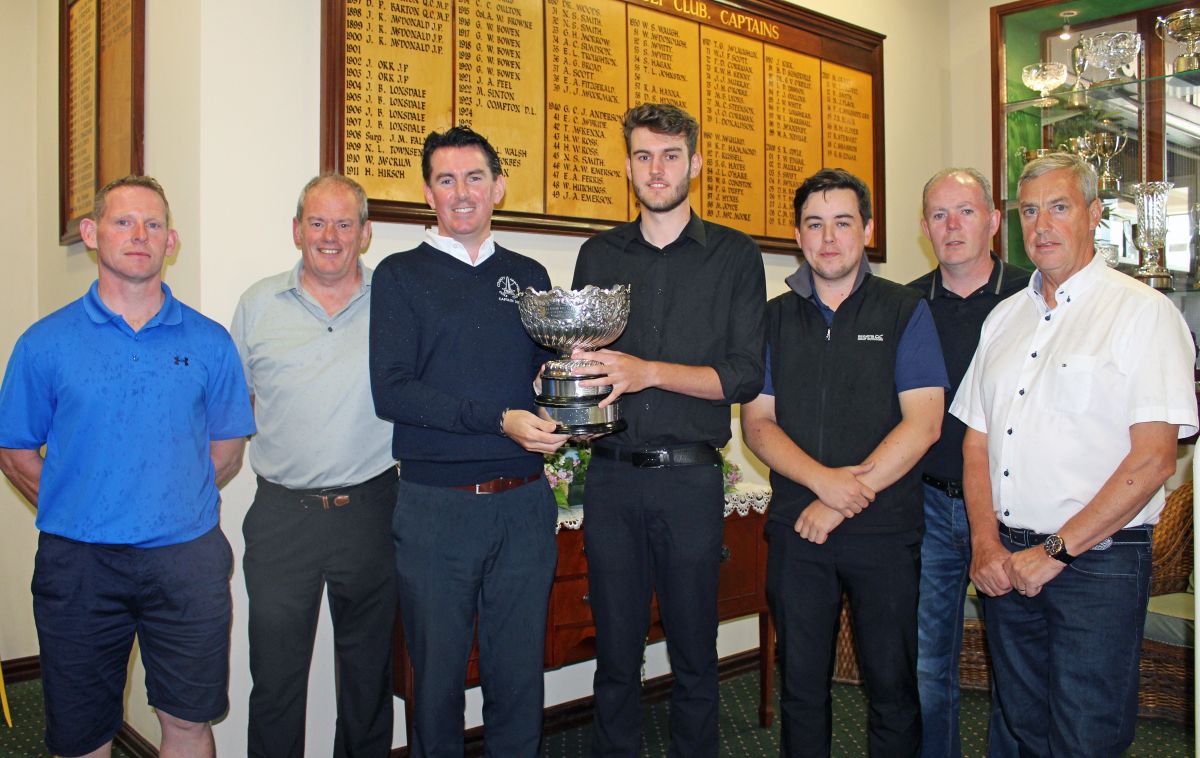 County Armagh Golf Club Captain Kenny Edgar presents the Gerry Lenagh Memorial Cup to Adam Cromwell, winner of the annual stableford competition sponsored by Morgan McLernon Transport Distribution. Also pictured are other prizewinners (L-R): Michael Cullen, Ian O'Hea, John Maguire, Paul Corvan and Norman Mallon.