With County Armagh Golf Club's June Medal once again generously supported by Johnston's Bakery, Paddy Burns was able to savour the sweet taste of tournament success.
The club's hard-working and long-serving Honorary Secretary got his just desserts after a delicious nett 68 took him to the summit of the Medal leaderboard.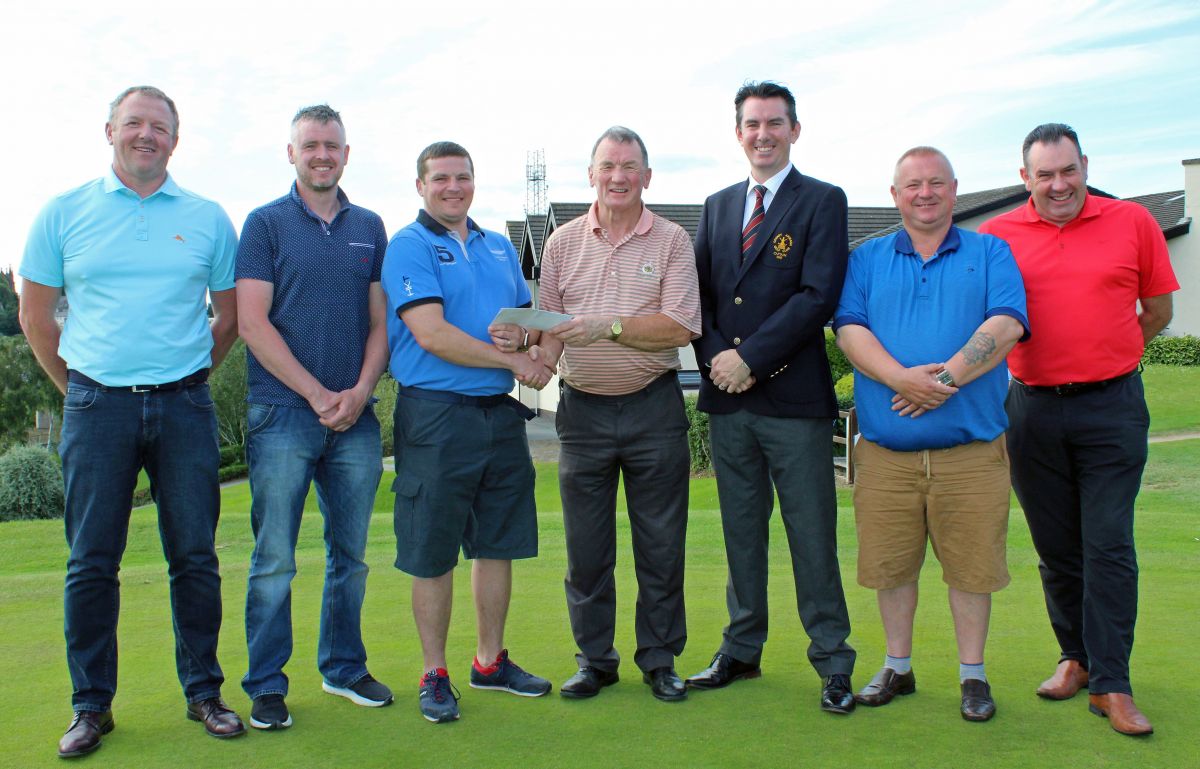 County Armagh Golf Club's Honorary Secretary, Paddy Burns, won the June Medal event that was again supported by Johnston's Bakery. Paddy was presented with his prize by sponsor James Johnston, who was also runner-up in the competition! Also pictured are Club Captain, Kenny Edgar, and other prizewinners (L-R): Francis Smyth, Kevin Smyth, Nigel McMahon and Anthony Hillen.
And on a day when all manner of confection is unlikely to have been too far from anyone's mind, it seems appropriate that the highlight of Paddy's round came on fifteen. That Beresford birdie followed up nicely the seven pars he'd already pocketed and ensured that, in addition to the monthly silverware, the Fermanagh native earned some welcome dough in the shape of CAGC vouchers. An accompanying 14-to-13 handicap snip merely represented the icing on Paddy's Sunday cake.
Rather fitting, too, was the identity of the competition's overall runner-up, namely local pastry business linchpin James Johnston . The six-handicapper's front-nine display was entirely unappetising, but James proceeded to turn his homeward dander into something of a cakewalk. A sensational run of three consecutive birdies from the 10th to 12th got things moving quickly in the right direction, and yet another birdie on 18 meant a fabulous two-under-par second nine for a nett 69.
That was also the score returned by Nigel McMahon who, unsurprisingly, couldn't live with Johnston's back-nine antics and lost out on a break of tie. However, Nigel found significant consolation in category 1 pre-eminence, with his symmetrical scorecard showing 40 strokes in each half and birdies on the 12th and 15th.
Neil Cromwell blazed a breathtaking trail of six birdies in the first dozen holes before an uncharacteristically ragged finish limited the three-handicapper's ambitions to a gross 73 and second prize in category 1.
The category 2 honours, meanwhile, went the way of Francis Smyth, who enjoyed a terrific sequence of six pars in seven holes either side of the turn and eventually signed for a nett 69. Smyth's nearest neighbour among the 13-18 cohort was Anthony Hillen, who equalled his baker's dozen handicap with a gross 83 that featured an impressive haul of 10 pars.
Kevin Smyth is quietly putting together a productive season on the fairways. The left-hander headed the category 3 standings on account of a nett 69, the most memorable moment of which was a birdie at Sequoias. Finally, Gerry Kelly's no-nonsense nett 71 secured him the runner-up award in category 3 and a deserved position on the June Medal podium.