Any tournament at County Armagh Golf necessarily demands the winning candidate to dig deep into their competitive reserves. And in a stableford event sponsored by King Bros Quarry on 2 June, Gavin McElmeel proved to be in full possession of all the minerals required for victory.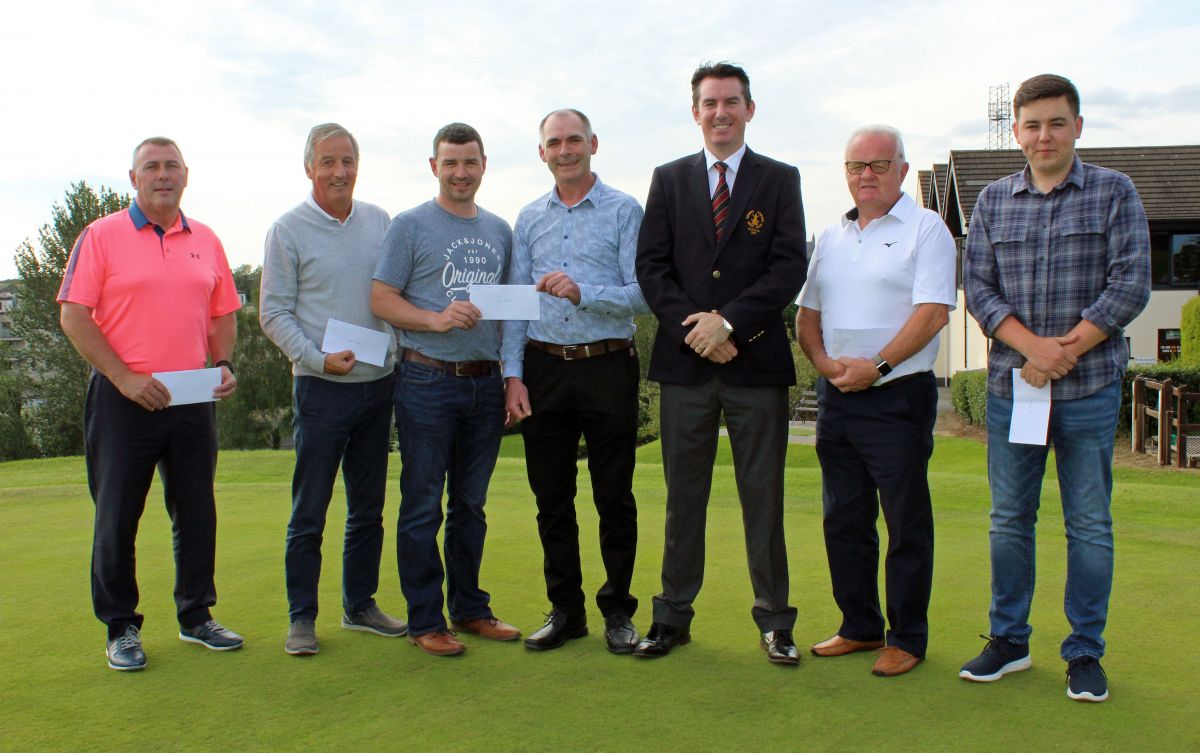 Gavin McElmeel triumphed in the recent King Bros Quarry-sponsored tournament at County Armagh Golf Club. He was presented with his prize by Robert King of King Bros Quarry. Also pictured are Club Captain, Kenny Edgar, and other prizewinners (L-R): Roy Davis, Kieran Grimley, Kieran Grimes and John Maguire.
In his successful Sunday outing, McElmeel mined eight pars and a birdie at the 3rd and, although a quadruple bogey on Old Coach Road had briefly threatened to consign his title hopes to the CAGC slag heap, he ultimately emerged from the golfing coalface to enjoy the gold rush of a comfortable four-shot triumph.
Gavin's fabulous 42-point prevailing tally was most closely challenged by Joe Rooney's typically consummate 69-stroke effort. The youthful one-handicapper grabbed a hat-trick of birdies at the 2nd, 6th and 14th as he clinched the overall runner-up prize with 38 points.
An equally impressive one-under-par round saw John Maguire top the charts in category 1. A 38-point haul kept Maguire one ahead of second-placed Kieran Grimley, who bogeyed each of the first six holes but proceeded to negotiate the remaining dozen in just three over par.
Peter McBride's no-score at the last hole turned out to be inconsequential owing to the excellent play that preceded it. McBride racked up eight pars on his way to a 38-point total that took the plaudits in category 2. And next best among the 13-18 handicap contingent was Roy Davis, whose three consecutive pars at the start of the back nine represented the highlight of his solid 35-point offering.
Meanwhile, Kieran Grimes's homeward half was bookended by dings at the 10th and 18th. Nevertheless, fruitful pars at the 1st, 6th, 8th and 13th helped him to a fine 37 points that took care of business in category 3. Kieran's nearest rival was Connor Mallon, whose steady 34-point return earned him the satisfaction of a category runner-up gong.