The second monthly Medal of County Armagh Golf Club's 2019 schedule was contested on 25 May and produced a marvellous victory for young Shane O'Hagan.
In the annual competition, as ever generously supported by Armagh Business Centre, O'Hagan opened in scintillating fashion, and a hat-trick of birdies at the 2nd, 4th and 7th took him to a stunning three under par with 11 holes to play.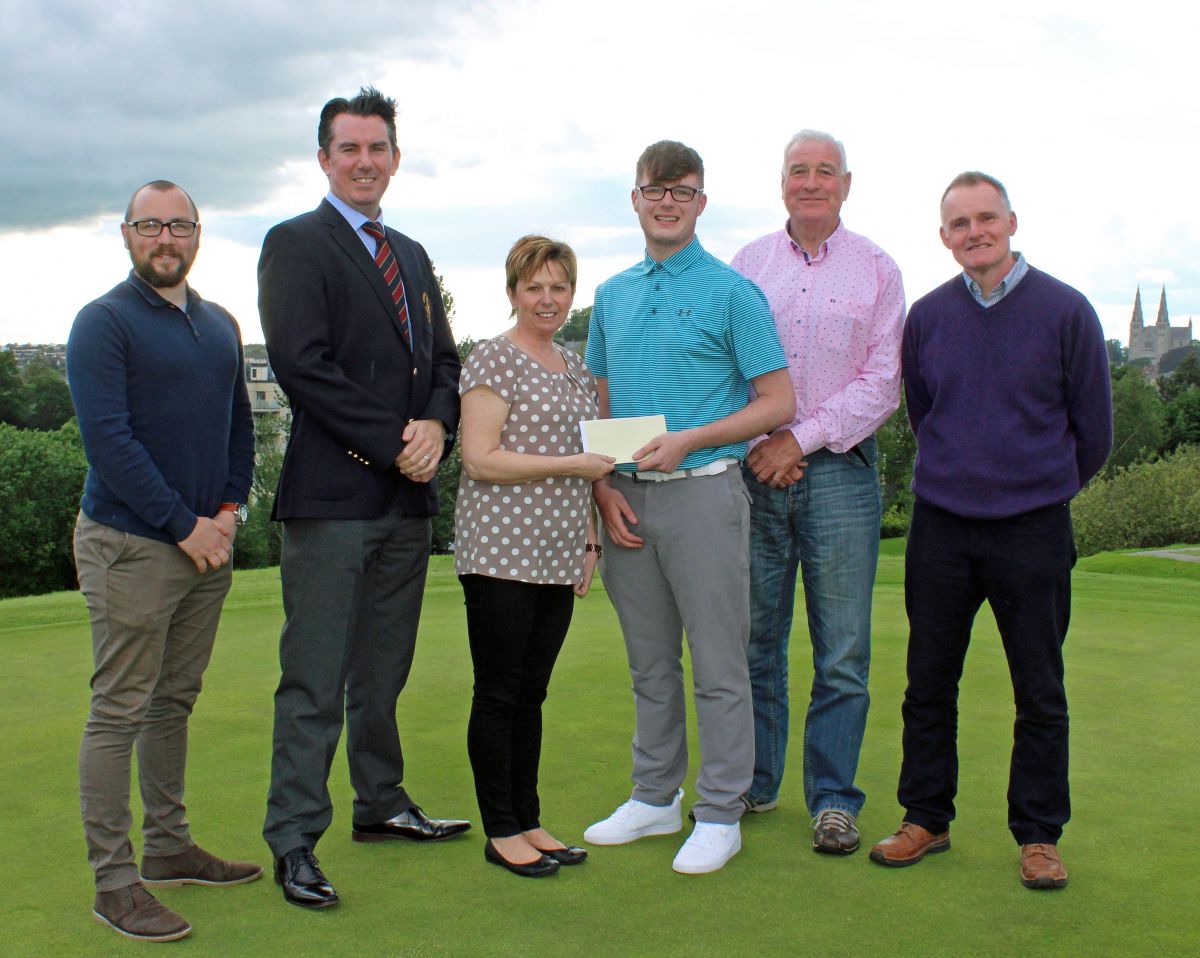 County Armagh Golf Club's May Medal champion, Shane O'Hagan, was presented with his prize by Eileen Stewart, manager of Armagh Business Centre, sponsors of the annual stroke competition. Also pictured are Club Captain, Kenny Edgar, and other prizewinners (L-R) Paul Traynor, Eamon Toner and Paddy Hicks.
An understandably uneasy spell ensued immediately, and five strokes were haemorrhaged either side of the turn. However, the then eight-handicapper regained his composure laudably and was just a further shot over par for the onerous stretch from Sequoias to the clubhouse.
It all amounted to a fantastic gross 73 and nett 65 that justifiably secured the May Medal spoils. And with Shane now able to assess every nook and cranny of the city course from his bedroom window, repeat showings seem probable.
Paddy Hicks's punctual Saturday morning "Conal Cab" delivered him to CAGC uncharacteristically far in advance of his tee time, but this unusual pre-game routine proved an effective one as he claimed second spot overall.
A birdie at the Old Third spluttered Paddy's Medal charge into life, and the English teacher's negotiation of the homeward straight in five pars and a Lakes bogey was poetry in motion. Hicks's splendid nett 66 snipped his handicap to 12 and should come as positive news for opportunistic local taxi firms.
Meanwhile, Roy Turner was another to follow route 66 on a delightfully mixed golfing journey that featured a little bit of everything. An unsightly quartet of double bogeys was more than rectified by wonderful birdies at the 3rd, 7th and 12th, and Roy was the best in category 1.
Also posting a classy nett 66 was second-placed Andrew Conn, but he lost out to Turner on a back-nine countback. The nattily-trousered 10-handicapper's outward half was particularly impressive, containing as it did a mere 36 digs.
Paul Traynor has identified himself as one of CAGC's more consistent recent protagonists, and his latest offering was a neat-and-tidy gross 79 comprising a drama-free split of nine pars and nine bogeys.
The resultant nett 66 positioned Traynor atop the category 2 standings, where Johnny McSorley was next in line. Johnny's fine nett 68 included seven pars and served to consolidate his 14-handicap status.
A different McSorley took the plaudits in category 3, as Malachy, too, signed for a nett 68. The Tullysaran technician deemed pars unnecessary this time out, instead electing to birdie both the 3rd and 15th. And for the second time in six days, the category 3 runner-up berth was occupied by Eamon Toner, whose nap-hand of pars helped him to a solid nett 69.
Joe Rooney continued his stellar form and could not be dislodged from the summit of the gross leaderboard. Rooney's exquisite one-under-par knock comprised four birdies, 13 pars and a most unlikely snowman out at the 8th.
And finally, the 2019 May Medal was also memorable occasion for Sean McAnenly, who scored a fabulous hole-in-one on the 3rd. Well done, than man!