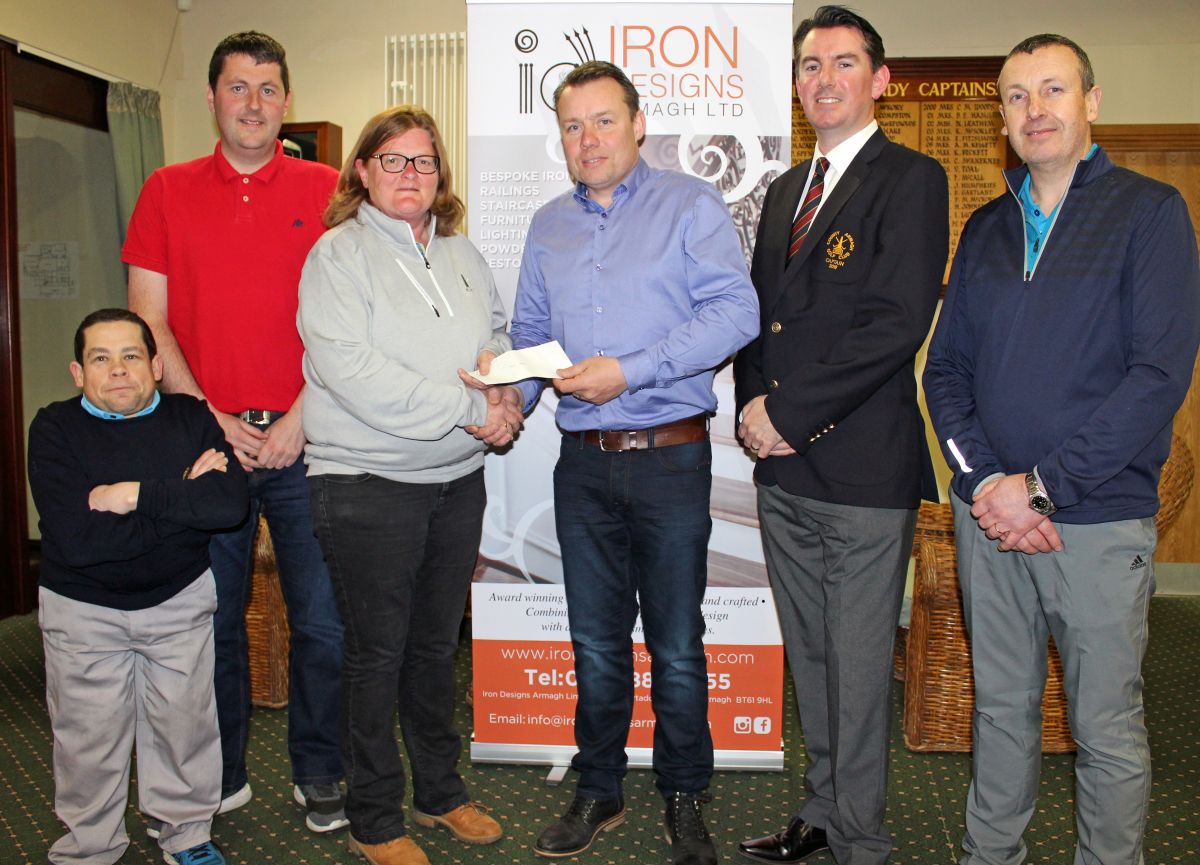 County Armagh Golf Club joined in with the spirit of Augusta by hosting a 9-Hole Masters competition for Ladies and Gents on 12 April, which was kindly sponsored by Iron Designs, Armagh. Paul McKeown from Iron Designs helped Club Captain, Kenny Edgar, to present the prizes to winners (L-R) Paul Kelly, Jarlath McReynolds, Paula McCrory and Kieran Donnelly.
Magnolia Lane was replaced by Lady Anne's Walk. The patrons were mere punters. The victors had to be content with vouchers for the Pro Shop (where Will stocks high-quality jackets of various shades). The presentation ceremony was conducted not by CBS's Jim Nantz but by CAGC's very own anchorman, Shea Brady. And the closest we have to Tiger Woods is a near namesake in the form of Adrian or Oliver.
Nevertheless, there was a definite feeling of Augusta at Armagh on Friday 12 April as the city club hosted its now annual Masters tournament in association with local firm, Iron Designs.
Last year's event fell victim to inclement weather that ultimately forced its cancellation, but there were no such worries in 2019 as players took to the specially amended par-3 course in pleasant spring sunshine.
And taking full advantage was Jarlath McReynolds, who performed his most convincing Tiger impersonation and completed the 9-hole challenge in a mere 27 hits. This was the lowest score of the day and gave the big two-handicapper top spot in the 0-7 bracket.
The 8-14 accolade went to Kieran Donnelly, who was just two adrift of Jarlath, while Paul Kelly's 31-stroke knock made him the master of the 15-21 handicappers. And Philip Richards earned a deserved invite to the log cabin as his total of 32 handed him the spoils in the 22+ section.
Among the ladies, Paula McCrory followed up her 2017 Masters triumph with a fine 33-stroke showing that ensured glory in the 0-20 division again this time out. Meanwhile, Helen McLaughlin dealt with the short-holes test in just one shot more than Paula and proved unbeatable in the 21+ category as a consequence.