On Thursday 4 th October a large number of ladies played the last weekly competition of 2018 in the form of a 15 and 9-hole stableford in which Gladys Villiers emerged as the winner with a very good score of 32 points.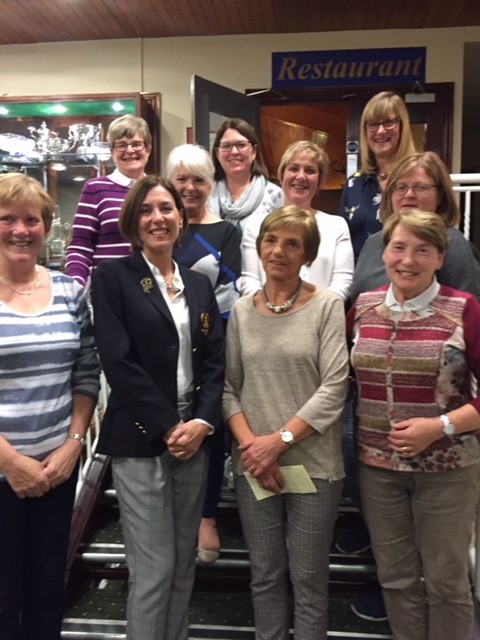 Lady Captain Elizabeth Mawhinney with winner of end of season competition Gladys Villiers and other prize winners.
Before presenting the prizes, Lady Captain Elizabeth wished everyone well in the winter league and reminded them of the AGM on Thursday 29th November. Elizabeth had visited former Lady Captain Sadie Scott to mark her 90 th birthday and leave gifts on behalf of the Ladies Branch.
Lady Captain Elizabeth reminded everyone that the Gala Ball to mark the 125 th anniversary of the club is taking place on Saturday 27 th October and that tickets are available from members of the Ladies Committee. Elizabeth has also arranged for catering to be available next week from 5.30 until 7.30 on Thursday 11 th October.
The results of the competition were as follows.
Nine-hole competition Gina Morris= 20 points.
15-hole competition.
Category A Paula McGrory 26 points.
Category B Jacqueline Kelly 30 points.
Category C Audrey Kellet 29 points
Category D Molly Conway 26 points.
3rd place = Cait McKinney = 31 points.
2nd place = Valerie Gordon= 31 points.
1st place = Gladys Villiers= 32 points.
Time for Nine Helen McLoughlin 20 points.
Twos were returned by June Humphries @ 3 rd and Lynne Brown @ 7 th
Gail Steed had a birdie @ 17 th .
To mark the last prize giving of the season Lady Captain Elizabeth arranged for some beautiful music to be provided by the extremely talented Claudia Glendinning.